Marvel's Spider-Man 2 will exclusively swing onto PS5 in just a few week's time which makes now the ideal time to upgrade to Sony's flagship console. And there's now even more reason to pick up a new PlayStation ahead of the holiday as various hardware bundles have been reduced across retailers.
Right now, select PS5 bundles are $50 off at PlayStation Direct. This promotion includes the Call of Duty Modern Warfare 2, Final Fantasy 16 and the Horizon Forbidden West bundles. And these deals are being matched at Best Buy and Walmart. However, stock availability is dwindling already with several bundles out of stock at the time of writing. Fortunately, Sony states this offer will run until Saturday, September 30, so we could see a restock before the end of the month.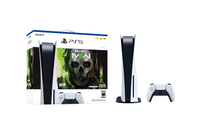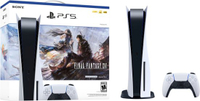 PS5 Bundle - Final Fantasy 16: was $559 now $509 @ Walmart
This PS5 bundle includes the PS5 Disc console and a copy of epic RPG, Final Fantasy 16. This package usually retails for $559, but it's currently on sale for just $509 at Walmart. This deal is set to last until September 30, but it could sell out before then, so don't delay if you want one.
Price check: $509 @ Best Buy | $559 @ PlayStation Direct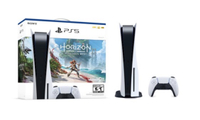 PS5 Bundle - Horizon Forbidden West: Check stock @ Best Buy
This PS5 bundle includes a regular PS5 console with a disc drive along with a copy of the PlayStation-exclusive title Horizon Forbidden West. This bundle is on sale for $499, which is $50, but it's currently out of stock. However, the deal is set to run until the end of September, so we could see a restock before then.
The PS5 really needs no introduction at this point. It's been a consistent best-seller since its launch in November 2020, and in our PS5 review we called it "an essential games console." We praised the gaming-dedicated machine for a whole variety of reasons including its incredibly fast SSD, its seriously innovative DualSense controller and its graphical power and impressive performance levels. The PS5 is a true generational leap over its predecessor, the PS4, and looks set to lead the gaming market for years to come.
As for the games in these bundles, all three are worth playing. Final Fantasy 16 and Horizon Forbidden West both make our roundup of the best PS5 games and offer meaty single-player campaigns that combine compelling gameplay with a cinematic narrative. While Call of Duty Modern Warfare 2 doesn't quite make the grade for the above list, it's still an excellent multiplayer shooter and a perfect pick for players who prefer playing with friends to gaming solo. You can't really go wrong with any of these bundles, especially with a $50 discount.
Alternatively, if you're hoping for a discount on the PS5 console standalone, then you might want to hold off until Amazon's second Prime Day event of the year, or maybe even the rapidly approaching Black Friday deals. We're hoping that the PS5 will get a discount during these seasonal retail events now that stock levels have seemingly stabilized.