If you're like me and believe that real books are good but digital books are better, then Amazon Prime Day is a perfect time to save big on the best Kindles. You can't go wrong with any of the latest Kindle models out there, but I recommend the one that's my personal go-to for reading digital books and novels.
Right now, you can get the Kindle Paperwhite (2021) for $89 at Amazon. This e-reader normally retails for $139 — meaning you'll save $50 thanks to this deal. Honestly, I'm kind of jealous considering I paid around $120 for my Kindle Paperwhite. But that's okay since I can make up for that by sharing this deal with all of you. This latest version of Kindle Paperwhite is the best yet.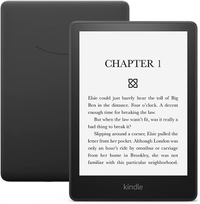 Kindle Paperwhite: was $139 now $89 @ Amazon
The best Kindle for most people is the waterproof Kindle Paperwhite, as it's got a 6-inch flush-to-screen display, 5 LED front lights and 8GB of storage. It's currently $50 off and bundled with 3 months of Kindle Unlimited, and one of the best Prime Day Kindle deals you can get.
Price check: $149 @ Best Buy | $139 @ Target
The Kindle Paperwhite features a 6-inch display that's flush with the device, giving the e-reader a sleek and uniform look. Said display is a sharp 300 ppi that's perfect for reading novels and even manga. Best of all, the glare-free screen almost looks like paper, even if you're reading it under direct sunlight. The 5 LED front lights also provide excellent visibility when reading in a darker environment.
This model comes with 8GB of storage. That might not seem like much, but I can assure you that this is enough to store thousands of standard e-books on the device. And you can try as many books as you like since this Kindle Paperwhite comes with 3 free months of Kindle Unlimited — which is like the Netflix for e-books. This service spotlights a lot of books from independent publishers, which is great if you want to read something different and fresh.
Given that the Kindle Paperwhite is an Amazon product, it's not surprising to see the device receive such a steep discount during Prime Day. Still, if you're in the market for an e-reader, this is the device I would personally recommend to everyone. The Kindle Paperwhite is so good that you may not ever go back to reading physical books again! Definitely take advantage of this deal while it lasts.