Most months, finding a great deal on an OLED TV can be relatively tricky. There's a few discounts here and there, but rarely do you see a steep cut in price until we reach Black Friday. There's a deal this week, however, that breaks that tradition.
This week you can find a 55-inch LG B3 OLED for $996 on Amazon, saving you $700 off its regular $1,699 sticker price.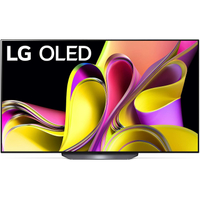 LG 55" B3 OLED 4K TV: was $1,699 now $996 @ Amazon
Released in 2023, the LG B3 is a mid-tier OLED TV featuring over 8.3 million self-lit pixels for rich contrast and vibrant colors. For gamers, this TV has a 120Hz refresh rate, Game Optimizer features, and HDMI 2.1 support. Dolby Vision, HDR10, HLG, and Dolby Atmos support is also included.
Price check: $999 @ Best Buy
Right in time for Halloween, this OLED has all the treats, including 120Hz refresh rate, VRR support, NVIDIA G-Sync, AMD FreeSync Premium, Game Optimizer features, and HDMI 2.1 support.
On the hardware side of things, the B3 OLED uses the Gen 2 OLED Evo panel that we saw on the LG C2 OLED in 2022 as well as the new α7 AI Processor Gen6 for smooth motion processing and upscaling.
It may be missing out on the new processor and panel found in the LG G3 OLED, but for under a grand you're getting one of the best OLED TVs that beats out 99% of the LED-LCD TVs on the market.
Looking for something cheaper? Check out the A2 OLED
If you really want a budget OLED and don't mind skimping out on all those great gaming features, the LG A2 OLED can be yours for $549 at Best Buy — as long as you're a member of My Best Buy Plus.
For a limited time, members can get the LG 48-inch A2 4K OLED TV on sale for $549 at Best Buy. That beats last year's Black Friday price for this TV, making it one of the best OLED TV deals available right now.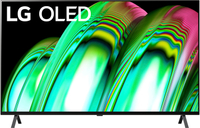 LG A2 48" 4K OLED TV: was $1,299 now $549 @ Best Buy
Editor's Choice! If you're a My Best Buy Plus ($49/year) or My Best Buy Total ($179/year) member, you can get this TV for just $549, which is an epic deal. (Sign up at Best Buy). Non-members pay $649, but remember it sold for $569 last holiday season. The A2 is LG's entry-level OLED. In our LG A2 OLED review, we said it offers a wonderfully colorful picture and fairly strong audio. It offers Dolby Vision/HDR10/HLG support, LG's webOS platform, and built-in Google Assistant/Amazon Alexa. Console gamers take note: It's a budget model, so you only get a 60Hz panel and three HDMI ports, with no HDMI 2.1 support. Otherwise, it's great for casual gaming and streaming. The 48-inch model is a Best Buy exclusive.
So what makes the A2 OLED worse for gamers? The A2's refresh rate clocks in at a very average 60Hz and the lack of HDMI 2.1 ports is pretty disappointing. At least there is a dedicated Game Optimizer that reduces input lag time to give you an edge when playing online. But overall, the LG A2 OLED isn't quite primed to get the most out of the PS5 and Xbox Series X.
If you're a gamer, the A2 OLED isn't going to bring the same performance that the LG B3 OLED can deliver for just a few hundred bucks more — but if you want the absolute cheapest option, the A2 OLED can't be beat.