Neck pain has done a number on my sleep comfort over the years. If you're suffering too and are shopping Amazon's Big Deal Days for something to bring you relief, I'd recommend the Coop Home Goods Adjustable Pillow – on sale today for $57 (was $72).
This isn't one of those fancy cervical pillows marketed for neck pain, and it's miles away from the square shape of the Pillow Cube. However, I feel the Coop Home Goods pillow is the better choice because it's fully adjustable so it can be made as tall (deep) as you need to properly plug that gap between your head and shoulders when side sleeping.
I slept on mine for months and overnight it made a big difference to how much neck pain I was experiencing. Within a few weeks, that pain I felt during sleep had gone.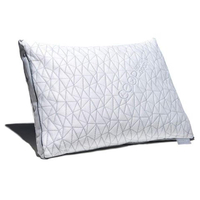 Coop Home Goods Adjustable Pillow
Was: $72
Now: $57.60 at Amazon
Summary: If you suffer from neck pain and you sleep on your side, I'd definitely recommend the Coop Home Goods pillow. You don't need to worry about choosing the right loft for your height and the type of mattress you sleep on as you can literally make the pillow bigger at home. This is as close to a custom-fit pillow as you can get, without the luxury price tag. Even though it uses memory foam, a contouring material found in many of the best mattresses, it stays fairly cool to the touch too.
Price history: We see the Coop Home Goods Adjustable Pillow on sale from time to time, and this is one of the cheapest prices we've spotted in recent months.
The Coop Home Goods Adjustable Pillow sits at the top of our best pillow guide and is the ideal choice for you if you sleep on your side and experience neck pain that either stops you from falling asleep quickly, or wakes you up. The Coop Home Goods Adjustable Pillow comes with an extra 0.5lb bag of memory foam fill and I added it bit by bit until I had created the ultimate side sleeper pillow for me.
A pillow won't magically solve all types of neck pain, but if you think your discomfort is caused solely by the wrong choice of bedding, then an adjustable pillow that you can make as tall as or as slim as you need should help you feel much more comfortable.
I'm prone to overheating at night, and had a tough time with that during pregnancy, but the Coop Home Goods Adjustable Pillow didn't leave me a sweaty mess like some other foam pillows do. $57 is a bargain for an adjustable pillow of this quality, so I wouldn't hesitate to buy it if you're in need of a new pillow and you love the idea of one that can be adjusted to fit your body and mattress.