Amazon Prime Day is here, and if you're after one of the best robot vacuums to do all the hard work for you, the Prime Day deals are a great time to grab a bargain.
Currently, the Shark AV911S EZ Robot Vacuum is on sale for $249 at Amazon — an incredible 50% reduction from its original price of $499. In fact, this robot vacuum deal is at its lowest price ever, and it's guaranteed not to stick around for long. So if you're in the market for a self-emptying robot vacuum at an excellent price, don't sleep on this offer.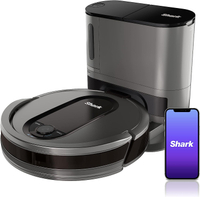 Shark AV911S EZ Robot Vacuum: was $499 now $249 at Amazon
The Shark AV911S EZ Robot Vacuum has powerful multi-surface cleaning to tackle all types of dirt and debris on hard floors and carpet. It comes with a self-emptying base which can also hold up to 30 days worth of dirt. With easy connectivity via Alexa or Google, you can set schedules and programs. Once it's at low battery, the vacuum will return to its charging base. A great way to clean up smart.
Price check: $449 @Walmart
Currently 50% off its usual retail price, this Shark AV911S EZ Robot Vacuum is an incredible deal to snap up.
Not only does it have powerful suction to quickly clean up dirt, debris and pet hair, it comes with dual side brushes to tackle edges and corners neatly. As with all robot vacuums, you can control it remotely via an app, and set your cleaning schedules. This way you can put your feet up while it does all the hard work for you!
More importantly, it has a handy self-emptying base — which is always a bonus. This feature means that it will save you from emptying the dustbin so often, which often adds to the price tag of many robot vacuums on the market. Plus, it has a capacity to hold up to 30 days worth of dirt and debris, so you won't even have to think about it.
That's why this Shark AV911S EZ Robot Vacuum deal at just $249 is definitely value for money. If you want to upgrade your cleaning, be sure you grab this while it lasts.
If you're new to the world of robot vacuums, check out our handy robot vacuum buying guide for all the top things you need to look for.