The AirPods Max are the best headphones Apple has made, combining comfort, style and great audio performance in one package. However, all this comes at a high price.
Luckily, the AirPods Max are $449 at Amazon right now after a $100 discount. It's not the lowest price I've seen for the AirPods Max — they hit $429 last September. However, that deal hasn't shown up again since, and this is the next-best price.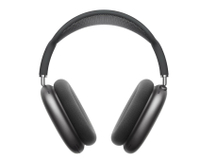 AirPods Max: was $549 now $449 @ Amazon
The AirPods Max are Apple's premium, retro-style headphones. They feature large ear cushions, a digital crown, active noise cancellation, and Spatial Audio. The latter feature uses head tracking to offer a surround sound experience. Best Buy offers the same price.
With a luxurious construction, great sound and fantastic noise cancellation, it's easy to see how the AirPods Max have landed a spot on both our best headphones and best noise-cancelling headphones lists. They're pricey, but if you love Apple's trademark style and simplicity, they're an excellent buy.
Although they're not the best-sounding headphones out there for serious audiophiles, the AirPods Max still deliver very high quality sound. We also love the Spatial Audio feature. This tracks the position of your head, bringing a surround sound experience to your ears.
The ANC is impressive on these headphones, too. Again, they can't beat the Bose 700, which are the best performing ANC headphones we've tested. But for everyday users, the differences aren't too substantial — if you commute or work in a noisy area, you won't be disappointed by the ANC on the AirPods Max.
The AirPods Max only get better if you use other Apple devices. They pair instantly with your iPhone and can be controlled via your Apple Watch. If you're playing music from your iPad or HomePod Mini, they can hand off playback to your AirPods Max so your music won't be interrupted when you leave the house.
Looking for more options? Stay tuned to our headphone deals coverage.