If there's one game that everyone should have played last year, it was Elden Ring. Unfortunately, I didn't take my own advice and missed this open-world epic when it came out for PS4, PS5, Xbox One and Xbox Series X/S in 2022. I hang my head in shame.
But if, like me, you missed out then at least there's a silver lining: the FromSoftware fantasy blockbuster is currently on sale at Amazon in a pre-Black Friday deal. You can pick up Elden Ring for PS5 for $44 @ Amazon right now, a fair bit cheaper than its usual $59 price tag.
That's also five bucks cheaper than Amazon was selling it during its recent Prime Big Deal Days promotion event.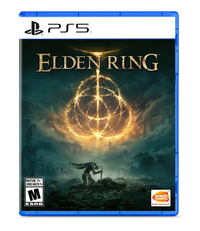 Elden Ring: was $59 now $44 @ Amazon
A collaboration between developer FromSoftware, the creators of Dark Souls, and acclaimed fantasy author George R. R. Martin, Elden Ring is a stunning open-world action RPG where every victory is hard-fought. You'll die frequently, but the sense of satisfaction that comes after downing a hulking boss after dozens of defeats is practically unmatched in all of gaming.
Elden Ring sets you loose in a gigantic open world filled with terrifying creatures and plenty of hidden secrets to discover.
In our Elden Ring review, Tom's Guide awarded the game four out of five stars. We praised the game's tight combat, satisfying difficulty curve and incredible character customization. We did find the open world to be a little aimless at times, however.
The fact this game is over a year old has done nothing to dampen its power. In fact, the groundswell of support has brought a whole new audience to FromSoftware's rewarding action/RPG format pioneered with the Dark Souls games.
Now, if there's a slight catch to the above deal, it's this: we have seen this game cheaper. Last Black Friday, Elden Ring actually dipped down to as low as $35. Naturally, it sold out pretty quickly at that price. There's no telling it won't drop lower than $44 over the next few weeks as we head into November, so it's something you might want to keep in mind.
And if you're one of the sensible people that did play it last year, then never fear, here's a list of the 10 best games to play after Elden Ring.