If, like me, you're on the hunt for a comfortable mattress with outstanding organic and sustainable credentials, the 10% off Avocado mattress sale is for you. Avocado, one of the leading organic mattress brands has just launched a site-wide Black Friday sale event, reducing their best selling Avocado Green Mattress by 10%. This brings the price of a queen size mattress down to $1,799.10, which means a saving of over $200 — I think is a great price for an organic mattress of this level of quality.
Like many of the best mattresses on the market, the Avocado Green Mattress has been discounted in the Black Friday mattress sales, which are already in full swing. While 10% discount might not seem like a huge figure compared to other brands, it's rare to see Avocado ever dip below full MSRP, so it's worth taking notice of a 10% discount.
The Avocado Green is one of our best organic mattresses, thanks to its sustainable yet luxurious level of support, which is why it's been lingering in my shopping cart for a while. This 10% discount, plus Avocado's 100 night trial, 10 year warranty, plus the fact that shipping is free and fast shipping, is why I think it's time to finally buy.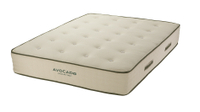 Avocado Green Mattress by Avocado
Was: from $1,399
Saving: up to $270
Summary: The Avocado Green Mattress is rated as one of our best organic mattresses, due to its organic credentials and outstanding support for back and stomach sleepers. In our Avocado Green Mattress review, we found that it was also a great bet for heavier sleepers looking for some extra support, due to its 7 out of 10 firmness rating. This is one of America's most popular organic mattresses for good reason, it features GOLS-certified organic latex, GOTS-certified organic wool and cotton, and up to 1,459 individually wrapped coils to deliver seven layers of ergonomic support. For side sleepers like me looking for a softer sleep surface, Avocado has released a new Plush pillow top for additional pressure relief. The queen size plush pillow top has been discounted by 20%, taking the price from $2,932 to $2,638.90.
Price history: 10% might not feel like a huge discount, but for a brand that rarely dips below full MSRP, I think t's worth taking notice of. $1,259.10 is the best price we've ever seen on a queen size Avocado Green Mattress, which has been matched in today's deal. Black Friday might be just around the corner, but we can't see discounts getting any better than this.
Benefits: 365 night trial | 25-year warranty | Free shipping
Avocado Green or Avocado Eco Organic — which eco friendly mattress is best?
Back and stomach sleepers like me will love the firm level of support that the Avocado Green Mattress provides in addition to its excellent temperature regulation and superb edge support — and that's before we touch upon their organic and sustainable credentials.
However, if the Avocado Green mattress is still just beyond your budget even with 10% off, it's worth considering its budget-friendly sibling, the Avocado Eco Organic. Even at full MSRP, the Eco Organic is America's most affordable organic mattress. However, its 10% Black Friday discount, a queen size Avocado Eco Organic has been reduced to just $1,169, which is amazing value for a mattress of this quality.