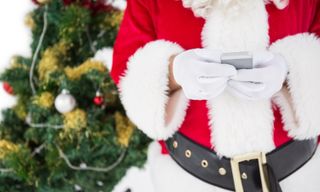 15 Top Apps for Your Holiday Season
It's that most wonderful time of year for Christians, when friends and families can bond, share quality time together and exchange gifts. And your smartphone can join in on the fun. Send out holiday greetings, count down to the big day, play holiday-themed games and more with this assortment of the best Christmas apps.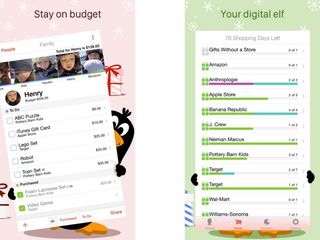 The Christmas List (iOS: $1.99)
Keeping track of the holiday shopping for your friends and family can be an organizational headache. The Christmas List app for iOS devices helps you plan out your Christmas gift shopping, with budgeting per-person, shopping lists that can be categorized by store, gift status tracking (shipped, received, wrapped, and so on), and more. It's a helpful set of organizational resources, though, at $1.99, it doesn't come free.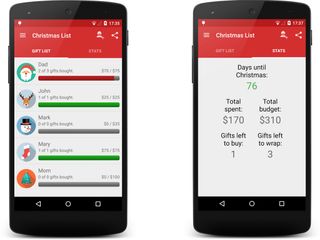 Christmas Gift List (Android: Free)
For a free gifts list manager on Android devices, check out the Christmas Gift List app. Users can set up customized gift lists, creating profiles of people they plan to send presents to, as well as jotting down gift ideas and their budget, complete with personalized notes, images or a link to each gift idea. Once the list is done, you can mark items as "bought" and "wrapped," and the app will keep track of how many more items need to be bought and wrapped, the amount left in your gifts budget and the number of days left before Christmas.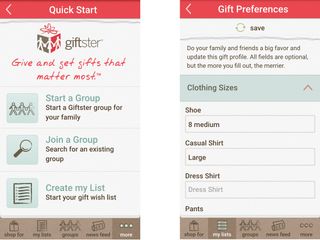 Giftster (Android, iOS: Free)
Part of the problem with holiday gift-shopping is the worry that the gift is something that your friend or family member might not want, need, or find special. Giftster (Android, iOS) gets around that by serving as a gift ideas registry that you can sign up to with friends and family, allowing each user to create a list of items they'd like or prefer, and which friends and contacts can mark as something they've already bought. Users can record things like clothing sizes, rank gift ideas, and set the visibility of particular gift lists, and set up a Secret Santa among particular groups of contacts. The app's also great for other occasions like birthdays, weddings, and other gift-giving celebrations where you don't want to double up.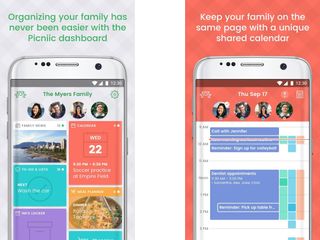 Picniic (Android, iOS: Free, with subscriptions)
The holiday season can be incredibly hectic, with social obligations like company and neighborhood parties, get-togethers, family reunions, as well as shopping. Picniic (Android, iOS) is a handy family organizer that busy parents can use to coordinate their holiday schedules, planning out a shared family calendar for parents and kids, as well as to-do lists for things like gift-shopping, and a family locator. A premium subscription starting at $11.99 a month adds more features like an information locker and recipe planner. It's not strictly a Christmas app, but it is a helpful addition to the app arsenal of harried parents this time of year.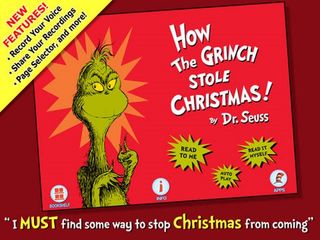 How The Grinch Stole Christmas (Android, iOS: $1.99)
Dr. Seuss's classic Christmas tale, How The Grinch Stole Christmas, is brought to life as an interactive e-book app for Android and iOS devices. The app is lavishly illustrated with pictures from the storybook. The story can be read out loud by a narrator, or you can record your voice as you read along. Heartwarming and neatly presented, How The Grinch Stole Christmas makes for a nice Christmas story to share and enjoy with kids.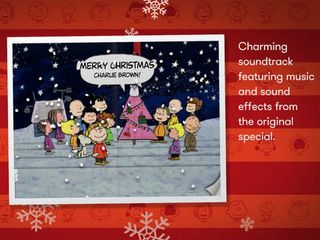 A Charlie Brown Christmas (Android, iOS: $2.99)
A Charlie Brown Christmas brings the 1965 TV classic to life as an interactive storybook app for Android and iOS devices. Narrated by Peter Robbins, the original voice of Charlie Brown, the app features dialogue, sound effects and illustrations from the original, as well as modern flourishes such as mini-games and interactive illustrations.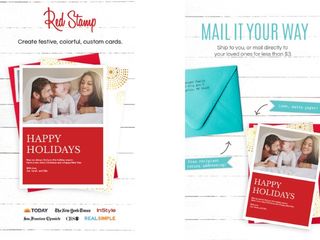 Red Stamp (Android, iOS: Free)
Red Stamp (Android, iOS) allows you to create customized greeting cards from the comfort of your device's screen. Card creation is a snap, with numerous templates, customizations, and the ability to add your own images and text. There's a generous selection of templates, with more collections available as in-app purchases. While you can commission and mail your custom card, Red Stamp also allows you to email, share or download your card.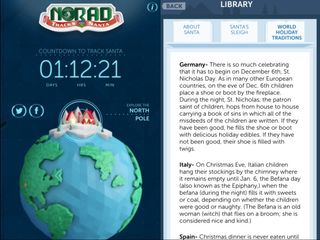 NORAD Tracks Santa (Android, iOS, Windows Phone: Free)
An annual tradition since an errant marketing ploy directed children calling Santa Claus to a military "red phone" in 1955, NORAD's Santa tracker is now available as a smartphone app for Android, iOS and Windows Phone. The free Santa Tracker app displays a countdown to Saint Nick's flight, a variety of Christmas activities and mini-games, short Christmas-themed videos and tongue-in-cheek intelligence articles on Santa Claus and worldwide Christmas traditions.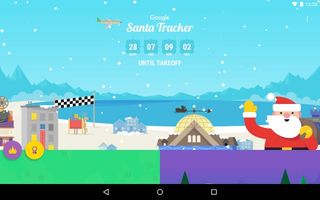 Google Santa Tracker (Android: Free)
Google's Santa Tracker serves as a Christmas countdown, activity center and a global Santa tracker for figuring out jolly old Saint Nick's flight path. The app presents a Christmas countdown timer, as well as a series of mini-games that are unlocked as the big day nears. On Christmas night, the app should present a tracker displaying the progress of Santa's epic flight around the world. New tweaks to the app include Android Wear and Chromecast support. It's a great little activity center for parents and kids.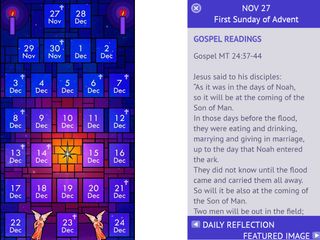 Xt3 Advent Calendar (Android, iOS: Free)
The Xt3 Advent Calendar (Android, iOS) provides a more traditional Catholic Advent calendar experience. Each day in the Advent season unlocks a slew of resources, such as a daily reflection and Bible reading appropriate to that day in the traditional Advent season, as well as multimedia items of interest like artwork.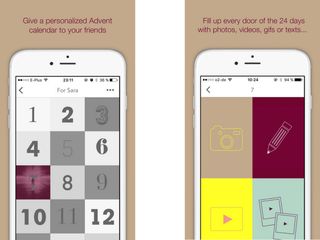 Advent App (Android, iOS: Free, $0.99 per calendar created and shared)
A project of the Hands At Work Christian community, the Advent App (Android, iOS) allows users to create custom Advent calendars, with each day unlocking a new page with a custom image, gif, video clip or inspirational text to bring a smile to your friends and family. For a nominal $0.99 fee, users can create their custom calendar, and then share it to friends, family, and contacts. The iOS app allows users to create and view custom calendars, while the Android version functions as a viewer only.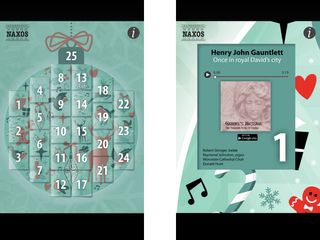 Musical Advent Calendar (Android, iOS: Free)
Classical music label Naxos Records gives us a Christmas-themed musical offering with the Musical Advent Calendar app (Android, iOS). As the calendar progresses from December 1 to Christmas day, the app unlocks a new Christmas-themed piece from Naxos's vast library of classical musical pieces. With pieces ranging from classics such as sections of Handel's Messiah to Mozart's Sleigh Ride to lesser-known pieces, the Musical Advent Calendar adds some nice musical cheer to your smartphone.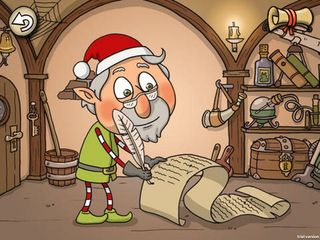 Elf Adventure Christmas (Android, iOS: Free)
Elf Adventure Christmas (Android, iOS) is a light-hearted and activity filled Advent calendar. Count down the days until Christmas. Each day, a new mini-game unlocks part of the continuing story that sees the Christmas elves try to wake up the Frost Giant in order to bring everyone a white Christmas. This app is great for parents with young kids, offering some bonding and storytelling time.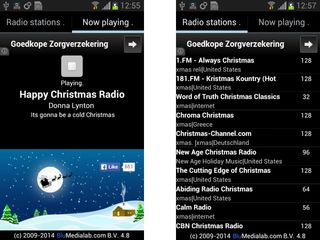 Christmas Radio (Android, iOS: Free)
Want an app to get your pumped for the big day? Christmas Radio for Android and iOS allows users to tune in to more than 50 unique Christmas-themed Internet radio stations. Choices include everything from Jazz Radio Christmas and Kristmas Kountry to North Pole Radio.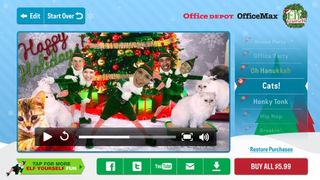 Elf Yourself (Android, iOS: Free)
The Elf Yourself (Android, iOS) app uses some basic photo manipulation magic to transform you, your friends, family and pets into silly dancing elves. Simply choose up to five photos from your camera roll or gallery and then select a dance theme, and Elf Yourself will generate a short video of dancing elves that you can share via email or Facebook. In-app purchases allow users to select additional dance themes.