21 Marvel Video Games Ranked Worst to Best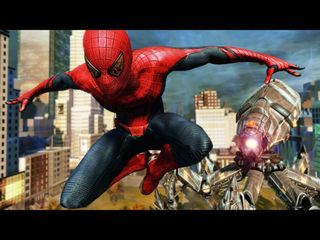 Greatest (and Worst) Marvel Games
Marvel Comics has inspired dozens of video games since the early '80s -- some are regarded among the best games of all time, while others are more heinous than Thanos himself. You might have fond memories of swinging through Manhattan in Spider-Man 2 or losing all of your quarters to the X-Men arcade game, though you also might have suffered through movie tie-in slogs like Fantastic Four and Iron Man.
Fortunately, Marvel games are entering a bit of a golden age, thanks to new hits like Telltale's Guardians of the Galaxy as well as promising upcoming titles such as Spider-Man PS4 and Marvel vs. Capcom: Infinite. While you wait for those to arrive, here are 21 of the most notable Marvel video games ranked from worst to best.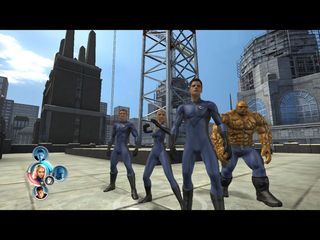 21. Fantastic Four (2005; PC, PS2, Xbox, GameCube)
Activision released a whole lot of bad Marvel movie tie-ins in the mid-2000s, but Fantastic Four was a special kind of stinker. This lifeless beat-em-up had frustrating controls, unexciting graphics and some annoying bugs. The game's co-op mode allowed only two-player action, which is a bummer for a game built around four superheroes teaming up to save the world. - Mike Andronico
Credit: Activision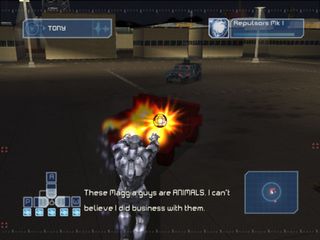 20. Iron Man (2008; PS3, Xbox 360, Wii)
It's a good thing that Sega released free demos of its movie-based Iron Man games, because we got to find out firsthand just how awful they were without buying them. There was a small amount of fun to be had in flying around in Tony Stark's superpowered suit, but the game's drab levels and unforgiving spikes in difficulty moved it to the bargain bin pretty quickly. Not even Robert Downey Jr.'s voice acting could save this one. - Mike Andronico
Credit: Sega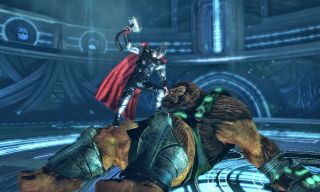 19. Thor: God of Thunder (2011; PS3, Xbox 360, Wii)
Like Iron Man Before it, Thor: God of Thunder is a soulless cash-in of a movie tie-in developed by Sega. Critics railed about it for its poor controls, horrible camera work, ugly visuals, and being difficult for the sake of being difficult. The Wii version was slightly better, due to developer Red Fly's better combat system, but it still suffered from all of the other flaws from the PS3 and Xbox 360 version. Send this one straight to Hel. — Andrew E. Freedman
Credit: Sega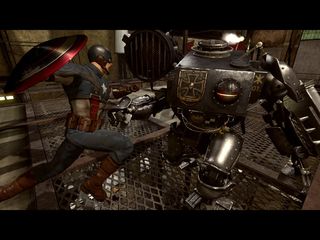 18. Captain America: Super Soldier (2011; PS3, Xbox 360, Wii)
If you're going to ape another game's gameplay, you might as well pick a good one. Captain America: Super Soldier shamelessly borrowed Batman: Arkham Asylum's core combat system, resulting in a handful of cool combos and cinematic takedowns that would make you want to grab a bald eagle and sing the national anthem. Unlike Thor and Iron Man, this cheesy tie-in was at least mildly enjoyable. - Mike AndronicoCredit: Sega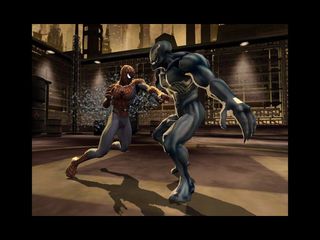 17. Marvel Nemesis: Rise of the Imperfects (2005; PS2, PSP, Xbox, GameCube, DS)
The result of a collaboration between Electronic Arts and Marvel, Marvel Nemesis: Rise of the Imperfects fell flat. The game, which also tied into Marvel's comics with a six-issue mini-series, pitted popular heroes and villains like Spider-Man, Wolverine, Venom, Magneto and Elektra against a group of EA-created villains in superpowered combat.
To get there, though, you had to button-mash and slog through armies of uninspired henchmen, poor level design and a story that wasn't all that interesting despite an all-star cast. "Imperfect," indeed. — Andrew E. Freedman
Credit: Electronic Arts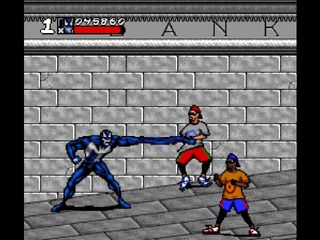 16. Spider-Man and Venom: Maximum Carnage (1994; SNES, Sega Genesis)
Spider-Man and Venom: Maximum Carnage was a solid side-scrolling beat-em-up released during an era filled with great ones. There was a lot to like about the game's comic-book-y art style and fluid combat, but it was ultimately bogged down by repetitive levels and a lack of two-player co-op. - Mike Andronico
Credit: Acclaim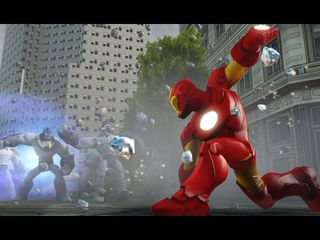 15. Disney Infinity (2013; PS4, PS3, PS Vita, Xbox One, Xbox 360, Wii U, PC)
What started out as a way to combine all of Disney's various properties, including Marvel, Star Wars and others, into one giant virtual toybox eventually ended in a whimper when the Disney Infinity servers shut down earlier this year. And while there were bright spots, such as the frantic Marvel-themed Battlegrounds multiplayer mode, the decision wasn't entirely unwarranted as thin content releases and empty-feeling areas never lived up to Disney's grand plan to create a vibrant online world for fans of all kinds to enjoy.- Sam Rutherford
Credit: Disney Interactive Studios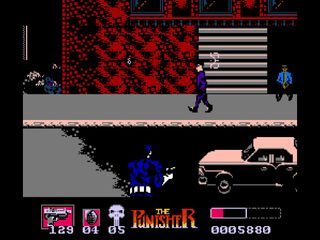 14. The Punisher (2004; PC, PS2, Xbox)
The Punisher is a yet another mediocre movie tie-in action-game that had some novel ideas like letting the player brutally interrogate and execute bad guys in comically gory ways. Sadly, the over-the-top and cringeworthy violence isn't enough to offset the repetitive and abysmal combat.Somehow, The Punisher managed to make punching drug dealers in the crotch and tossing mobsters into a wood-chipper a snooze fest. On the plus side, the game does feature Thomas Jane reprising his movie role as Frank Castle, who captured the true essence of a completely unhinged, criminal curb-stomping vigilante psychopath. - Jorge JimenezCredit: LJN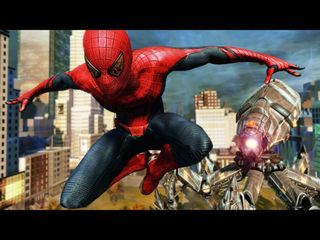 13. The Amazing Spider-Man (2012; PS3, Xbox 360, PC)
Launched in conjunction with the 2012 Andrew Garfield film, The Amazing Spider-Man promised a return to the open-world web-swinging that made the early 2000s Spider-Man games so special. While soaring around New York City still felt great, the game was brought down by boring villains, a bland re-creation of Manhattan and tedious missions. I'll admit it, though, I got pretty addicted to tracking down the game's hundreds of collectible comic book pages. -Mike AndronicoCredit: Activision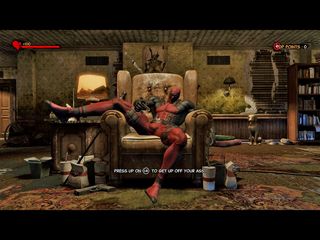 12. Deadpool (2013; PC, PS4, PS3, Xbox One, Xbox 360)
High Moon Studios' Deadpool game isn't terribly polished, but it absolutely nails what fans love most about the Merc' with a Mouth. This zany action romp is incredibly irreverent and breaks the fourth wall at every turn, as Deadpool will frequently hurl insults at the player and acknowledge that he's a video game. The title offers a satisfying mix of shooting and swordplay, and includes some hilarious cameos from popular X-Men such as Wolverine and Cable. - Mike Andronico
Credit: Activision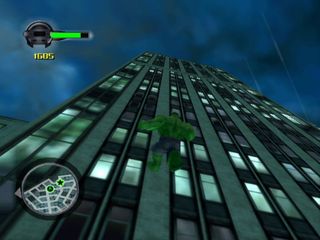 11. The Incredible Hulk: Ultimate Destruction (2005; PS2, Xbox, GameCube)
The Incredible Hulk: Ultimate Destruction is exactly what it sounds like: a game where you run around as The Hulk and cause utter chaos. Ultimate Destruction offers a solid story, a plethora of satisfying combat options, and, most important, a dynamic open world that you're free to wreak havoc in as you see fit - Mike Andronico
Credit: Vivendi Universal Games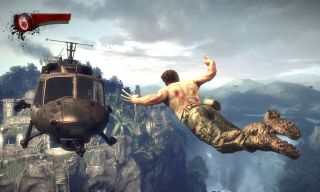 10. X-Men Origins: Wolverine (2009; PS3, PS2, PSP, Xbox 360, PC, Wii, DS)
Who knew such an awful movie could spawn such a great video game? X-Men Origins: Wolverine is an exercise in hyper-violent gratification, letting you slice up waves of bad guys in increasingly gruesome and satisfying ways. This forgotten classic is a must-play for Wolverine fans or anyone who wants a good hack-and-slash, but be warned -- it's not for the faint of heart. - Mike AndronicoCredit: Activision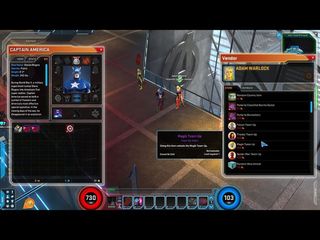 9. Marvel Heroes (2013; PC, Mac, PS4, Xbox One)
Marvel Heroes might not be much more than a Diablo clone with a Marvel skin, but with over 100 heroes and villains to choose from, an endless amount of loot to collect and tons of stages to conquer, is that really such a bad thing? If you just want to grab Cap or Spiderman and beat the crap out of some baddies, Marvel Heroes is the one of the best games for living out that fantasy. The game is currently free to play on PC and Mac, and a special PS4 and Xbox One version dubbed Marvel Heroes Omega is right around the corner. - Sam RutherfordCredit: Gazillion Entertainment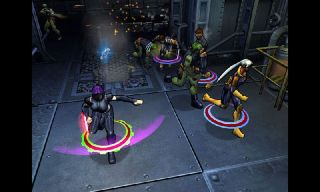 8. X-Men: Legends (2004; PS2, Xbox, GameCube)
Whether you grew up reading the comics, watching the cartoon or seeing the movies, chances are good that you've always wanted to construct your own X-Men team. X-Men Legends lets you do just that. In this action/RPG, you'll take control of Wolverine, Cyclops, Beast, Jean Grey, Storm, Rogue and more fan-favorite characters as you build a superhero squad, level up their abilities and deck them out with the perfect gear. The excellent story pits the X-Men against Magneto, Mystique, Sabretooth and a few other surprising foes. If you want to control villains as well, X-Men Legends II: Rise of Apocalypse is arguably an even better game. -Marshall HonorofCredit: Activision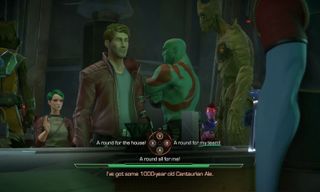 7. Telltale's Guardians of the Galaxy (2017; PC, PS4, Xbox One, Mobile)
With their quirky characters, wisecracking dialogue and twisting cosmic storyline, the Guardians of the Galaxy are a natural fit for Telltale's particular brand of point-and-click adventure games. Taking control of Peter Quill (aka Star-Lord), you set off to do battle with the Mad Titan Thanos, but in typical Marvel fashion, nothing goes as planned. Now, the Guardians — including Gamora, Drax, Groot and Rocket Raccoon — are caught between criminals, cops and one of the most powerful villains in the galaxy. There's even a whole soundtrack of '80s hits; no Walkman required. -Marshall HonorofCredit: Telltale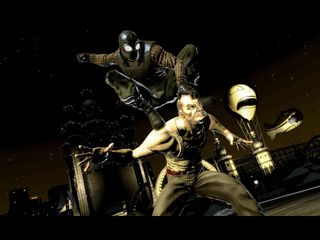 6. Spider-Man: Shattered Dimensions (2010; PC, PS3, Xbox 360, Wii)
It's hard to keep up with the glut of Spider-Man games that released from 2000-2010, but Shattered Dimensions is a clear highlight. This universe-hopping adventure took a unique approach by letting you play as four different web-swingers -- Amazing Spider-Man, Spider-Man Noir, Spider-Man 2099 and Ultimate Spider-Man -- each of which had their own unique abilities and gameplay quirks. Whether you're sneaking through the shadows as Spider-Man Noir or unleashing the symbiote suit as Ultimate Spider-Man, Shattered Dimensions is a refreshingly good time. - Mike AndronicoCredit: Activision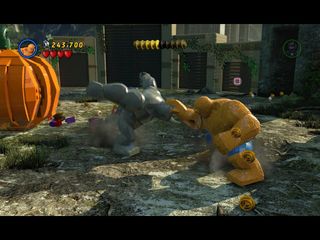 5. Lego Marvel Superheroes (2013; PS4, PS3, Xbox One, Xbox 360, PC)
Don't let its bricky appearance fool you -- Lego Marvel Superheroes is one of the best open-world Marvel games out there, period. This family-friendly adventure lets you freely explore a Lego-ized New York City that includes over 150 heroes and villains -- from Iron Man, Wolverine and Spider-Man to obscure fan-favorites like Dormammu and Moon Knight. Lego Marvel Superheroes captures the joy of playing with superhero toys while still serving as a solid action game, and given how much stuff there is to unlock, you'll have a hard time growing bored with it. - Mike AndronicoCredit: Warner Bros. Entertainment Interactive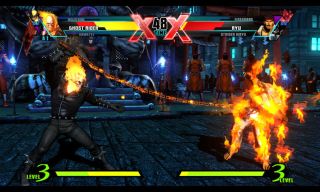 4. Ultimate Marvel vs. Capcom 3 (2011; PC, PS4, PS3, Xbox One, Xbox 360)
Ever since 1994's X-Men vs. Street Fighter, Capcom's "versus" fighting game series has let players pair up iconic Capcom characters such as Ryu and Mega Man with the likes of Wolverine, Captain America and Hulk to perform impossibly flashy combos. While Marvel vs. Capcom 2 is arguably the series' pinnacle when it comes to roster size, the newer Ultimate Marvel vs. Capcom 3 stands out from the pack, thanks to its more accessible gameplay and a gorgeous art style that looks ripped right out of the comics.
On top of its creative combo system, UMvC3 is the only game where Rocket Raccoon, Wolverine and Dr. Doom can team up to beat up a bunch of Street Fighter and Resident Evil characters. It's the perfect game to play while you wait for Marvel vs. Capcom: Infinite, which will bring a proper story mode to the franchise for the first time. - Mike AndronicoCredit: Capcom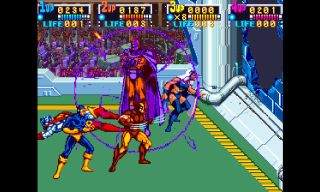 3. X-Men (1992; Arcade, PS3, PSP, Xbox 360, Mobile)
You know you've hit the jackpot when you walk into an arcade and find the best arcade side-scroller around: the six-player version of X-Men with two television screens in a humongous cabinet. (Sorry, Teenage Mutant Ninja Turtles and Simpsons.) The game stars Nightcrawler, Wolverine, Cyclops, Colossus, Storm, and, for one unlucky player, Dazzler, all working together to stop Magneto and other popular villains like Mystique, Pyro, Juggernaut and The White Queen.
The game leans heavily on its comic roots, with some insane levels like Magneto's base on Asteroid M and huge baddies like the Sentinels. It's also the originator of X-Men memes like "Welcome to die!" and "I am Magneto, Master of Magnet!" thanks to some shoddy translation work. But even if you find a cabinet that only supports two to four players (or opt to play the console or mobile ports), X-Men is one of the best super-hero side-scrollers out there - a pure, unadulterated Marvel experience. — Andrew E. FreedmanCredit: Konami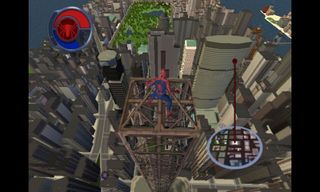 2. Spider-Man 2 (2004; PS2 , Xbox, GameCube)
The console version of Spider-Man 2 is arguably one of the best movie tie-in games of all time (the PC version was a bit dumbed down). While studios were pumping out games to sell alongside films, Treyarch's title actually made you feel like Spidey with swinging mechanics that required you to shoot webs at actual buildings rather than simply hanging from the sky.
Besides covering the movie plot, it also showed off fan-favorite characters like Mysterio, Shocker and Black Cat. Sure, some of the side-missions were a bit repetitive (how many balloons do you really want to chase for children?), but feeling like Spider-Man swinging through Manhattan, Ellis Island, Liberty Island and Roosevelt Island (no love for the other boroughs) turned a game meant to capitalize on merchandizing into the quintessential wall-crawler game. — Andrew E. FreedmanCredit: Activision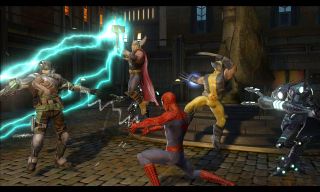 1. Marvel: Ultimate Alliance (2006; PS4, PS3, Xbox One, Xbox 360, PC)
The Avengers. The X-Men. The Fantastic Four. Mix them all together with a dash of Spider-Man, Blade and the Defenders, and you get Marvel: Ultimate Alliance. This action/RPG picks up where the X-Men Legends series left off and lets you construct your Marvel dream team in a quest to foil Dr. Doom's latest scheme. The storyline is about what you'd expect, but the sheer variety of party members (and villains) is staggering. If you want the same concept with a bit more narrative weight, Marvel Ultimate Alliance 2 retells the story of the Civil War — and, yes, you'll have to choose sides between Iron Man and Captain America. - Marshall HonorofCredit: Activision