The 11 Best AT&T Phones, Ranked Top to Bottom
Find the Best Phones Available at AT&T
When you peruse AT&T's selection of phones, you'll find devices from Apple, Samsung, LG and more. But AT&T also features phones you won't find anywhere else — it's the only carrier to offer Samsung's durable Galaxy S8 Active — and if you're looking to keep your phone costs down, there's a number of budget handsets, particularly under AT&T's prepaid offerings. Here's a closer look at the best smartphones AT&T has to offer based on our reviews and analysis.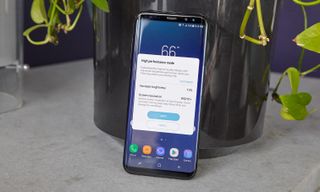 1. Samsung Galaxy S8
One quick glance at Samsung's Galaxy S8, and it's easy to see why it's our favorite overall phone. The curved 5.8-inch AMOLED display is a slight to behold, the way it elegantly slopes over the sides of the handset. It's also the best screen in a smartphone right now, with a resolution of 2960 x 1440, vivid colors, and excellent viewing angles. The Galaxy S8's camera might not quite measure up to that in the iPhone 8 Plus, but it's still a joy to shoot with. Our only gripe is the poor placement of the fingerprint sensor, a hair to the right of the lens. The Galaxy S8 comes in a slightly larger model, the S8 Plus, that measures 6.2 inches and costs an extra $100.
Photo Credit: Tom's Guide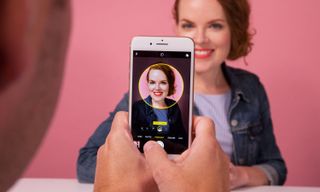 2. iPhone 8 Plus
The iPhone 8 may share a design with its predecessors, but under the hood, it's an all-new beast. Powering both the iPhone 8 and 8 Plus is Apple's new A11 Bionic chip, the fastest in any smartphone ever. Both models also receive a glass back, to enable wireless charging. And the LCD displays have been refined with Apple's True Tone technology, which adjusts white balance to ambient lighting. The $799 iPhone 8 Plus is the better value, thanks to its Portrait Mode-enabled dual cameras; still, either way you go, the latest iPhones are some of the best handsets AT&T offers.
Photo Credit: Tom's Guide
3. Samsung Galaxy Note 8
The Galaxy Note 8 is quite expensive for a smartphone, but then it offers capabilities no device can match. Take the S Pen, for example — the Note 8's defining accessory. Samsung's enhancements to the S Pen mean you can now use it to translate text on the fly, by hovering over it with the stylus. You can also use it to quickly jot down notes by starting to write even while the screen is off. But in other respects, the Note 8 is still a great overall phone, thanks to its gorgeous 6.3-inch AMOLED display, speedy Snapdragon 835 processor, and a generous 6GB of RAM. Even its dual cameras are some of the best in class, capable of portrait-style blurred backgrounds, wide angle photography, and 2x optical zoom.
Photo Credit: Tom's Guide
4. Galaxy S8 Active
The Samsung Galaxy S8 Active combines sheer durability with no-compromise performance, and like the S7 Active before it, you'll only find it on AT&T, at least for now. One of the most rugged phones out there, the S8 Active promises to withstand 5-foot drops, as well as 30 minutes of underwater submersion at a maximum depth of 5 feet. But in spite of that, it's still a state-of-the-art smartphone with a gorgeous 5.8-inch AMOLED display, Snapdragon 835 processor, and a gargantuan 4,000-mAh battery that lasts even longer than the one inside the standard Galaxy S8.
Photo Credit: Tom's Guide
5. LG V30
If listening to music and shooting video are very important to you, the V30 is worthy of consideration. LG's latest flagships totes two cameras: a 16-megapixel main lens with a super-low f/1.6 aperture, as well as a 13-MP wide-angle lens. It also features a bevy of shooting modes and effects designed by film-making professionals that look a bit more convincing than your standard Instagram filter. For audiophiles, the built-in digital-to-analog converter makes music coming out of the 3.5-millimeter headphone jack sound rich and full of range, while movie buffs are sure to appreciate the 6-inch OLED screen. Just make sure to pack a backup battery, as the longevity on a charge is less than stellar.
Photo Credit: Tom's Guide
6. LG X Venture
This AT&T exclusive isn't the fastest or best-performing smartphone around, but it is one of the most durable. The LG X Venture lasts long on a charge, achieving 11 hours on our battery test. It's also got a rugged design with a grippy, rubberized back, IP68 water resistance, and shock-absorbing corners in the event of a drop. In a pinch, the X Venture's 16-megapixel camera performs admirably, though it is a little slow to capture. But considering what you're paying, the overall package is a lot of phone for a modest price.
Photo Credit: Tom's Guide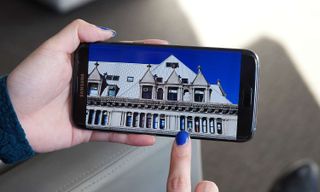 7. Samsung Galaxy S7 Edge
We love Samsung's Galaxy S8, but there's no shame in choosing the older Galaxy S7 Edge, especially now that the phone's price has been cut by $100. The 12-megapixel camera's dual-pixel sensor speeds up autofocus and the wide f/1.7 aperture lets in more light for great photos even when you're shooting in the dark. The phone itself is a workhorse, too, with a beefy Snapdragon 820 processor and a battery that lasted more than 10 hours on our test. You can save a little more money by opting for the Galaxy S7, also available through AT&T, which lacks the Edge's curved screen, but still features the same great camera.
Photo Credit: Tom's Guide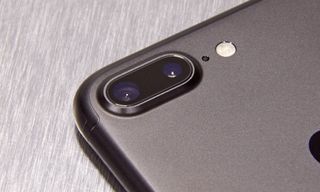 8. iPhone 7 Plus
It may lack wireless charging, but the iPhone 7 is still a powerful, capable phone a year after release. We think the 5.5-inch iPhone 7 Plus is the better buy, thanks to its dual rear cameras that offer true optical zoom. Apple also widened the aperture from previous iPhones so these models now take better photos in low-light conditions. The iPhone 7 Plus is water-resistant, and it lasts longer on a charge than its smaller brother.
Photo Credit: Tom's Guide
9. Kyocera DuraForce XD
Talk about tough. The DuraForce XD can handle 4-foot drops with ease, and it's also able to survive a 30-minute dip in up to 6 feet of water. (Just make sure the back panel — which you can remove to swap out the battery — is firmly in place before your phone goes into the drink.) If what you want is a phone that can survive a challenging workday without a fancy processor or camera, the DuraForce XD is a solid S7 Active alternative for much less.
Photo Credit: Tom's Guide
10. iPhone SE
Who needs a phone with a ginormous screen? The iPhone SE sports a 4-inch screen that fits easily into the palm of your hand. You won't sacrifice too much in the way of features for this more compact phone. It has the same processor and 12-megapixel camera you'll find in the iPhone 6s (which AT&T also offers), though it does lack the 3D Touch capabilities of Apple's larger phones. Still, the low price tag — it's the cheapest iPhone you can get — means you don't have to pay a premium for the iOS experience.
Photo Credit: Tom's Guide
11. LG V20
LG's 5.7-inch V20 is a good option for fans of phablets, particularly those who rely on their phone to create content. The V20 features dual rear cameras with some of the best manual camera controls you can find on a smartphone. High-gain microphones make sure to pick up every sound when you're shooting video. The V20 also offers a handy second screen for accessing commonly used apps and settings. Just be aware this phone still commands a premium price, even with the newer V30 now available.
Photo Credit: Tom's Guide
New & Notable: ZTE Axon M
Both AT&T and ZTE think two screens are better than one. We'll find out if they're right in mid-November when the ZTE Axon M debuts as an AT&T exclusive. The phone features a pair of 5.2-inch 1080p LCD screens which fold out to create a single 2160 x 1920 display (albeit one with a noticeable hinge in the middle). The $725 phone is presented as a multitasker's dream with the ability to run two apps side-by-side on the joint displays. Since the phone flips around, there's only one camera, which can double as both the regular shooter and a selfie cam. You can pre-order the Axon M starting Nov. 1, with the phone hitting stores on Nov. 17.
Photo Credit: Tom's Guide