BARCELONA — To get you excited about smartphones again, LG hopes to get by with a little help from its Friends.

When LG took the wraps off its new G5 flagship phone at this week's Mobile World Congress, a large chunk of time was spent talking about the accessories developed for the phone. Thanks to its modular design, LG G5's can accommodate add-ons like the LG Cam Plus with a dedicated shutter button and the sound-boosting LG High-Fi Plus. LG also rolled out accessories that pair up with its new phone to expand its capabilities.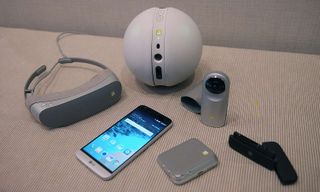 LG calls these accessories LG Friends, and they include a camera for taking 360-degree photos, a pair of foldable virtual reality glasses and even a remote control spherical ball equipped with a camera. And if LG has its way, there will be even more friends down the road — the company is opening up its platform to encourage developers to make more add-ons for its smartphone.
It may seem odd to put such a focus on accessories, especially when you're trying to get people hyped up about a new phone. But the way LG sees it, LG Friends are high up the list of reasons to get excited about the G5 because they expand the phone's capabilities beyond the tasks we've been using smartphones for since the iPhone ushered in a new mobile era nearly a decade ago.
MORE: Best Phones - Find the Best Phone for Your Passion
"We think the smartphone's best days are still ahead," LG Electronics CEO Juno Cho said during the Feb. 21 G5 launch event. "These are way too powerful devices just to take pictures and post them on social media."

LG is hardly the only smartphone maker that is banking on accessories. Samsung is bundling a free Gear VR headset for those that pre-order the Galaxy S7 and S7 Edge. Plus, Samsung unveiled its Gear 360 camera, which let everyday users shoot and share virtual reality-friendly video.
Before Sony previewed its Xperia X phones at MWC, the company took time to tout smart accessories meant to help you more easily control your phone. This includes a new earpiece that doubles as a personal assistant (think Siri in your ear). Last but not least, Alcatel may ship its new Idol 4 phones in a container that doubles as a VR headset.


In other words, turning to other products to augment and expand a smartphone's capabilities is now a major part of every phone maker's playbook. In fact, you could easily argue that 2016 will be the year that phone accessories matter as much as phones in terms of importance.

Chalk it up to the smartphone market become saturated with devices and sales slowing down. Even high-flying Apple has seen the once astronomical sales growth of the iPhone tail off. So if pairing a new smartphone with a rolling ball that can shoot a laser point or offering up a way to easily take 360-degree pics is to going to convince you to buy a smartphone, that's what device makers are going to try.

And that could ultimately benefit smartphone users. Maybe not every add-on being trotted out at this week's Mobile World Congress has thrilled you. I found LG's 360 VR headset a little underwhelming and if something like Sony's Xperia Agent personalized assistant ever greeted me at the door, I might run away screaming. But the Xperia Ear seems like a useful way to operate a smartphone without constantly looking at a screen, and LG's forthcoming drone controller would be a welcome addition if it delivers the simple controls that LG touts.

The bottom line: When smartphone makers set about to update their phones these days, they're thinking of something other than simply upgrading the specs. At the end of the day, that should make for more interesting mobile devices for you and me.