Samsung's Galaxy S10e, Galaxy S10, and Galaxy S10 Plus now in stores and the pomp and circumstance surrounding their release is in full swing. But some early rumors have already started for the Galaxy S11 — if that's what Samsung winds up calling next year's flagship phone.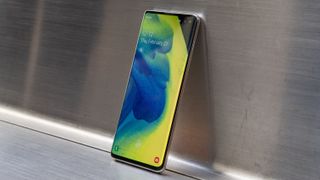 The S11's launch might be a year away, but already, there's talk of Samsung's plans for next year's flagship. Here's what we've heard so far.
Galaxy S11 release date
We're about a year away from the next Galaxy, but history can be our guide. For the S10, Samsung held the product launch in San Francisco a few days before this year's Mobile World Congress trade show in Barcelona. The year before, the S9 debuted during MWC, as did 2016's Galaxy S7. The one exception was the 2018 unveiling of the Galaxy S8, which happened a full month after the big smartphone trade show in Spain.
The takeaway from this pattern? Mobile World Congress is a good indicator of when Samsung is ready to unveil a new phone, even if that event doesn't happen at the show itself. Mobile World Congress 2020 will likely take place in the last week of February, if you want to start planning out your Galaxy S11 countdowns now.
A "perfect" full-screen display
It's been the holy grail of smartphone design for some time now: an edge-to-edge, pretty much bezel-free screen that can slot the front-facing camera behind the display panel without the need for a notch or motorized slide-out camera. And Samsung might be the closest to achieving it, according to rumors out of South Korea.

It's little surprise that Samsung is working on such technology — practically all phone makers are tirelessly inching toward that goal, and Samsung's display engineering muscle would certainly suggest it would be the first to achieve it. The real question is whether or not we can expect to see such an innovation debut with the Galaxy S11. At this point, it's far too early to assume that we will, so keep your eyes peeled for updates as we get closer to the end of 2019.

A Qualcomm 5G chip
Speaking of Mobile World Congress, during this year's event Qualcomm discussed the future of its 5G chips. Going forward, the company plans to integrate the actual 5G modem with its mobile processor.
Qualcomm President Cristiano Amon said that the technology will make its way to devices next year. And already, Samsung has committed to using the chip in its flagship models.
It is indeed a big step for Qualcomm. The company's first 5G modems — the X50 right now, and the X55 later this year — are standalone chips that sit alongside the handset's processor. That tends to create chunkier devices that might not be as power-efficient as some would like. Perhaps not coincidentally, the upcoming Galaxy S10 5G features a massive 6.7-inch screen and huge 4,500 mAh battery. It's also 0.31 inches thick and weighs 6.98 ounces, compared to the 6.17-ounce Galaxy S10 Plus, which is slightly thinner at 0.3 inches.
According to Qualcomm, the new combined chip would be more power-efficient, which would let phones like the Galaxy S11's battery last longer. And since there will only be one chip inside the smartphone, it would give Samsung more of an opportunity to streamline the smartphone's design and perhaps make it less chunky.
Going With USB-C — and no headphone jack
Interestingly, a report from October 2018 provided some clues as to what we might be able to expect from Samsung's Galaxy S11.
ETNews said that Samsung has decided to go with USB-C exclusively in the Galaxy S11. That means the company will ditch the headphone jack and requiring you to use wireless earbuds or a dongle in the box that will let you plug in 3.5mm headphones.
Name change on the way?
Although Samsung has stubbornly stuck to the Galaxy S branding in its flagship, there's a chance that might change starting with the Galaxy S11.
A report from the Yonhap News Agency suggested that Samsung is considering what it wants to do with the Galaxy S11's name. The company's executives are apparently concerned that "eleven" and subsequent versions, like "twelve" and "thirteen," are too difficult to pronounce.
Instead, Samsung might opt for a standardized branding in the next Galaxy phones and get away from the numbered branding going forward.
What we want from the Galaxy S11
We're likely to hear more details about the Galaxy S11 as we get farther away from the S10's release. We have a few things we'd like to see in Samsung's next phone.
No punch holes: The Galaxy S10 has single cutout for the front camera, while the S10 Plus has two punch holes. And while you can hide these in software, that alternative doesn't look good either. We'd like to see Samsung offer selfie cameras that are behind the display and invisible. Alternatively, Samsung could go the pop-up selfie cam route, but that design has been polarizing so far in phones like the Xiaomi Mi Mix 3.
Even better photos in low light: Google has nailed the ability to take photos in very dark environments with the Pixel 3's Night Sight mode, but the Galaxy S10 still struggles a bit even with its new Bright Night setting and AI on board. We'd like to see even better low-light pics from the Galaxy S11.
Make the gestures more natural: The Galaxy S10 gives you the choice of using software buttons for getting around the phone or gestures, but the latter is clunky. You swipe up from one of three places to see recent apps, go home or go back. The Pixel 3 and iPhone XS do a better job in this area.
Ditch the curved display (or avoid accidental touches): As sleek as the curved design is for the Galaxy S10 and S10 Plus, Samsung is on to something with the flat Galaxy S10e. A flat display means you're much less likely to accidentally press something on screen when you're simply trying to hold the phone.
Stay tuned for more updates on Samsung's Galaxy S11 plans as leaks and other details emerge.