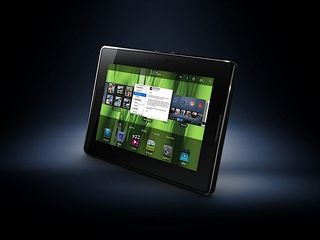 It hasn't been a good week for RIM. It's only Wednesday but already we've heard rumors that the company may be discontinuing its PlayBook tablet and gotten word that the executive in charge of the PlayBook project has jumped ship and is headed for Samsung.
Ryan Bidan, senior product manager for the BlackBerry PlayBook, yesterday updated his LinkedIn job title to Direct of Product Marketing at Samsung. He provided extra confirmation via his Twitter account, revealing that he would be moving to Dallas, Texas. Prior to his position at RIM, which he has held for two years and 10 months, Bidan spent just under eight years at Microsoft.
The news of Bidan's departure comes amid speculation that the PlayBook is being discontinued. Announced last September and launched in April, the device received lukewarm reviews from critics. Boy Genius Report claims that RBC Capital Markets Managing Director Mike Abramsky yesterday reiterated an OTR Global report that said RIM could be planning to stop production of the current Wi-Fi BlackBerry PlayBook model. At the moment, there is no 3G model.