The best fake AirPods are designed to replicate the iconic stemmed design of the Apple AirPods and AirPods Pro — albeit without Apple's premium pricing. Most recent earbuds tend more towards a rounded shape, like the Beats Studio Buds and Sony WF-1000XM4, but if you prefer the elongated look, these could be your most economical options.
Frankly, Amazon is covered with AirPods clones, but a lot of these tend to just be cheap knock-offs with no effort put towards making them an actually serviceable set of headphones. That's why we're highlighting the pairs below: even if they don't beat the very best wireless earbuds on sound quality, we know from our testing that they have genuine qualities to offer. Read on, then, for our picks of the best fake AirPods.
What are the best fake AirPods?
The best fake AirPods can be difficult to track because they're often sold through third-party retailers with no association to Apple. As such, Amazon pulls the knock-offs from time to time to avoid copyright complaints. We try to keep an eye on the availability of the buds, and update this round up as sale information changes.
Currently, we feel the TaoTronics SoundLiberty 53 are the best fake AirPods. These buds actually outperform the AirPods on battery, and offer IPX8 waterproof protection, something that's not all that common on the most expensive earbuds.
The sweet-sounding Anker Soundcore Liberty Air come in at #2, while its noise-cancelling cousin the Anker Soundcore Life P3 takes the third spot. The latter isn't quite as dirt-cheap as most of the other best fake AirPods, but considering it's got full ANC, we're not complaining.
The best fake AirPods you can buy today
The model that put TaoTronics on the true wireless map, the SoundLiberty 53 (previously known as the TWS TT-BH053) packs surprisingly good audio and respectable battery life into an AirPods-style design. Its biggest feature is the charging case, which has been scaled down to accommodate portability and holds up to 50 hours of playtime. That's pretty amazing for wireless earbuds priced under $50. TaoTronics also sells the buds in black, if you're trying to get away with that whole AirPods-custom-paint-job look from a distance.
Just be aware that while these are our current favourite fake AirPods, a low price doesn't guarantee perfection. During testing, we noticed the tap gestures were highly sensitive and often misinterpreted commands to raise volume or enable the digital assistant. There was also some lag present when calling up Siri and Google Assistant; we often had to wait a few seconds before speaking or else the digital assistant wouldn't recognize commands.
We have always considered the Liberty Air True to be the first legitimate AirPods clone when it released back in 2019, and for a few good reasons. One, sound quality surpasses the performance on most of the models in its price class, as well as the current-gen AirPods, producing clear, bass-forward audio to enjoy contemporary music genres. Two, the inclusion of ear tips is a huge bonus, delivering a pleasant and stabilized fit. Three, the 5 hours of playtime you get is pretty close to what Apple's buds offer and is longer than the AirPods Pro, though the latter requires extra juice to operate noise cancellation, which these buds don't have.
Had Anker managed to make the touch controls more reliable and the design less of a scratch-n-scuff magnet, then the Liberty Air could have been a bigger threat to the real thing. As it stands, it's a still a worthy member of the best fake AirPods club, and is a lot cheaper than the newer Liberty Air 2.
Read our full Anker Soundcore Liberty Air review.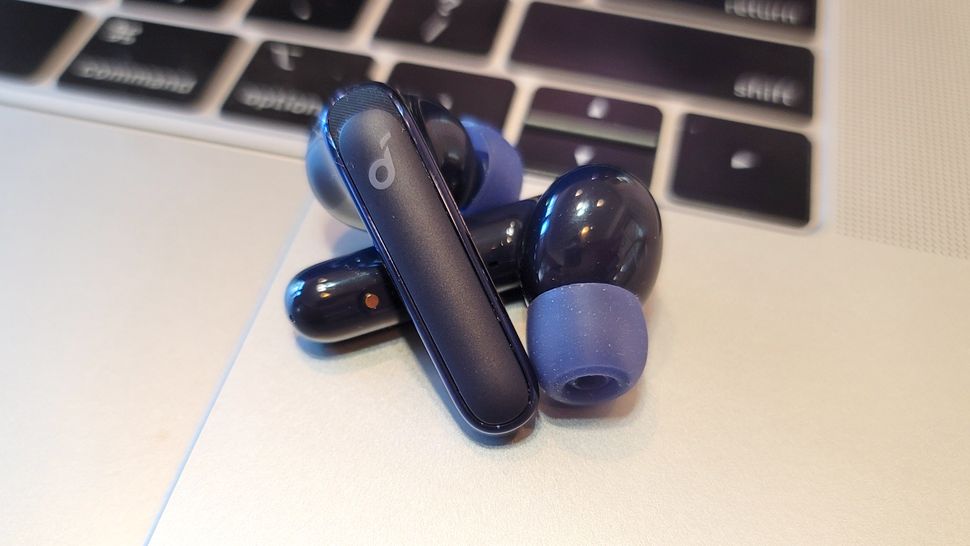 With the Letscom T19 gone MIA from shelves, it's up to the Anker Soundcore Life P3 to provide an affordable noise-cancelling option. With an MSRP of just $79, this pair is certainly accessible by ANC standards, and the effect is pretty good for the money. As is general audio quality, with a warm, satisfying sound signature. Battery life stands up to the added strain of noise cancellation as well.
Surely there must have been cut corners, to get premium features on a set of buds this cheap? Maybe slightly: the touch sensors and call quality could both be better. But as as ANC earbuds go, few are as affordable as the Soundcore Life P3, and even fewer can perform as well. And yes, it's available in white.
Read our full Anker Soundcore Life P3 review.
This pair of earbuds may share the same silhouette as the AirPods, but the Stockholm is a more fashion-forward option, thanks to a matte finish that comes in multiple colors. Bluetooth 5.0 holds up strong, so you'll be able stream music and take calls several feet away from your audio source without experiencing any dropout. The buds also connect instantly to devices when removed from the charging case. Sound is crisp, but don't expect much bass or highs when listening to music; you'll want to stick to vocal-driven recordings to enjoy audio performance. We recommend the buds more for podcasts and videos.
Where the Stockholm loses points is in battery life, which is below standard at 3.5 hours on a single charge. That's a far cry from the company's latest over-ear headphones, the Urbanista Miami.
A sleek all-black design and powerful specs for a budget-friendly price, EarFun has clearly taken cues from other sub-$100 competitors like Anker. The Air is a solid effort that's well engineered on the audio end, giving high-pitched vocals prominence on recordings, while producing rich bass depth to balance out sound. We attribute the Air's resonant output to the buds' fit, as the tips create a tight seal around the ear to keep music from leaking out and noise from seeping in. You're also getting much more playtime out of these than the regular AirPods or AirPods Pro; we appreciate the buds coming fully charged right out of the box.
The charging case is wireless charging compatible, but it's also larger and heavier than most other models. However, the Air's biggest problem is the touch controls, which fail to work most of the time.
Outside of the Razer Hammerhead True Wireless Earbuds, there aren't many true wireless models designed for gaming. But if you're really keen on playing Fortnite on your smartphone and want something that's both affordable and well-engineered to reproduce action-packed sound, take a look at the QCY T5. This set of buds comes programmed with a Game Mode that reduces latency and stabilizes connectivity, while also delivering clear mids and highs when vibing out to music. Pairing is simplified, thanks to a one-tap setup that speeds up the process. The accompanying gel tips also offer great comfort and fit.
QCY could have done a better job with designing the T5. For one, the lack of USB-C charging does make this model seem a bit outdated. And despite the buds being IPX5-certified (sweat- and waterproof), they don't feel as sturdy as they look, nor does the charging case. Nonetheless, these are arguably the best fake AirPods for playing games on the go.
The AU-Stream is an ambitious model that gets the basics right and comes with a few cool features. Touch controls tend to be hit or miss on wireless earbuds, but this pair hits it out of the park with several programmed functions (e.g. play/pause, digital assistant activation, volume +/-) that can be executed through single or multi-tap gestures. Bass hounds will love the deep lows produced on hip-hop and EDM tracks. The charging case only holds 20 hours total, but also comes with rapid wireless charging, so you can quickly juice up the buds in 1.5 hours by placing the case atop any Qi-enabled wireless charger.
While the buds do support multipoint technology so you can pair them to two devices simultaneously, the feature is buggy. It would only play the left earbud when listening to music on my first paired device (MacBook Pro), and vice-versa with the right earbud on my second device (Google Pixel 3 XL). Also, the long, thick stems are very unflattering.
How to choose the best fake AirPods for you
If you're here, you've probably decided you want to get a pair of the best fake AirPods instead of the real thing. Both AirPods and AirPods Pro regularly go on sale, so be sure to check out our updated AirPods sales pages to see if the Apple-made earbuds fall in your budget before spending money on lower-quality knock offs from different manufacturers.
While all of the pairs above adopt the AirPods's iconic, white plastic aesthetic, several sacrifice audio quality in the process. If you want a pair of the best fake AirPods to make it seem like you're sporting real ones, prioritize a replicated design more than how the buds sound. But if you still want your new headphones to get you in the groove for commutes, workouts or phone calls, consider choosing a pair above that offer decent audio technology. Even if they don't look exactly like genuine AirPods.
How we test the best fake AirPods
We call in and test the best-selling fake AirPods from Amazon and other suppliers taking note of when pairs are pulled from the website or re-listed under different product names. When new styles appear, we call them in and consider them for this list.
For reviews of the best headphones, design and appearance take a backseat to performance and battery life. But for this list of the best fake AirPods, we prioritize how much each pair looks like real AirPods, pointing out the aesthetic differences of the cases and buds.
After we gauge design, we listen to music, catch up on podcasts and make calls using the best fake AirPods contenders. We tune our ears to catch static or other faults with these low-cost buds, and decide whether they sound good enough to recommend. The headphones listed here might not be perfect, but they've at least passed the test.