Although Apple-owned Beats hasn't made an official announcement yet, rest assured that the Beats Studio Pro noise-canceling headphones are coming. A recent FCC filing all but confirms their existence. New leaks also share key details on Beats' upcoming flagship headphones, including upgrades to active noise cancelation, battery life, design, sound quality, and special features.
When they do arrive, the new Beats Studio Pro headphones look set to rival many of the market's best noise-canceling headphones, as well as Apple's AirPods Max flagship. Online reports claim that both models will share many of the same hallmarks. They also suggest that the new headphones will have their own set of exclusive features, which we're sure Apple is also considering for the rumored AirPods Max 2.
Basically, all signs point to the Studio Pro being Apple's best ANC headphone to date. Here are 5 reasons why the Beats Studio Pro will be better than the AirPods Max.
1. Best sound and full Spatial Audio support
The Beats Solo Pro came out in late 2019 and are the newest wireless over-ear headphones release from Beats. They had been considered Apple's best-sounding headphones until the AirPods Max debuted at the end of 2020.
A trusted anonymous source for 9to5Mac revealed some details on the Studio Pro, stating the headphones would boast their own custom 40mm dynamic drivers, along with drivers that improved audio and produced less distortion at high-volume outputs. Beats wireless earbuds are considered better-sounding models over all AirPods because of their surprisingly great frequency range with strong bass response. I anticipate that the Studio Pro will up the ante and surpass the AirPods Max's sonic performance.
It's also being said that Beats' newest cans will support "three distinct listening modes" via USB-C cable: Conversation, Entertainment, and Signature. Conversation will apparently optimize frequency response for voice, Entertainment increases sound based on "select portions of the audio spectrum," and Signature is Beats' default sound profile with "tonally balanced tuning." Bluetooth LE could also come part of the package to provide a boost in wireless sound.
What about Apple's 3D audio format? Personalized Spatial Audio has been mentioned, along with dynamic head tracking. This isn't the first time that Beats has taken on Apple's premium features, as the true wireless Beats Fit Pro also utilize these technologies. Granted, these features are better executed on the AirPods Pro and AirPods Pro 2, but Beats can correct that with the Studio Pro.
2. A more platform-friendly experience
You can pair any AirPods with Android and Windows devices, but Apple makes it incredibly difficult to do so. The process takes longer than standard wireless earbuds and requires a few extra steps. Even after you establish a connection, you're bound to experience some performance issues such as dropout, or in my case, audio remaining permanently mute after 30 seconds of playback. Adding insult to injury is the lack of native access to Google Assistant when using an Android device (you'll need third-party software to get around this).
Beats solved this problem when introducing a proprietary chipset for the Studio Buds. It introduced several perks such as improved Android compatibility, Audio Switch to automatically transition audio between your devices (no matter the platform), Google's Find My Device support, and access to the Beats app. These features are also available on other current Beats true wireless models, including the Beats Fit Pro and Beats Studio Buds+.
Apple's H1 chipset offers a few more features like audio sharing and Apple's ear tip fit test. We anticipate the Studio Pro will take on these functions and possibly a few more.
3. Iconic design with better comfort and new colors
Rumor has it the Studio Pro may bear a design similar to the Studio3 headphones, but with more emphasis on comfort and portability. If we're going based on 9to5Mac's reporting, the headphones will weigh 9.17 ounces, making them a much lighter carry and wear than the AirPods Max (13.6 ounces). Soft leather might be used for the ear cushions for comfier over-ear support, while the metal sliders could feature a more flexible and user-adjusted fit. Hopefully, the design is collapsible to store the Studio Pro in a smaller carry case; the AirPods Max don't collapse.
9to5Mac also states that four colors will be sold at launch: black, deep brown, navy, and sandstone. There's a possibility that Beats could expand the lineup with new finishes, just like they've done with their wireless earbuds collections. We also wouldn't put it past Beats to launch a transparent colorway considering the positive feedback the new Studio Buds+ design option has received.
Apple sells the AirPods Max in five colors: green, pink, silver, sky blue, and space gray. While stylish color options are appreciated for the AirPods Max, new colorways and potential collaborations sound more appealing for the new Beats.
4. Better battery life with up to 40 hours of playback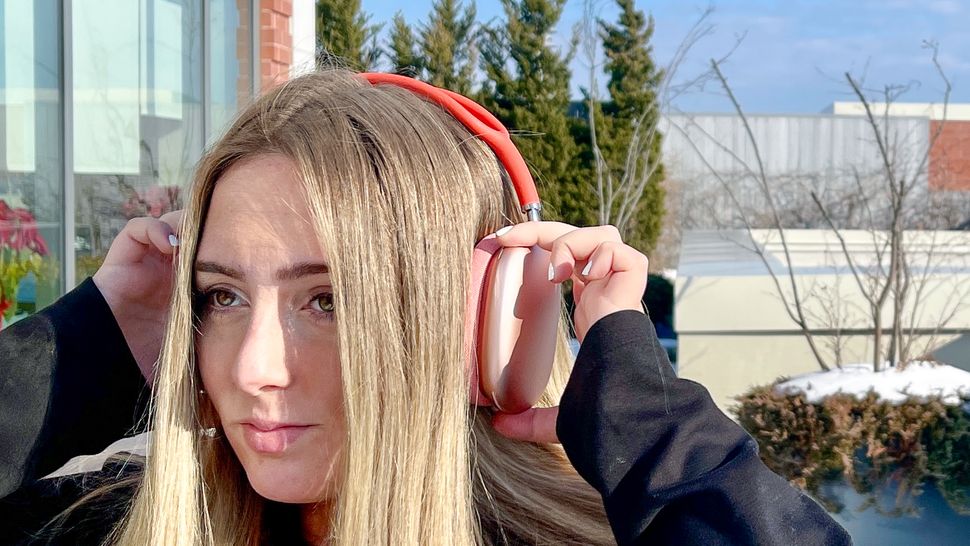 The Beats Studio Pro are rumored to provide around 40 hours of playback time. That's double the rated playtime for the AirPods Max, although it may drop significantly when enabling ANC or Transparency modes. Whatever the case, any improvement would be worthwhile with the majority of Apple fans ecstatic if the Studio Pro came with just 2 hours more listening time.
Beats' proprietary Fast-Fuel charging technology is a sure bet for inclusion, and reports suggest that the Studio Pro will charge faster to give 4 hours of playback from a 10-minute charge, compared to the AirPods Max which gives 1.5 hours of playback from a 5-minute charge.
5. Best-ever performance at a realistic price
Authorized listings seen by 9to5Mac show the Beats Studio Pro priced at $349. That's an ideal MSRP for flagship Beats headphones, and even undercuts flagship rivals such as the Sony WH-1000XM5 and Bose 700. The difference in price is also significant compared to the $549 price tag for the AirPods Max. Although the AirPods Max are regularly on sale for less, even at their best-ever discounted price they're still more expensive than the suggested price for the upcoming Beats model.
Judging by the leaked spec sheet, the Beats Studio Pro already look to be the better deal. With stronger performance including a more finely tuned sound, longer battery life, and flagship Apple features similar to the AirPods Max, I for one can't wait to try out the Beats Studio Pro headphones as soon as they arrive.
More from Tom's Guide