They say size doesn't matter, but in the case of the Samsung Galaxy S23 Ultra it might after all. I'm not talking about the phone's size. It about the size of the S23 Ultra's main camera — which is tipped to come in at 200 megapixels — and what Samsung could do with it.
Rumors of this 200MP main camera have piqued my curiosity about the upcoming Samsung phone. In fact, it could finally tempt me back from my switch to iPhone from Android, which I made almost two years ago.
All about megapixels
It's long been the case that high-megapixel counts in smartphones don't equate to great cameras. As our phones editor Jordan Palmer pointed out in a chat we were having, a lot of affordable phones come with big megapixel cameras but are far from the best camera phones.
That's because a lot of smartphone photography relies on software and computational photography to deliver pleasing photos. And we see that applied to great aplomb with the iPhone 14 Pro, Google Pixel 7 Pro, and the Samsung Galaxy S22 Ultra.
But while those phones all produce a different flavor of photo with their smart processing, they all have one thing in common — a high-megapixel main camera. Where once the predecessors of these flagship phones used 12MP main camera sensors for multiple generations (most notably the iPhone 13 Pro), the past two years have seen phone makers move away from tried and tested sensors.
This is likely down to the three brands reaching a point where computational photography and AI-enhanced image signal processing can only do so much with 12 megapixels. And hence you now have a 48MP sensor on the iPhone 14 Pro, 50MP on the Pixel 7, and a 108MP camera on the Galaxy S22 Ultra.
A new level of detail
So why has the rumored 200MP sensor on the Galaxy S23 Ultra got me excited? Well it's all down to the amount of detail such a camera can capture.
More megapixels means higher resolution shots and thus more detail. And that means there's more data for smart software to process and theoretically deliver sharper, more detailed and richer photos, even if the end shots resolve to 12MP or 50MP images.
What's specifically interesting to me is this extra detail should mean that when you crop into a photo, you don't lose a load of detail and clarity. This has been a problem with previous smartphone photos; they look great at glance, but when you punch in you start to notice aberrations, too much smoothing or smudged textures.
As such, when I'm trying to do some "serious" photography, I have to use my DSLR. While it's great and produces images that are more easily manipulated in an edit, it takes a bit of skill to get a good shot, especially when lighting is less than ideal.
Now I'm not the worst photographer, but my skills are really in shooting out words, not shooting scenes. So for a photo that'll look decent without a lot of work, I sometimes turn to a smartphone. Thanks to the processing, a phone can take a dull shot and make it a lot brighter and clearer. But then it has the aforementioned limitations when cropping in to a shot.
If the rumors are true and the Galaxy S23 Ultra does have a 200MP camera, then it could potentially deliver the best of both worlds. In particular, if the flagship phone lets you capture full 200MP photos, then not only would the phone have more detail to work with, there'll be a lot more scope to edit and crop into a shot without it becoming a hazy mess.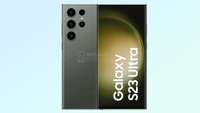 Galaxy S23 preorder: up to $100 credit @ Samsung
Up to $100 credit Samsung is one of the best sites for Galaxy S23 preorders. Reserve your Galaxy S23 preorder via Samsung and you'll get up to a $100 Samsung credit. You'll get a $50 credit when you reserve one device or a $100 credit if you reserve two devices. This is a no commitment pre-order. All you need to do is provide your name and e-mail address to reserve. Once you pre-order, you'll receive your credit.
Of course, the Galaxy S23 Ultra is likely to have the dual telephoto cameras of its predecessor, and one could argue that they are the snappers to use to get detailed close-up shots. I wouldn't debate that, but sometimes you only decide what you want to punch into when viewing a shot after the fact. So having the scope and pixel count to better manipulate such shots is sure to be a boon for have-a-go photographers like me, who don't always have a DSLR on hand.
Thanks to an apparently leaked Galaxy S23 Ultra photo, we can see a 200MP image that's been cropped into by 12x. And it really looks swaddled in detail with crisp edges.
What kind of photo do you think this is?5x zoom? 10x zoom? No, it's a Galaxy S23 Ultra 200MP HP2 photo enlarged by 12x! Use one word to describe your feelings! pic.twitter.com/m5rS0kZrQGJanuary 19, 2023
There is a caveat in that the quality of these shots will depend on the processing Samsung applies to them, or if the S23 Ultra let you capture RAW shots at 200MP and easily edit them. There have been some observations that the iPhone 14 Pro tends to over-process the shot from its 48MP camera, though my colleagues on the phones team haven't complained about that... yet.
Nevertheless, Samsung's computational photography has come on leaps and bounds over the past few years, and it's even toned back a tendency to oversaturate colors. So I'm quietly confident that the Galaxy S23 Ultra's 200MP sensor and the overall camera system will deliver the good and thus knock the iPhone 14 Pro Max from its top spot on our best phones list.
With a Galaxy Unpacked event set for February 1, we don't have to wait long before Samsung finally takes the covers off its new flagship phone and we get to see if megapixel size does indeed matter.
Read next: I think the Samsung Galaxy S23 Ultra could finally beat the iPhone — here's why.