2022 was a big year for iPads as we saw Apple release three iterations of its famous tablet. The Apple iPad Air (2022) was released in April, followed by the iPad 10th gen and iPad Pro M2 in October. These slates pack faster CPUs than their respective predecessors, and with the new iPad, we saw an updated design. Even if this year's crop of iPads wasn't terribly exciting, they were all respectable products worthy of inclusion in our best tablets and best iPads lists.
But what does 2023 have in store for iPads? Rumors surrounding Applet's tablets are scant, but the few things we've heard have us intrigued. Updated processors are all but assured, but it's also possible we may see the largest iPads yet. An iPad speaker dock could be on its way as well.
So, what can we expect from iPads in 2023? Here's everything we know so far.
Potentially larger iPads
Rumors about iPads with larger screens have persisted as far back as last year. Said rumors haven't abated and it's possible Apple could deliver the biggest iPads yet in 2023. These slates would blur the line between iPad and MacBook.
We've heard talk of both 14.1-inch and 16-inch iPad models in the works, and The Information says that the latter is currently scheduled for Q4 2023. The smaller model, meanwhile, could arrive in "early 2023" according to display analyst Ross Young. However, both models could arrive at the same time — perhaps under the iPad Ultra branding.
Leaker Majin Bu claimed Apple would introduce a 14.1-inch version to the iPad Pro family with the current generation, complete with 512GB storage by default (going up to 4TB) and 16GB RAM. Apple only released 11- and 12.9-inch iPad Pros in 2022, but this 14.1-inch model could still be in the works.
If this iPad Pro is real, it could be seen as a reaction to the 14.6-inch Samsung Galaxy Tab S8 Ultra that launched in 2022. However, this could have been Apple's plan for longer than that. As stated above, we've already heard rumors of larger 16-inch iPads, so perhaps this alleged 14-inch model is just a stop-off on the way to even larger Apple tablets.
Majin Bu was correct in saying the new iPad Pro would be equipped with an Apple M2 chip. To that end, it wouldn't be surprising if the rumored larger iPad Pros also packed this beefy processor.
iPad speaker dock
Compared to the likes of Amazon and the Google-owned Nest, Apple's first steps in embracing the smart home have been relatively small. In terms of dedicated hardware, there's just the HomePod mini and original HomePod — the latter of which has already been discontinued.
But according to Bloomberg's Mark Gurman, Apple has plans to take a shortcut in the race to dominate the smart home. It's reportedly working on an iPad speaker dock that would transform the company's tablet into a smart screen, and it could arrive as early as 2023.
"The move would mark one of Apple's most significant pushes into smart-home devices, expanding on its still small foothold in set-top boxes and speakers," Gurman writes. "It already offers the Apple TV and HomePod, but nothing that rivals the Echo Show from Amazon.com Inc. or Google's latest efforts."
Speaking of those two rivals, long-term followers of smart home tech will know that this idea isn't exactly new. Amazon has experimented with a Show Mode charging dock for its Fire tablets which turns them into portable Echo Shows, and Google has revealed it's doing something similar with the upcoming Pixel Tablet (a feature that was met with a lot of cheering from the audience at their launch event recently).
But Apple has a significant advantage over both of them: the iPad is by far the most popular tablet around, with a market share that hovers around the 55% mark.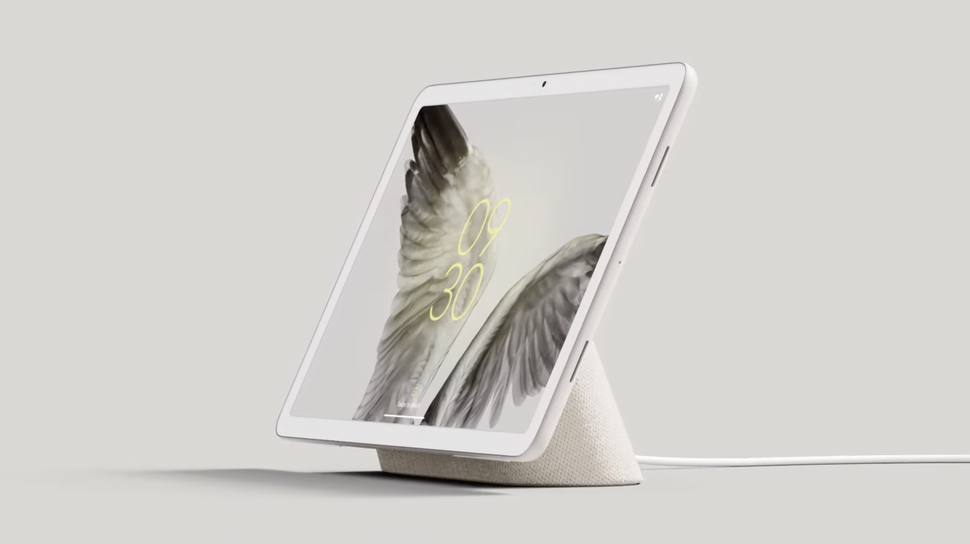 That's a far larger base to work with and something that could potentially make this work better than it has for Amazon — assuming Apple doesn't limit compatibility to the latest models. Doing so would be a mistake for two reasons: not only would it lock out the majority of iPad owners, but you'd imagine people with an older, slower tablet would love to give it a new lease of life as a smart screen.
OLED iPads
Rumors about OLED iPads have circulated for some time. Apparently, the first OLED iPads could launch in 2024. That's beyond the time window this article is covering. However, we wanted to provide you with all we know about these iPads, as it's possible Apple could at least announce them in 2023.
Apple has so far said nothing about plans to produce an OLED-equipped iPad, so it's notable that Korean tech publication ETNews claims to have heard confirmation that an iPad with an OLED display will launch in 2024. You should take this report with a grain of salt because we've heard similar reports before, some from ETNews itself.
Last year the same publication reported that OLED iPads could be coming in 2022, but that's now obviously off the table. Of course, it's possible that Apple planned to launch such an iPad this year but delayed it due to the ongoing global supply chain issues caused by the COVID-19 pandemic.
We've also seen corroborating tips from sources who have been right in the past, including Display Supply Chain Consultants CEO Ross Young and analyst Ming-Chi Kuo. Young claims OLED MacBooks and iPads are due in 2024, while Kuo takes a more conservative stance and believes that even if Apple can deliver an OLED-equipped MacBook to market in 2024, it will wait until 2025 to follow that up with an OLED iPad.
However, there's another intriguing piece of info in ETNews' report. The outlet claims that Apple is finalizing prototypes of an iPad OLED display with partners Samsung and LG that use a dry etching process instead of a wet etching process, which reportedly creates a thinner and lighter display.
ETNews believes Apple will make a big deal out of how this dry etching process makes the final product thinner and lighter. If true, it's hard to know whether Apple might offer dry etching as a key part of the iPad OLED manufacturing process, or as an optional upgrade you can pay extra for (much as it offers nano-textured glass as an optional display upgrade on products like the Apple Studio Display).
iPads in 2023: What else can we expect?
2022 was a relatively conservative year for Apple iPads. However, if rumors pan out, we may get some intriguing new iPads in 2023. It's difficult to say whether these rumored larger iPads would replace the current models or if they'll be additional tablets people can choose from. If the latter is true, it could make it hard for people to decide which iPad they should buy. But that seems more like a good problem to have.
Apple will likely have its annual spring event in March or early April 2023. Perhaps then, the company will give us some insight into what we can expect from iPads this year. iPad announcements always grab headlines, and this will be doubly true if the company releases 14- and 16-inch tablets.
What about a new iPad mini? Rumors about Apple's smallest tablet have been extremely scarce. LeaksApplePro (via Gizchina) reports that a new iPad mini will be unveiled in spring, but it's hard to verify the validity of this claim. Hopefully, we get word from more well-known sources, if not Apple itself, soon.
That's all we can say about iPads in 2023. Be sure to keep it locked on Tom's Guide for all the latest news about Apple's popular tablets.