The Razer Basilisk Ultimate is a strong gaming mouse. I've been using one for a year, and thanks to its first class optical sensor, I find it an enjoyably responsive peripheral to game with.
It's also on sale at time of writing. The price of this gaming mouse has temporarily been slashed, with the Razer Basilisk Ultimate on sale for $118 at Amazon in an early Prime Day deal.
It's another early Prime Day mouse offer that's really interesting me though, and that's the Logitech MX Master. But I'll dig into that more below.
If you do decide to go for the Basilisk, heed my advice: be better at managing its power settings than I've been. The Razer Synapse 3 app provides plenty of customization options that let you tinker with the Basilisk's RGB lightning effects, tweak DPI sensitivity, while also allowing you to set various power saving features.
And that last one is crucial. Razer claims the Basilisk can last up to 100 hours between charges, provided you turn off its RGB lighting zones. That's a problem for me, because I have an unreasonable affection for RGB.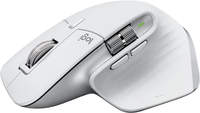 Logitech MX Master 3S: was $99 now $91 @ Amazon
The Logitech MX Master 3S is a revamped version of the Editor's Choice Logitech MX Master 3. This new version sports quieter left- and right-click buttons, wider DPI range (8,000 sensor), and Logi Bolt USB connectivity for securer wireless connections. It's now just $8 shy of its all-time price low.
Check other retailers: $99 @ Best Buy | $99 @ Logitech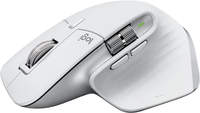 Logitech MX Master 3S: was £119 now £89 @ Amazon UK
If you live in the UK, you can get the Logitech MX Master 3S for just £89, which is its lowest price ever. It sports an 8K DPI sensor and Logi Bolt USB connectivity for securer wireless connections.
Lighten up
Actually, I have an obsession with RGB. My CPU cooler, RAM and every single fan inside my Corsair iCUE 500X RGB PC case all blind me with their pulsating cycles of hypnotic rainbow effects. My pulverised pupils would have it no other way.
That's why I always have the RGB effects on my Basilisk swirling away while I'm working. The trouble is, this cuts the mouse's battery life down to just 20 hours, but after a year of using Razer's peripheral, I've found it to be significantly lower than that in real-world usage.
Perhaps I've just been unlucky and have bought one with a slightly depleted battery. All I can tell you is my Basilisk routinely runs out of juice, and that's with idle settings enabled and the mouse's lower power mode set to kick in at 30% battery life.
Handily, the Basilisk comes with a USB charging dock — that also rocks RGB lights — but from my experience, my mouse spends too much time in it.
MX Master(piece)
Recently, I've found myself rotating between the Basilisk and my ageing Logitech MX Master, purely because of the battery issues I've been having with the former. My MX is an excellent all-rounder that boasts superb battery life, but it's getting a little long in the tooth.
After years of heavy usage its scroll wheel isn't quite as responsive as it once was, and the mouse itself has picked up a few unsightly scratches.
That's why I've started to eye up a more modern replacement. In our Logitech MX Master 3 review, our tester loved its ergonomic design and long battery life. That's why I'm going to pull the trigger on buying the slightly newer 'S' model of this mouse; especially as the Logitech MX Master 3S is on sale for £90 at Amazon UK (down from £120).
The mouse is also reduced on Amazon US as part of an early Prime Day deal, though the saving isn't quite as exciting. At time of writing, the Logitech MX Master 3S is on sale for $91 at Amazon (down from $100).
Though I'm about to buy the MX Master 3S, I won't fully abandon my Razer Basilisk Ultimate, in spite of the battery problems I've experienced with it. The Basilisk is too damn enjoyable for blasting Doom Eternal's Hell beasties with to give up on.
As someone who tests the best gaming laptops for a living, I'm sure the MX Master 3S will get plenty of time with my grubby mitts; be it on my desktop PC or the powerful ROG Zephyrus G14 (2023). Don't worry, MX Master 3S: I'll give my fingers a good scrub before they're all over you… probably.
More from Tom's Guide