Making the switch from a traditional office desk to an electric standing desk is certainly a big upgrade that can change the way you work. Although some people get a standing desk for the health benefits, others do so to boost their productivity, as they can move it up or down based on their workflow.
Despite your reasoning behind upgrading from a traditional desk to one of the best standing desks, there are certainly benefits to be had. However, what if you make the switch to a standing desk and still find yourself sitting in one of the best office chairs for long periods of time instead of alternating between sitting and standing while you work?
As someone who's tested a dozen standing desks and counting, I still think the upgrade is absolutely worth it, even if you plan on sitting at your standing desk. Here are three underrated standing desk features that show why an electric standing desk is the better choice regardless of how you plan on using it.
Improved ergonomics
Correcting your posture and putting less strain on your body is one of the main reasons why people decide to buy a standing desk in the first place. Sure, it's easier to have good posture while standing, but with the right adjustments, you can also correct your posture while sitting.
One of my biggest sticking points when it comes to ergonomics is having my monitor at the correct height. According to the movement company Ergotron which makes standing desks and adjustable monitor arms, this means having your monitor set up in such a way that "the top of the screen is at — or slightly below — eye level."
With one of the best monitors, this is easy to do as most of them have adjustable stands. However, if you have a budget or even a mid-range monitor like the Samsung M7 Smart Monitor pictured above, you may only be able to tilt your monitor as opposed to actually adjusting its height. You can rectify this with a height-adjustable stand or a monitor arm, but with a standing desk, you have another option: you can raise your desk up so that your monitor is at eye level.
Besides your monitor, you also want to have your keyboard at a "height that is even with the height of your elbows," according to Ergotron. The great thing about an electric standing desk is that you have the wiggle room you need to ensure your keyboard is at the correct height so that you don't put unnecessary strain on your elbows, wrists or forearms.
Easier cable management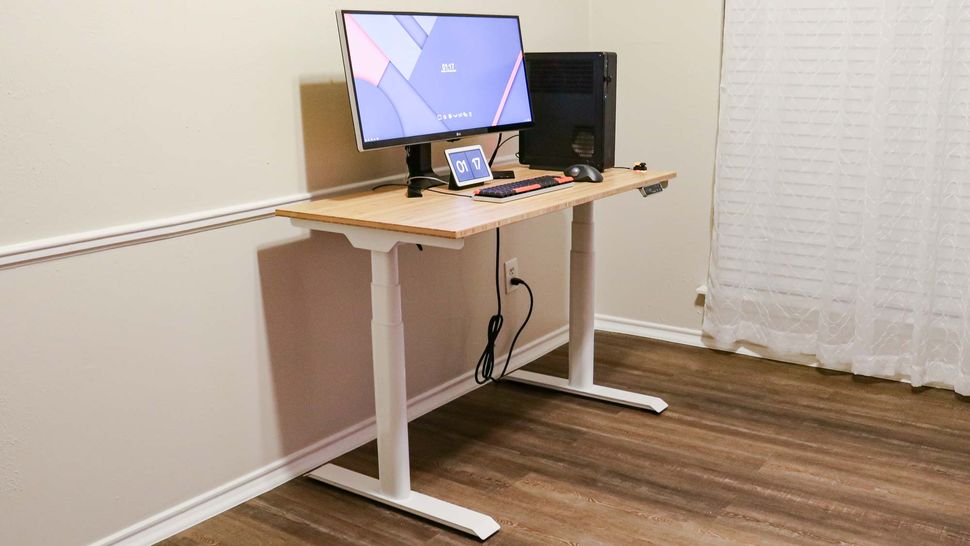 A cluttered desk can certainly be distracting; if you're like me, there's nothing worse than seeing a great looking desk setup with cables everywhere — even if they are underneath a desk. This is why I wholeheartedly believe that everyone should invest in a cable management tray for their desk even if it isn't electric.
With an electric standing desk though, a cable management tray is a must-have accessory, especially if you're using a desktop computer. Even with one of the best laptops, a cable management tray still makes sense though as the wires of most laptop chargers are too short to move up and down with your standing desk. With a cable management tray, all of your devices remain plugged in and having one also gives your desk a cleaner look overall as only one cable is visible.
Cable management trays usually cost between $20 to $30 dollars but the Uplift V2 comes with one for free. Likewise, the Realspace Smart Electric Height-Adjustable Desk has a built-in cable storage area in the back because it's designed a bit differently since it has drawers. With other standing desks though, you're going to have to purchase one separately but trust me, it's worth it.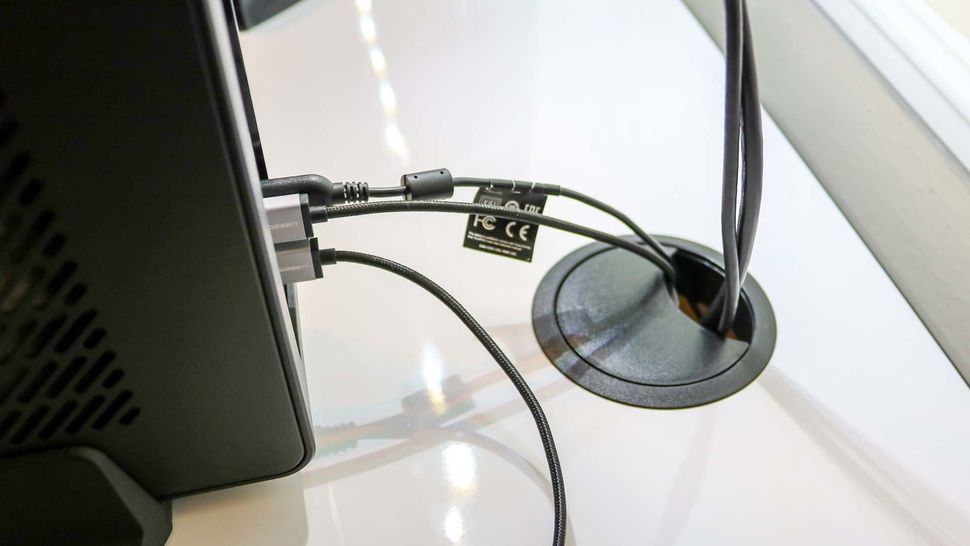 Grommets are another great feature found on many standing desks. These small holes at the back left and right side of your desk make it easier to run cables down from the top of your desk. From here they can be plugged into one of the best surge protectors inside your cable management tray or even go up to a computer or monitor on the other side of your desk.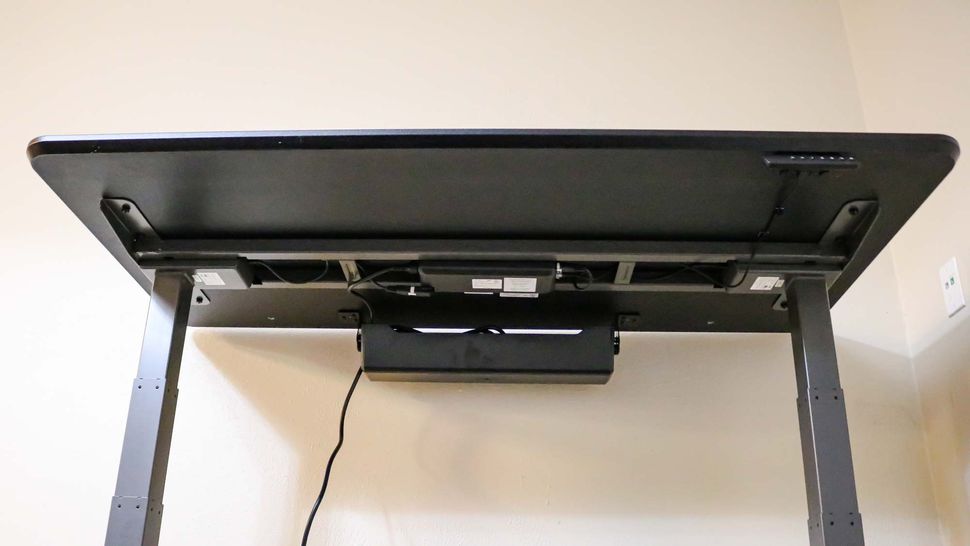 Finally, the best thing about a standing desk is that you can lift it up when doing your cable management so that you don't risk bumping your head when bent over under your desk. This makes managing all of those cables a breeze and helps when you add new devices — like a smart display — to your desk setup.
Better build quality
Although you can get a traditional desk that's sturdy and built really well, unless you plan on spending a lot, there's a good chance that your desk won't have the same build quality you get with a standing desk — and there's a good reason for this.
Since standing desks are designed to move up and down frequently while supporting a lot of weight, all without wobbling even at their highest setting, most of them have strong, steel frames. This is quite different from the wooden legs you'll find on many office desks.
With a desk that's going to remain stationary, the companies that make them can cut corners by using cheaper materials but with a standing desk, that just won't work. That doesn't mean you can't find affordable standing desks like the Fezibo Electric Standing Desk. However, even a budget standing desk will look and feel a lot more premium thanks to the fact that most companies offer them with metal, T-Style or L-Style legs.
Standing isn't everything
If you're someone who upgraded to a standing desk and have found that you mainly sit while using it, you shouldn't be that hard on yourself. Like other habits, standing while working is something that you need to ease yourself into. Even with a premium standing desk like the Vari Electric Standing Desk, don't expect yourself to suddenly only stand while working. Making the transition to standing while you work takes time and even then, you shouldn't be standing for long periods of time. Instead, you need to alternate between sitting and standing.
With a standing desk, the main thing you're getting is flexibility. Yes, you can stand while you work but you also now have a desk that you can adjust in such a way that it's at the perfect height for you. The better build quality and the fact that you can raise your desk up or lower it when rearranging your desk setup to make cable management easier is just the icing on the cake.
More from Tom's Guide