In case you missed it, there were a number of updates announced at Apple's WWDC event yesterday (June 5), and some of these were focused on the Apple Watch's latest operating system upgrade. WatchOS 10 will be available later in the year, with a new Smart Stack feature to show relevant widgets, an updated Mindfulness app, and new backgrounds featuring Snoopy and Woodstock. While most of the substantial upgrades are to the navigation experience, if you use your best Apple Watch as a fitness tracker, here are all the changes of note from a health and fitness perspective.
Cycling gets an upgrade
WatchOS 9 was all about runners, with a number of new features launched to make the Apple Watch more of a contender compared to some of the best running watches on the market. This June, it's all about cyclists.
Pre-update, the Apple Watch could measure indoor and outdoor rides and e-bike rides. Features like automatic workout reminders and fall detection topped our list of the best Apple Watch biking features. With watchOS 10, things get a little more high-tech. It's tricky to check your stats while you're keeping an eye on the road, so when you start a cycling workout on your Apple Watch, you'll get a Live Activity notification on your iPhone, allowing you to view your workout stats from your iPhone. Doubling as a bike computer, you'll be able to see your Heart Rate Zones, Elevation, Race Route, Custom Workouts, and cycling speed from your iPhone and your wrist.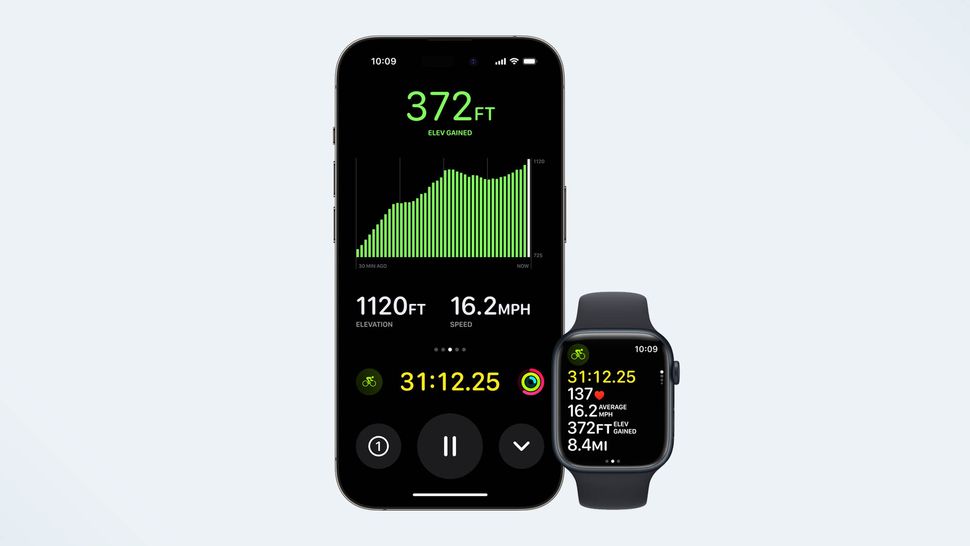 With watchOS 10, you can connect your Apple Watch to a Bluetooth-enabled power meter, speed sensor, or cadence sensor. When doing so, you'll be able to view cycling power and cadence and your Functional Threshold Power (FTP) score — this refers to the highest level of cycling intensity a rider could theoretically maintain for an hour. The Apple Watch uses this FTP score to calculate personalized Power Zones.
Obviously, these changes are aimed at the casual weekend cyclist or daily bike commuter rather than an athlete training for the Tour de France, and a lot of the most useful features require you to have a third-party sensor. That said, speed sensors are relatively cheap, and while your Apple Watch won't replace your cycling computer just yet, it's a sign Apple is taking cycling more seriously.
The compass app makes hiking safer
If you're using your Apple Watch Series 8 or Apple Watch Ultra out on a hike, the watchOS 10 updates make things a little safer. The Compass will now detect two new waypoints: your Last Cellular Connection, which will estimate the last place with a reception for reading a message or making a call. Plus, a Last Emergency Call Waypoint, which estimates where on the route your Watch has a connection to any available carrier's network so that an emergency call can be made.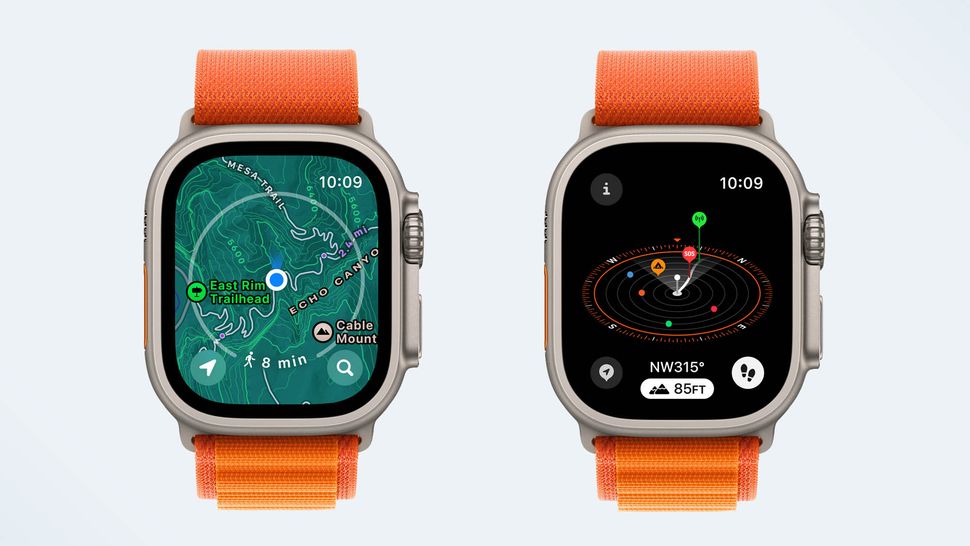 Starting in the U.S., you'll also see a new topographic map with contour lines, hill shading, elevation details, and points of interest. You'll also be able to search for nearby trails from your wrist and see detailed information like trail length, type, and difficulty.
Golfers and tennis players can use the motion sensor like never before
Other athletes who might be excited by the watchOS 10 update are golfers and tennis players. The software includes motion sensors on the Apple Watch 8 and Apple Watch Ultra, which can read changes in velocity and acceleration when you're swinging a golf club or tennis racket. Whether you're gearing up for Wimbledon, or playing tennis in your local park, the motion sensor will be able to read the pronation of your wrist.
This software can sync up to apps like SwingVision and Golfshot to help you make small tweaks to your wrist movement, and improve your game.
WatchOS 10 will be compatible with the Apple Watch Series 4 or later — if your Apple Watch currently supports WatchOS 9, you'll be able to download WatchOS 10 this fall.
More from Tom's Guide