Disney Plus Day 2022 live blog — all the big news as it happens
The Disney Plus celebration is back for a second year with new releases, trailers and teasers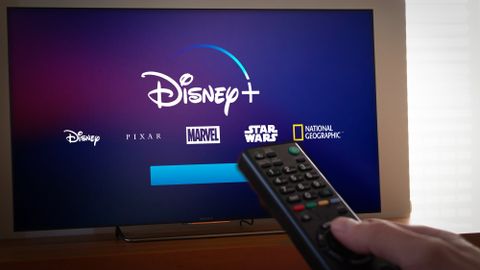 (Image: © Disney Plus)
Happy Disney Plus Day 2022! This is the second year of the streaming service's global celebration, which gives fans many treats in the form of new releases, trailers, teasers and announcements.
The festivities began Thursday (Sept. 8) at 3 a.m. ET / 12 a.m. PT / 8 p.m. BST with the streaming premiere of the latest MCU entry, Thor: Love and Thunder, as well as a new adaptation of Pinocchio, an Obi-Wan Kenobi making-of documentary, Frozen and Frozen 2 sing-alongs, a Simpsons special and a Cars series reuniting Lightning McQueen and Mater. They're among the slate of new movies and shows to watch this weekend.
We hoped to get some trailers, teasers, footage or announcements about upcoming Marvel movies and series like Black Panther: Wakanda Forever, Star Wars shows like The Mandalorian season 3, and more Pixar projects. But none of that happened.
So, move your eyes to our D23 live blog, as we track all the news for upcoming Disney, Marvel, Pixar and Lucasfilm projects. The amazing Thunderbolts movie cast is our highlight of the day
As part of the festivities, an epic Disney Plus Day deal is available — you can score a month of Disney Plus for just $1.99 (or £1.99 in the UK / AU$1.99 in Australia).
Disney theme parks are also offering perks for subscribers, including early entry to Walt Disney World and Disneyland Resort, celebratory photo opportunities, entertainment, culinary delights, and more. Additionally, special screenings of Disney movies will play in select AMC Theaters from September 8-19.
Keep up with all the House of Mouse goodies with our Disney Plus Day 2022 live blog. We'll share all the latest trailers and exclusives as they drop.
Disney Plus Day's biggest news so far
Disney Plus Day is over, but get ready for more news, as the Marvel D23 showcase is coming to hopefully show us more about the Fantastic Four movie and more. Check out our D23 2022 schedule for dates and times for Marvel, Lucasfilm and more.
Thor: Love and Thunder is now on Disney Plus. The Marvel movie took a little longer to hit the streaming service than we anticipated. Fans have noticed that some of the CGI has changed along the way to Disney Plus, and arguably not for the better.
BTS: Permission to Dance on Stage — LA was today's big surprise for the BTS ARMY. Comprised of footage shot at the Los Angeles Sci-Fi Stadium in late 2021, it's filled with the South Korean boy band playing all the hits.
Andor has a new speak peek, but you need Disney plus to watch it. It's a nine-minute package that was shown in front of Rogue One's recent IMAX re-release. In it, you'll see a scene where Luthen Rael (Stellan Skarsgård) meets Cassian (Diego Luna) for (apparently) the very first time.
Dancing with the Stars season 31's cast reveal was filled with stars of both the silver screen and reality TV, and you can see it for yourself on Disney Plus.
Get the Tom's Guide newsletter!
Instant access to breaking news, the hottest reviews, great deals and helpful tips.
Thank you for signing up to Tom's Guide. You will receive a verification email shortly.
There was a problem. Please refresh the page and try again.