Since buying a PSVR 2 at launch in February, I've been growing ever so slightly concerned about the PS5 accessory over the last few weeks. It's still very much in the early days of its lifecycle, but until now Sony hasn't been doing an excellent job of convincing me it's got a long-term future.
Of course, the PSVR 2 remains an excellent virtual-reality device, and a massive upgrade on its predecessor, but the reports of low sales and the fact Sony has been surprisingly quiet when it comes to announcing new software, had me wondering if it wasn't going to become the next PlayStation Vita.
However, in a welcome one-two-punch move, Sony has greatly alleviated my concerns by announcing the PSVR 2's initial sale figures and indicating that the games are on their way. The future appears to be bright for Sony's second-generation VR device, we just might need to be a little patient before the really good stuff arrives.
PSVR 2 sales numbers are respectable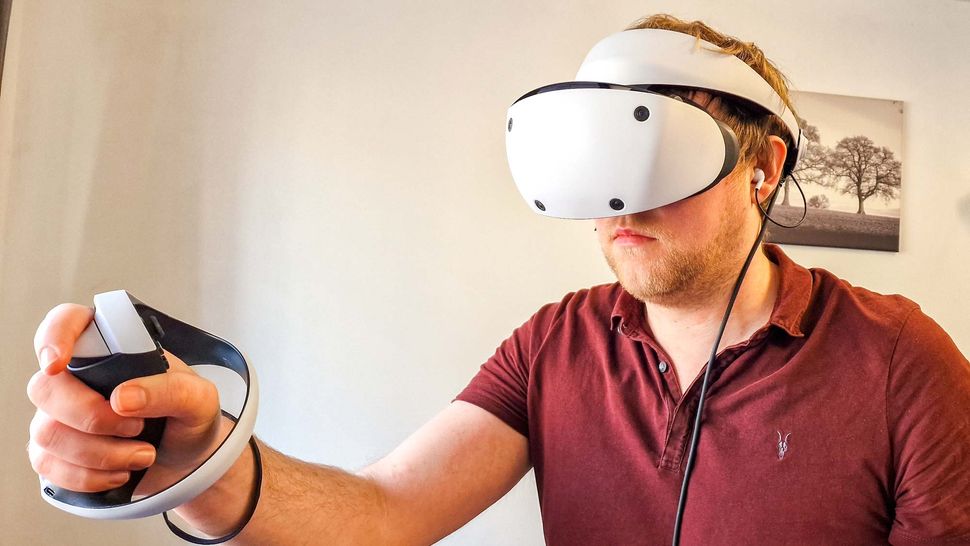 Around a month after the PSVR 2's launch on February 22, Bloomberg reported that the VR headset was "off to a slow" start and was likely to miss Sony's "lofty" sales targets. Sony disputed this claim, but the report nevertheless took hold and resulted in a general feeling that the PSVR 2 was underperforming right out of the gate.
However, Sony has now given us some solid numbers and the picture is actually looking a lot rosier than the online discourse would suggest. During its first six weeks on the market, the PSVR 2 sold almost 600,000 units, which is an 8% increase compared to the original PSVR in the same timeframe.
It's also worth noting that this figure only covers up to the end of April. We expect the number of PSVR 2 units sold has further increased over the last couple of weeks, especially now that the headset is no longer being sold exclusively at PlayStation Direct. You can now purchase a PSVR 2 at major retailers such as Amazon, GameStop and Walmart.
PSVR 2 games are on the way
The PSVR 2 launched with a reasonably solid selection of games. Flagship exclusive Horizon: Call of the Mountain is a great showcase for the headset, and arcade horror-shooter Dark Pictures: Switchback VR is an underrated title that still scares the bejesus out of me. However, the current list of games confirmed for the headset in the weeks and months ahead is a little lacking.
Fortunately, it seems like Sony is working hard to ensure the headset is well-supported. In an interview with Japanese publication Famitsu, PlayStation boss Jim Ryan assured PSVR 2 owners that "there are many titles ahead of us in 2023 and beyond" and confirmed Sony wants to ensure that "those who purchase PSVR 2 can enjoy it for a long time." These words are comforting but now we need to see some hard evidence because I'm asking myself "Where are the PSVR 2 games?" a little too frequently.
Today's (May 24) PlayStation Showcase 2023 seems well-timed in that regard. The live-streamed event is confirmed to feature several new PS5 and PSVR 2 games, and it seems a good bet that Sony will use this presentation to announce at least one major VR exclusive.
Perhaps we'll even get news of the rumored PSVR 2 version of Half-Life: Alyx, or maybe a release date for the previously announced port of the popular rhythm game Beat Saber.
Does the PSVR 2 have a future?
It seems pretty clear that Sony is taking a long-term view with the PSVR 2. While its initial sales appear to be pretty respectable, it's not exactly a juggernaut unit shifter yet. Another PS5 restock situation this ain't. But after only three months on the market, it's highly likely that its best days are still to come.
Sony has almost certainly made a significant financial investment to bring the next-gen VR device to market, and will have spent several years developing it as well. All that effort would be wasted if the headset was to be abandoned mere months after launch, so we can safely rule that possibility out. The PSVR 2 absolutely has a future.
But exactly how bright that future will be is now the real question. The impending PlayStation Showcase should give us a roadmap for the rest of the year, but I'm hoping the headset continues to be a major focus for several years to come.
Only time will tell us if that proves to be the case, but at least for now, early adopters can rest assured that the games are coming, and Sony is committed to the VR headset for the foreseeable future.
More from Tom's Guide