The PSVR 2 is one of the best VR headsets that fixes several of the most glaring issues with Sony's first step into the world of VR. And yet, just two months on from launch, and the long-term future of the PS5 accessory seems pretty cloudy.
My overall opinion on the quality of the PSVR 2 hasn't diminished, but after blasting through a range of enjoyable launch titles, I'm beginning to question what comes next. It's rather telling that the biggest headlines the PSVR 2 has attracted since its release came after a Bloomberg report suggest its initial sales were soft. Although, Sony did shush those claims shortly after.
I want to be excited about the future of the PSVR 2, and I want to feel compelled to tell anybody who will listen that the headset is a pricey, but worthwhile, investment. But in order for me to do that Sony needs to convince me that the headset has a long-term future.
A mixed launch lineup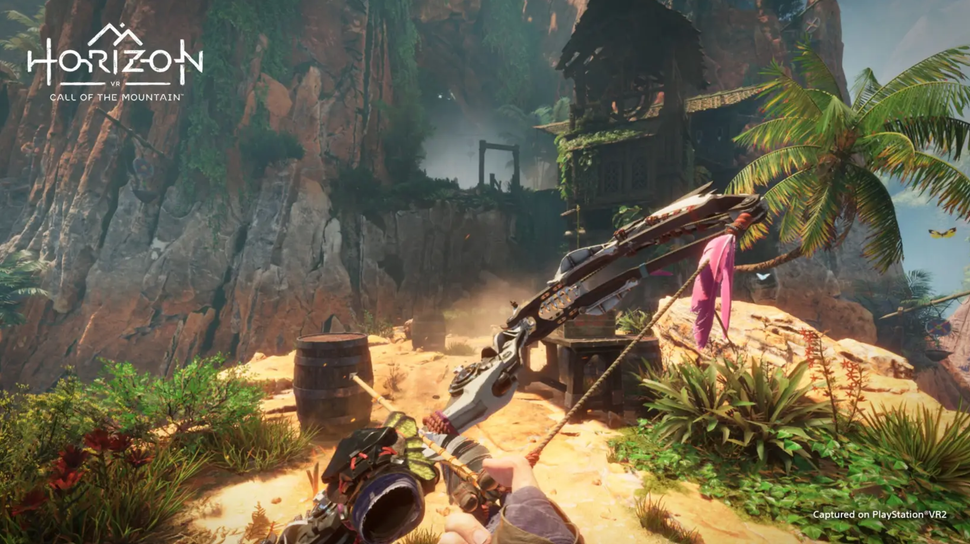 Prior to the PSVR 2's launch on February 22, Sony confirmed there would be more than 30 games released during the so-called launch window (essentially its first month on the market). On the surface that seems a more than respectable number, but the selection was almost entirely comprised of ports of VR games already available on rival hardware.
Sure, the likes of Tetris Effect, Pavlov, Star Wars Tales from Galaxy's Edge, Moss, Demeo, Job Simulator and The Walking Dead Saints and Sinners are all good (if not great) games, but these have been available to play on headsets such as the Meta Quest 2 and the original PSVR for months, and even years in some cases. Many early adopters might have played several of these games already, and VR veterans aren't going to spend $549 on a new headset to play them again.
I'm not entirely discounting the value of ports, but there's no escaping the fact that true exclusives are what really move the needle forward, and crucially will convince skeptics to buy into a platform. And it's in this area that the PSVR 2 definitely needs to quickly improve.
In terms of true PSVR 2 exclusives, there was a small handful at launch: Horizon Call of the Mountain, Fantavision 202X VR, and VR patches for Gran Turismo 7 and Resident Evil Village were made available for free. The Dark Pictures Switchback VR and Before Your Eyes were released in March to bring the PSVR 2's list of exclusive software to a grand total of six games.
What's in the pipeline
My real concern with the PSVR 2 is that I'm not entirely sure what comes next. Two months post-launch, I expected Sony to have put forward a roadmap to reassure early adopters they'd made a wise investment and also convince potential buyers on the fence that there was a long-term future for the headset.
We know of a few games in the works, including Firewall Ultra (the sequel to PSVR's excellent online shooter Firewall: Zero Hour) and Crossfire: Sierra Squad, also a military shooter, but search for upcoming PSVR 2 games, and you'll find a fairly thin list that is once again dominated by ports of VR games that can already be played on competing hardware.
I'm particularly surprised that Sony hasn't confirmed any in-development first-party games since the headset launched. I had hoped that shortly after launch Sony would hold a State of Play presentation to showcase what its own stable of developers are cooking up for the headset but as of yet, we don't even know which, if any, Sony-owned teams are working on PSVR 2 game.
Imagine how powerful even just a teaser trailer for a God of War or The Last of Us VR game would be. Even if these hypothetical titles were a couple of years away from being ready for launch, just knowing they were in the works would go a long way to confirming Sony's commitment to the PSVR 2 and keep the hype for the headset bubbling away.
Right now, I'm growing a little worried that Horizon: Call of the Mountain was pretty much all PlayStation Studios had in the hopper for PSVR 2. Hopefully, the rumors of a full PlayStation Showcase in the coming weeks prove to be accurate, and Sony reaffirms its commitment to the PSVR 2 during this online event.
It's still early
Of course, despite my fears outlined above, it's important to caveat these worries with the fact that the PSVR 2 is still very much in its infancy. The PS5 VR headset has only been on the market for two months, and it's likely that its best days are still ahead.
There's little chance that Sony has spent several years developing the PSVR 2, and no doubt made a significant financial investment to bring it to market, only to abandon it within a few weeks. Further exclusive first-party games will presumably come at some point, and we know we'll be getting a shiny new port of the rhythm-game Beat Saber in the future. For many VR enthusiasts, this will justify the entire cost of the headset — yes, Beat Saber is that good.
However, I definitely hope Sony plots out a course for the headset's short and medium-term future relatively soon. While the already available software is solid — especially if the PSVR 2 is your first VR headset — for the device to become the major success it has the potential to be, then it needs to be well-supported for years, and we've yet to see hard evidence of that happening.
More from Tom's Guide