Update: It now looks like if an Apple March event happens, it will be much smaller. Apple launched the new M2 Pro and M2 Max chipsets along with the new MacBook Pro 14-inch 2023, MacBook Pro 16-inch 2023 and Mac mini 2023 via press release on January 17. We have updated this article to reflect this change.
We were expecting an Apple event in October where new MacBooks would be joined by new iPads to flood the market with Apple tech. While Apple did roll out a new iPad Pro M2, a redesigned iPad 2022 and an Apple TV 4K (2022), the announcement happened via press release, not a live event. And the MacBooks were noticeably left out of the picture.
But now we may have some idea as to when we can expect the next Mac devices — including laptops, desktops and perhaps even a rumored VR/AR headset. According to tipster LeaksApplePro, at least five new Macs are tipped for a March launch. However, some of these Macs have since launched via a press release, including a MacBook Pro 14-inch and MacBook Pro 16-inch with M2 Pro and M2 Max chipsets.
If Apple still holds a March event, it could come in the form of a full launch event like Apple's September 2022 event that gave us the iPhone 14 and Apple Watch 8 among other products, or it could be another website drop. Frankly, it could not even happen at this point, though we've been expecting a Spring 2023 launch for some of these devices for a while now.
If more devices become rumored for this event — or some are confirmed to be absent entirely — we will update this article. But here's what we know at this point regarding Apple's rumored March 2023 product launch.
Apple March event 2023 latest news (updated January 17)
Apple March event 2023: Rumored event date
Given the launch of brand-new chipsets, laptops and a new Mac mini via press release in January, the status of a potential March event is very much in doubt.
If Apple still holds a spring event, it will still likely be in March. Apple routinely holds product events in spring, with many happening in March. Last year, there was an event on March 8, 2022, where we saw Apple announce the iPhone SE 2022, the iPad Air 2022, the Mac Studio, the Apple Studio Display and an M1 Ultra chip. Apple has also hosted events in March in 2019, 2018, 2016, 2015, 2012 and 2011, so there is plenty of precedent for a March launch event.
If Apple does host a March event, it is increasingly likely that it will focus on Apple's rumored VR/AR headset, which is currently tipped for a spring launch event with units being ready to ship sometime in the fall of 2023. However, we also still could see a rumored 15-inch MacBook Air that has yet to be revealed.
Rumored Apple devices — what could be coming?
At the moment a potential Apple event in March is still speculation. Given that Apple has now launched several devices through a January press release, there is a chance that it won't happen. However, Apple still has plenty of products in the pipeline that could make an appearance this spring so don't write off a March event yet. Here's a closer look at some of the products that could emerge at a potential Apple March event.
Apple March event 2023: MacBook Air M2 15-inch
We've been hearing rumors about a MacBook Air M2 15-inch for a while now. The lightweight laptop was tipped for a spring 2023 release back in December 2022 by analyst Ross Young, who thinks that production will begin in the first quarter of 2023. Bloomberg analyst Mark Gurman also expects a spring 2023 launch for the largest MacBook Air ever. The only person who is less sure is analyst Ming-Chi Kuo, who thinks Apple is working on a new 15-inch MacBook for the second quarter of 2023 but doesn't specify if it's a MacBook Air.
We wouldn't expect this to be a massive redesign of the existing MacBook Air M2 2022, but that doesn't mean it's guaranteed to come without upgrades. Aside from the obviously larger display, current speculation suggests that it could include a yet-to-be-released M2 Pro chipset, which might also make its debut at this event. These new chips could use Apple's new 3nm process technology rather than the current 5nm process, but if the M2 Pro comes in March it is unlikely that it will be a 3nm chip.
At the moment there are no rumors regarding the price of the MacBook Air M2 15-inch. However, as the MacBook Air 2022 costs $1,199, you could potentially see a jump up to $1,399 or $1,499. For reference, the MacBook Pro 14-inch starts at $1,999 and the MacBook Pro 16-inch costs $2,499, so we do not expect it to be more than either of those laptops.
Apple March event 2023: MacBook Pro M2 Pro 14-inch and 16-inch
Apple launched a new MacBook Pro 14-inch 2023 and new MacBook Pro 16-inch 2023 in a January press release. These two new MacBooks are powered by brand new M2 Pro and M2 Max chipsets that Apple claims will outperform the previous M1 Pro and M1 Max models and dominate the older Intel-powered MacBook Pros.
Aside from the new silicon, the biggest headline for these new MacBook Pros is the battery life. Apple claims that the new MacBook Pros will hit 22 hours of battery life in video playback testing, which is truly stunning if our testing proves the claim accurate.
The MacBook Pro 14-inch 2023 starts at $1,999 / £2,149.00 / AU$3,199. This version comes with the M2 Pro chipset with a 10-core CPU, 16-core GPU and 16-core neural engine, 16GB of RAM and a 512GB SSD for storage. Meanwhile, the MacBook Pro 16-inch 2023 starts at $2,499 / £2,699 / AU$3,999 for the same configuration. Both laptops can be fully loaded with up to a M2 Max chipset with a 12-core CPU, 38-core GPU and 16-core neural engine, 96GB of RAM and a massive 8TB SSD. Make sure to check out our pre-order guide so you can reserve yours now.
Apple March event 2023: Mac mini M2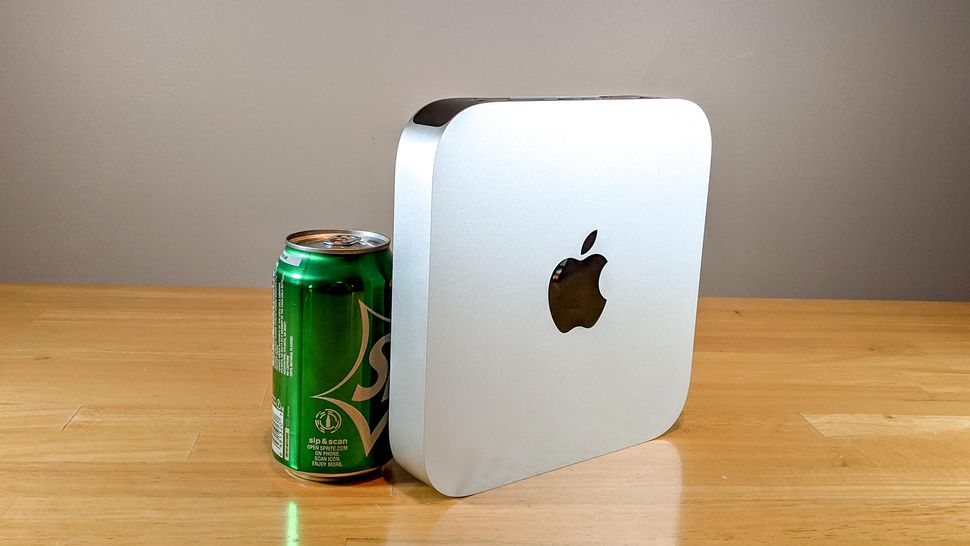 New MacBook Pros weren't the only new Macs revealed in January. We also got a Mac mini with M2 and M2 Pro announced in Apple's press release. Like with the MacBooks, the Mac mini largely remains unchanged with an Ethernet port, two Thunderbolt 4 ports, one HDMI port, two USB-A ports and a headphone jack. The M2 Pro version gets an upgrade to four Thunderbolt 4 ports instead of just two, but that's the only change aside from the silicon.
However, that silicon upgrade is not insignificant. Apple claims the new model offers "Up to 2.4x faster ProRes transcode in Final Cut Pro," "Up to 50 percent faster filter and function performance in Adobe Photoshop," and "Up to 35 percent faster gameplay in Resident Evil Village." That's a massive leap for the small Mac desktop.
The base price for the new Mac mini is $599, which is $100 cheaper than the basic Mac mini M1 was at launch. It retails for £649 or AU$999 in the U.K. and Australia respectively. If you want to upgrade to the Mac mini with an M2 Pro chipset it gets noticeably pricier. The M2 Pro version starts at $1,299 / £1,399 / AU$1,999.
Apple March event 2023: Mac Pro M2
The Mac Pro M2 has been rumored for 2023 since the leaks started flowing. Initial rumors suggested that it would come with an M2 Ultra and M2 Extreme chipset as options.
The M2 Ultra chip is rumored to have 24 CPU cores and 76 GPU cores, while the M2 Extreme was suggested to double that with 48 CPU cores and a whopping 152 GPU cores. Unfortunately, the M2 Extreme chipset has since been reportedly canceled due to the complexity and cost concerns associated with manufacturing it. Frankly, it may have simply been a too niche component for an already niche machine.
That's because the Mac Pro M2 is likely going to only be necessary for the biggest power users. Bloomberg's Mark Gurman said that this ultra-powerful desktop will be able to feature up to 256GB of RAM, and the test model is rumored to have 192GB of RAM. For perspective, your average laptop has 8GB to 16GB of RAM.
However, you may need to commit to the RAM you want with the new Mac Pro. Unlike its predecessors, the new Mac Pro is tipped by Mark Gurman to not allow users to upgrade RAM at a later date. The RAM will be tied to the motherboard of the new SoC M2 Ultra, which is definitely a disappointment considering part of the Mac Pro's selling point is its upgradability.
Apple March event 2023: Apple VR/AR Headset
Apple's entry into the mixed reality universe may actually appear at this rumored March event. While there is still hope that the rumored Apple VR/AR headset will launch in March, current whisperings suggest that it may not go on sale until Q2 or Q3 of 2023. Given the headset had already been tipped for a January 2023 launch back in August, we won't be shocked if we're waiting past the spring for its arrival.
But it seems like a sneak preview won't be out of the question. Apple tends to show off products months in advance when it enters a new product category (see both the original iPhone and Apple Watch debuts) and Bloomberg's Mark Gurman's latest reporting indicates that we will get a first reveal of Apple's VR/AR headset this spring. With most of Apple's Macs already launched, there's even a chance that the VR/AR headset headlines this rumored spring event.
Regardless of when it comes out, we feel confident about two things regarding this Apple headset. First, the headset will be a mixed reality headset, adding augmented reality overlays and passthrough to a virtual reality headset. Tim Cook's comments have strongly suggested that he has no interest in pure virtual reality, further cementing this expectation.
Second, the headset won't be cheap. Current expectations are that it will cost between $2,000 and $3,000 dollars. So this headset won't be for those just dipping their toes into virtual reality headsets.