Want to know which movies to watch on Hulu? April brings another batch of movies that are new. While it's one of our favorite streaming services for its TV content, Hulu also boasts an extensive and excellent film selection.
With so many options available, we've narrowed down our picks by consulting Rotten Tomatoes, the review aggregation site. Each of these seven films has a score of 89% or higher, close to what's essentially an A-grade. They join the existing titles on our list of the best movies on Hulu.
Here are the new to Hulu movies to watch this month.
Once (2006)
The boy and girl don't get together in this wistful, charming drama, yet it's as powerful of a love story as you can get. While busking in the streets of Dubling, a struggling musician (Glen Hansard) meets a young woman (Marketa Irglova) selling flowers. When she reveals that she plays piano, they play one of his songs together at a nearby music store. It turns out that he's nursing a broken heart, while she has a child and a long-distance husband. Still, they bond over their passion for making music. After recruiting a few other band members, they spend all night recording a demo for him to take to London.
Genre: Romantic musical drama
Rotten Tomatoes score: 97%
Stream it on Hulu
13 Assassins (2010)
Prolific Japanese filmmaker Takashi Miike remakes the 1963 period drama based on historical events. In 1844 at the end of the Edo period, the Lord Matsudaira Naritsugu (Gorō Inagaki) is committing many atrocities against his people, but remains protected by his half-brother the Shōgun. The decorated samurai Shinzaemon Shimada (Kōji Yakusho) recruits a team of assassins to take out the reprehensible ruler. But first, they'll have to get through his large contingent of bodyguards.
Genre: Samurai action
Rotten Tomatoes score: 95%
Stream it on Hulu
The Diary of a Teenage Girl (2015)
This frank, forthright coming-of-age story doesn't hold back in its exploration of young female sexuality. Minnie (Bel Powley) is a horny 15-year-old determined to lose her virginity, which ends up happening with her mother's lover Monroe (Alexander Skarsgård). She also has sex with a schoolmate and best friend, while continuing to see Monroe. All of these encounters are chronicled in an audio diary, which serves as a sounding board for Minnie as she figures out what she wants in life.
Genre: Comedy/drama
Rotten Tomatoes score: 95%
Stream it on Hulu
The Queen of Versailles (2012)
Schadenfreude, the feeling of enjoying someone's misfortune, runs high in this riches-to-rags documentary. Florida billionaires David and Jackie Siegel are the owners of Westgate resorts, a timeshare company. They embark on building a lavish 90,000 square-foot mansion named after The Palace of Versailles. Once completed, it would be one of the largest homes in America. But as construction begins, the 2008 financial crisis hits. Suddenly, the Siegels are plunged into a harsh new reality, in which they're strapped like the rest of us.
Genre: Documentary
Rotten Tomatoes score: 95%
Stream it on Hulu
High Fidelity (2000)
A movie about a music lover has to have a banging soundtrack, and High Fidelity more than delivers. Needle drops come from the Kinks, Velvet Underground, Stevie Wonder and Bob Dylan, among other fantastic artists. They provide an audial backdrop as record store owner Rob (John Cusack) reflects on his failed romantic relationships following a breakup. As he digs into the past and analyzes his actions, he hopes to find answers that will help him win back Laura (Iben Hjejle).
Genre: Romantic comedy/drama
Rotten Tomatoes score: 91%
Stream it on Hulu
Bridesmaids (2011)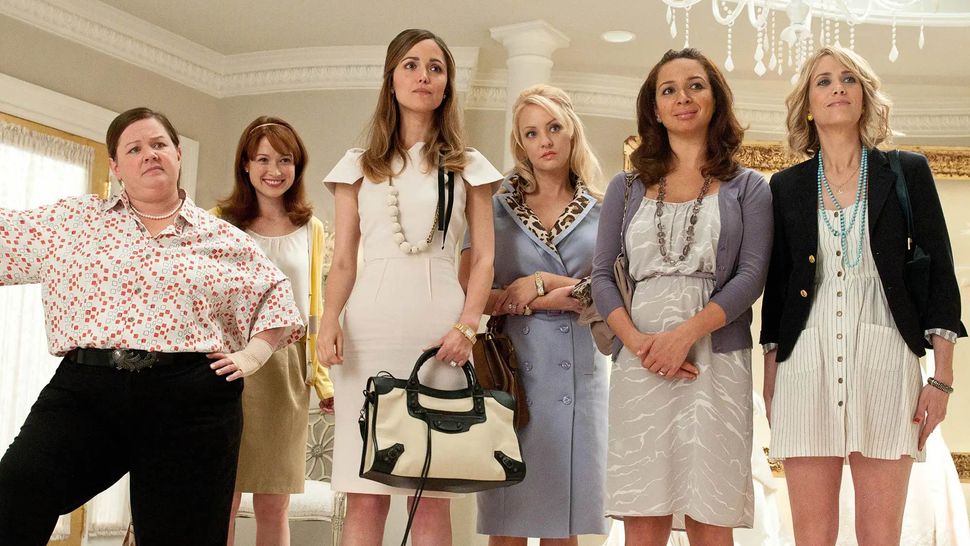 Female friendships can be complicated (watch Yellowjackets for a very dark perspective on that). Annie (Kristen Wiig) is thrilled at the engagement of her best friend Lillian (Maya Rudolph) and is honored to be the maid of honor. But Annie's life is a complete mess; her bakery failed and her boyfriend dumped her. Maid of honor duties can get expensive and she has no money. Still, she's determined to do the job right for Lillian's sake, but she grows resentful of another bridesmaid, the wealthy and seemingly perfect Helen (Rose Byrne). Annie snaps and a rift forms between the friends.
Genre: Comedy
Rotten Tomatoes score: 89%
Stream it on Hulu
Lincoln (2012)
Daniel Day-Lewis does his usual disappearing act into a role, this time inhabiting the 16th President of the United States. Director Steven Spielberg and writer Tony Kushner team up for the second of five eventual films, crafting a portrait of Abraham Lincoln in his final four months. The country is still embroiled in the Civil War, he courageously and doggedly focuses on what would become his defining legacy: the effort to abolish slavery and involuntary servitude through the 13th Amendment.
Genre: Historical drama
Rotten Tomatoes score: 89%
Stream it on Hulu
More from Tom's Guide