We all want to keep our home germ-free when it comes to cleaning every room of your home. However, while it seems hygienic to spray or wipe down every surface or object, there are certain things you should never disinfect around the home.
It's no surprise that since the pandemic, there's been a greater need for disinfecting things around the home. Unlike regular cleaning, disinfectant products aim to kill all microorganisms, viruses and bacteria that live on a surface. This is down to their EPA-approved chemicals that mainly consists of alcohol and chlorine (bleach).
Trouble is, such harsh chemicals are not suitable for cleaning every surface and object. In fact, if you disinfectant any of these, you could probably do more harm than good.
In which case, you're better off using natural, specialized disinfectants or even consider making your own DIY household products.
So, if you want to avoid potential damage here are 7 things you should never disinfect around the home — and you'll be surprised.
7 things you should never disinfect around the home
Before using disinfecting sprays or wipes, always read and follow the directions on the label. And ensure you open a window or door to keep the space well-ventilated, especially if you have children and pets.
1. Natural kitchen countertops
It's common to disinfect our kitchen on a daily basis, but never use a disinfectant product on stone or natural countertops.
Stone surfaces such as granite and marble are porous, meaning that harsh disinfectants will either scratch the surface or leave unsightly permanent swirls. Similar to cleaning with a Magic Eraser, disinfectant will also remove the protective seal covering the stone material. In fact, the same applies to any surface with a sealant.
If you want to avoid damage (and the expense!), you can stick with basic dish soap and water, or invest in a dedicated cleaner, such as Weiman Disinfectant Granite Daily Clean & Shine ($6.37, Amazon). This might save you a lot more money in the long-run!
2. Wooden surfaces
Similarly, avoid using disinfectant on both treated and untreated wood surfaces, hardwood floors, furniture or any other wooden objects.
If used to clean untreated surfaces for instance, the wood will absorb the liquid, leaving behind unsightly stains. And if used on treated wood surfaces, this might literally strip away the glossy, protective wood finish, leaving them open to damage.
If you want to clean grime off wood surfaces, it's always best to use dry, soft cloths with a dedicated wood furniture wax. It's also not advisable to spray furniture polish directly onto the wood to avoid soaking and warping the surface.
For more top tips, check out how to clean hardwood floors without damaging them.
3. Toys
Children's toys are bound to get dirty or sticky on a daily basis, however, avoid cleaning them with harsh disinfectants. Such chemicals can be potentially harmful if ingested — which is risky for young children who'll put toys straight in their mouths!
If you want toys to be germ-free and spotless, stick to a warm water and soap solution.
You can either submerge plastic toys in the water, or clean with a damp, microfiber cloth. Just make sure you rinse them thoroughly with clean water before leaving to air dry.
4. Eyeglasses
Whether your eyeglasses are grimy, or have unsightly fingerprints on the lenses, you might be tempted to spray on a little disinfectant. However, there's a reason we're warned to keep disinfectant away from our eyes!
Once you put back on your glasses, the chemical residue might cause a reaction and affect your eyes. The best way to clean your glasses and get them germ-free is to gently wash them with a few drops of dish soap and water before drying with a soft cloth.
Alternatively, you can buy a specialist spray like this EVEO Eyeglass Cleaner Spray ($8, Amazon), for daily care and maintenance.
5. Leather
Whether you're cleaning a leather couch, or a car seat, avoid using disinfectant sprays or wipes. This is mainly because such products contain a high alcohol content, which absorbs the moisture of the leather. As a result, this will make it lose its natural shine, making it look chalky and lackluster.
There are a couple of ways to clean leather without damaging it. You can either clean items with a soapy solution of one part water and a few drops of dish soap, or create a mixture of 50/50 distilled water and white vinegar in a bowl.
Remember to always dilute the vinegar with water, as vinegar on its own can be too acidic for leather, and damage it. Dip a sponge or cloth into the cleaning solution before cleaning thoroughly. Then, rinse the sponge and wipe the item again to remove any remaining soap residue.
You can also buy a dedicated leather cleaner such as Weiman Leather Cleaner and Conditioner ($22, Amazon), to keep it in top condition.
6. Jewelry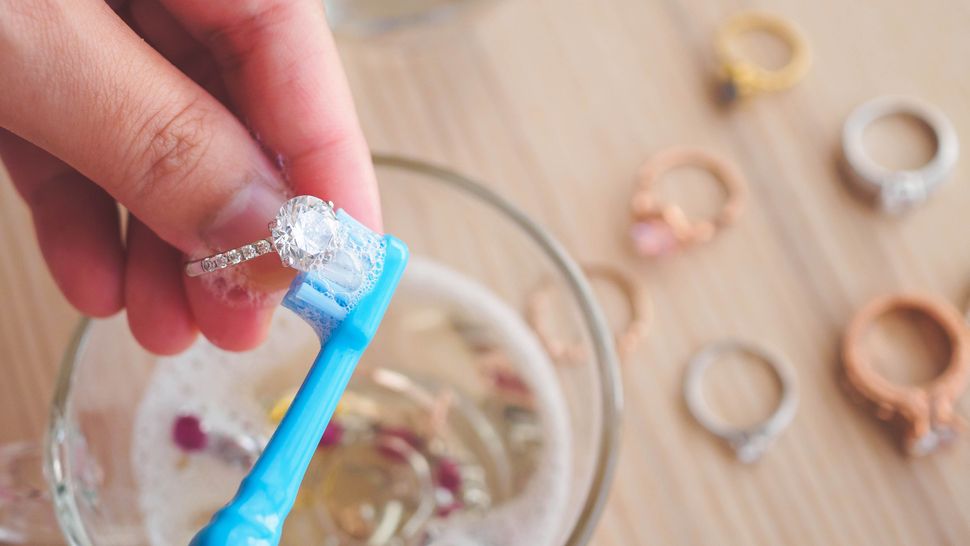 If you wear jewelry regularly, you might want to disinfect them to keep them free from sweat, oils or body products. However, disinfectant sprays or wipes contain harsh chemicals that might damage delicate metals and precious gemstones.
The best way to clean jewelry is to simply fill a bowl or dish with lukewarm water, and add a few drops of mild dish soap. Soak the jewelry in the mixture for a few minutes to allow the soapy solution to lift off any dirt before gently buffing with a toothbrush or soft brush. Once clean, rinse and pat the jewelry dry with a soft, lint-free cloth, and allow items to air dry completely before wearing or storing away.
Just be mindful of any loose gemstones or signs of damage to the jewelry before cleaning. And if in doubt, it's always best to take them to a professional jewelry cleaning service.
7. Your skin
Although hand sanitizers are the best defence against bacteria and viruses, avoid using antibacterial wipes or sprays on your skin. Such products contain up to 95% alcohol, which might react or irritate sensitive skin.
Generally, experts suggest sticking to soap and water — remembering to wash your hands for at least 20 seconds. In fact, this is more effective than hand sanitizers at removing certain types of germs. When washing isn't an option though, you can use a hand sanitizer sparingly, but don't rely on it all the time.
As with most commercial products, ensure you keep alcohol-based products away from young children and pets.
More from Tom's Guide