Mirrors are often considered functional items for us to check our appearance and ensure we're always looking top notch. However, mirrors can also be used as clever design features to add impact and beauty to our homes.
In fact, mirrors are every interior designer's trick of the trade. When positioned correctly, mirrors can create instant depth and expansiveness — especially when a room lacks natural light. This also comes in handy when making a small room look bigger, or even brightening a dark room. And since large mirrors work well to reflect light, this can instantly make a tiny space feel open and airy.
What's more, mirrors add much glamor to your home interiors. So, if you're stuck for inspiration, here are 7 clever ways to decorate with mirrors in your home, and give it that 'wow' factor.
Alternatively, here are 5 easy ways to make your home feel warmer, according to interior experts.
1. Oversized/floor-length mirror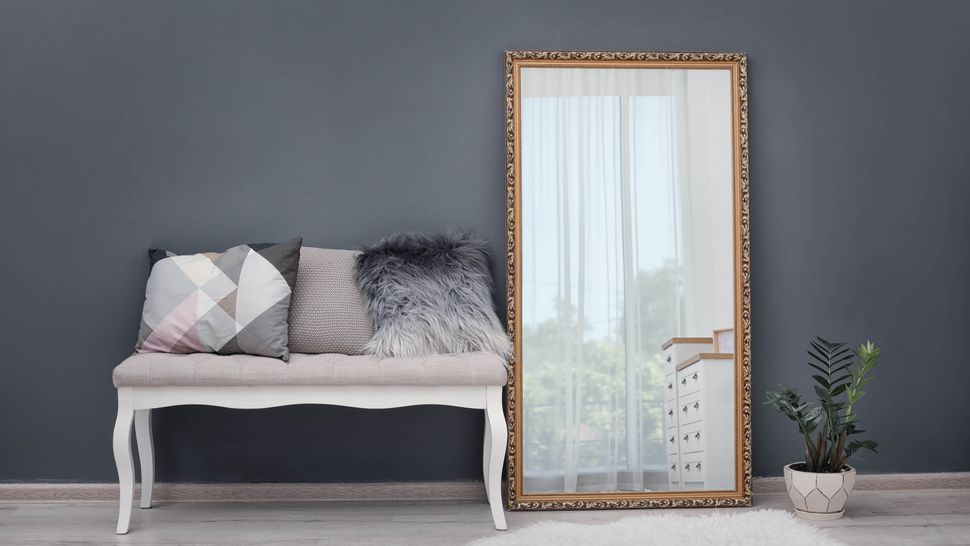 There's nothing more impactful than an oversized mirror to expand visual space, and double your space. Experts recommend leaning your full-length mirror against a wall or behind a piece of furniture, rather than hanging them. This looks more stylish and adds more depth.
Ideally, position the mirror opposite a window to reflect natural light, or place behind a pendant light to help to maximize the light's reach. It's also best to stick to a simple frame, as a chunky, ornate one will only defeat the purpose of making your space feel bigger.
2. Mirrored wall
If you had a smaller space, or a dark, cramped entryway for instance, why not go for a mirrored wall? Again, this gives the optical illusion that there is more room to move around, and make it feel airy. It can even make low ceilings seem taller, and make the space look sleek.
Wall-mounted mirrors work well to reflect light, give the illusion of a bigger space, and instantly make your room feel open and airy. More importantly, it will give your blank wall a stylish and contemporary makeover. Typically, a mirrored wall works well in smaller bathrooms, and experts recommend mirroring a whole wall, or at least a large area of it.
Alternatively, if you didn't want to use glass throughout, you can opt for a plexiglass acrylic mirror. Bendable acrylic wall mirrors much like this Shatterproof Wall Mirror ($29, Amazon), are designed to be safer and won't get accidentally broken or damaged, especially if you have small children or pets running around.
3. Above the fireplace
Another popular design trick is to hang a large mirror horizontally above the mantel or fireplace. However, you must position this at the right height, and avoid placing it way too high over the fireplace. This will only reflect the ceiling or walls, rather than be used functionally.
The general rule of thumb is for the space between the mantel and the bottom of the mirror to be 4 to 6 inches. This also applies to the space between the top of the mirror and the ceiling. Although this will depend on the ceiling height. Alternatively, if you don't have a fireplace, you can hang a mirror over a table or dining area.
According to experts, hanging a mirror above your fireplace can encourage positive chi energy, and good feng shui to create a balanced space. Once hung, you can also accessorise around your mantel with scented candles, a flower vase or other striking decor accents to frame your mirror.
4. Geometric/statement mirrors
Mirrors don't always have to be conventionally rectangular or square. Opt for a geometric or a statement design when decorating with mirrors.
In fact, geometric mirrors are dual-purpose — they're functional and can make a stunning wall accent or focal point. You can find plenty of designs, sizes and styles that can come in sets of three or even five.
Similarly, statement mirrors like this Stonebriar Round Decorative Antique Gold 23" Geometric Metal Sunburst Hanging Mirror ($27, Amazon), can add much character and style to a room.
5. Mirror gallery wall
If you have several favorite mirrors (and can't decide!), you can create a mirror gallery wall. Essentially, a mirror gallery wall is a curated group of accent mirrors to create visual interest in the room. Plus, if you don't want a conventional art gallery, mirrors will instantly spruce up a boring, blank wall in your home.
Before you hang them all up, plan your layout by placing all mirrors on the floor, in the position that you want. Measure the space on your wall, and ensure all mirrors have proper hanging equipment. Then, start by hanging the center mirror, before moving onto the other, surrounding mirrors.
Since these are versatile, you can opt for different themes. From a travel/coastal theme to a luxurious, jewel-toned mirror wall — you can change it up to suit your mood! The end results will be a unique and striking mirror gallery wall that will impress your guests.
6. Mirrored doors
If you didn't want to place oversized mirrors everywhere, why not opt for mirrored doors? Be it closet or sliding doors, mirrored doors can really open up a space, and are more suited for bedroom or bathroom interiors. You can simply swap out your wooden closet for one with mirrored doors, or even a handy storage cupboard with sliding doors.
What's more, mirrored doors are a great way to seamlessly blend in your furniture, especially if you have compact spaces.
7. Reflective furniture
Similarly, if you don't have the capacity for oversized mirrors or doors, why not invest in mirrored furniture? Be it a closet, cabinet or mirrored dresser like this VINGLI Mirrored Dresser ($189, Amazon), these items will instantly reflect light, and add glamour to your room.
In fact, mirrored tables are great for reflecting light in dark rooms. We usually tend to have heavy or large wooden tables that can dominate the space, making a room seem darker. You can also place glass or reflective vases and accessories around the room to reflect natural light.
More from Tom's Guide