As the evenings grow colder, there's nothing better than a warm and toasty home during winter months. But if you don't want to crank up the thermostat or wear extra layers of clothing, there are some easy ways to make your home feel warmer.
Not only will these save you money on your heating bills, but these ideas will also make your home feel more cozy and inviting — just in time for the festive season. So, to find out how to make your home feel warmer without turning up the heat, we asked interior designers for some toasty tips.
For more ideas, you can also check out these 9 best fall decor ideas for a cozy home.
1. Thick rugs or floor runners
If you have hardwood and laminate flooring throughout your home, it can often feel chilly to walk around. Despite looking more aesthetically pleasing and practical to clean, retaining heat is not one of hardwood's best qualities.
Thick, plush rugs add layers to the floor, working wonders to insulate the room and helping reduce heat loss. In fact, rugs are known to retain up to 20% more heat, saving you on your heating bills! While it might seem simple enough laying a rug down, there are a few things to consider, according to experts.
"I love placing a rug in specific areas to create zones in the home," says Sam Greig, Senior Designer at Swoon. "In the living room, positioning a rug between the coffee table and sofa creates a snug area dedicated to respite and relaxation — and will help to reduce heat loss in your abode, too.
"If you are choosing a new rug, select a thick, hand tufted woolen rug that suits the surface area of your space well, creating the ultimate under-foot experience," Greig adds. "For an aesthetically pleasing display that all of your guests will envy, choose a warm tone such as a burnt auburn or harissa red. Sunset tones are great at bringing warmth into any space."
Try a faux sheepskin rug like this Noahas White Faux Fur Rug ($16, Amazon). It's not only fluffy and super soft, but it makes a stylish addition to any room. More importantly, your feet will be grateful for having a nice, warm surface to sink into!
2. Toasty throws and soft furnishings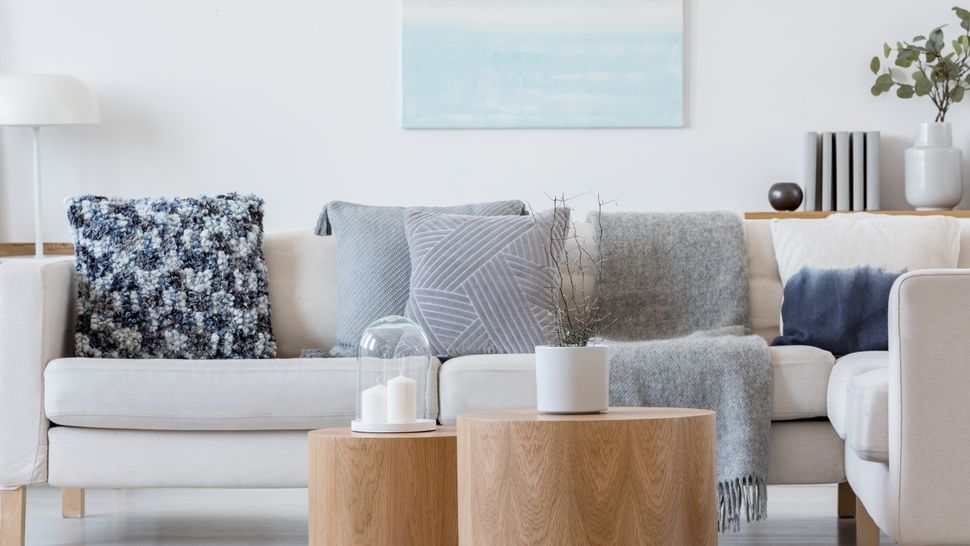 Another easy way to make your home feel warmer is to invest in blankets, toasty throws and plush velveteen cushions. In particular, if you layer different types of fabrics, these can keep you cozy as well as look stylish.
"Now that all of your major surfaces are covered, it's time to start considering the finer details," Greig says. "Social areas can become chilly quite easily during the colder months, so it is important to equip them with homely soft furnishings to ooze comfort and snug vibes".
In addition, the festive season is all about entertaining, and you'll want to keep your guests comfortable at all times. "Consider creating a basket or box full of warm throws for your lounge, so that when the temperature drops, your guests can reach for a comforting blanket to snuggle up and relax," Greig says. "Choose a selection of soft cotton velvet throws in a range of hues that co-ordinate with your current color scheme, and roll them neatly into a wooden basket for a Mid-Century-inspired set up."
3. Hang up heavy curtains
If you feel a chill coming through the windows, hanging up heavy curtains and drapes can keep out draughts while also preventing heat from escaping. Far from being outdated, there are plenty of contemporary styles, designs, and curtain fabrics to suit your interior style.
"Certain design choices such as blackout curtains and blackout blinds don't just lend themselves to adding warmth to interiors visually, but are actually designed to insulate the home by keeping heat in during the warmer months making them a great economical choice as well," suggests Amy Wilson, interior designer for 247 Curtains .
In addition, a lot of heat from your home is lost through your windows, so curtains could potentially save you a fortune on energy bills. "For maximum heat retention, ensure your curtains generously cover the full surface area of your window, " states Grieg, "Take the time to get the tape measure out and carefully determine the exact dimensions your curtains need to be — it's better to be safe than sorry! Add a couple of complementary ornamental accessories to dress the windowsill, and you're all set."
Wilson adds, "During the day, style your curtains by keeping them less drawn than usual and ensure the pleats look tidy and even. In the autumn and winter months, this will help to keep the room cosy and warm whilst you still want the light to flood in." In any case, eye-catching curtains can make a real statement in a room, and create a cozy ambiance.
If you're still undecided, check out Blinds vs curtains: which is better?.
4. Add warm lighting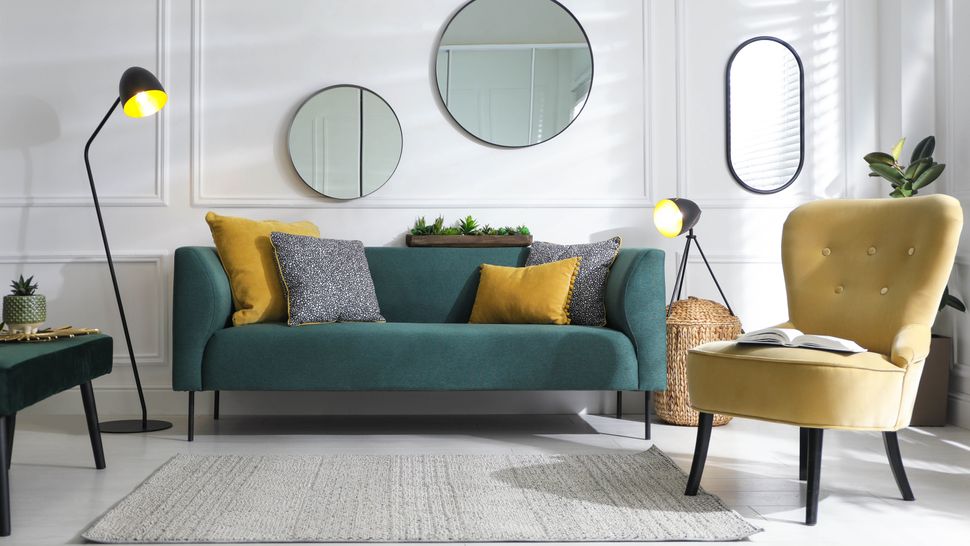 You can create a warm ambiance by adding the right type of lighting in a room. Consider warm tones for a cozy setting, and avoid bright white, clinical lighting that will make a room feel cold.
In addition, dimmers are a great way to control the levels of brightness to suit your mood. With a dimmer, you can easily switch between a bright illumination to a soft glow when you're ready to relax and unwind.
"When the darker evenings draw in, I love to switch up my lighting set up to enhance the mood and warmth of my living space," says Greig, "After the sun sets, table lamps, wall lamps, and floor lamps are great alternatives to using the main ceiling light. Dimmer, more dispersed lighting can help to create tranquil corners in your space, and can also help to relax your eyes, body, and mind before you retire to the bedroom."
One common lighting mistake is placing floor or table lamps at the wrong height, or using different lighting materials. This can cause unnecessary glare or make a room appear lackluster. "I would recommend keeping all your lighting accessories themed together for a super 'put together' aesthetic," says Greig. "I love the look of all brass appliances in a space, ensuring you use warm toned bulbs to maintain a welcoming atmosphere.
"Unifying the materials used, but diversifying the shape and style of each light creates a super chic combination that looks like it was put together by a high-end luxury designer. It's a great little trick to achieve an expertly designed space without hiring a professional."
You should also be aware that having the wrong lighting can impact on our electricity bills — which is essential when looking for ways on how to save money on energy bills.
5. Upgrade your comforter
Another easy way to feel instant warmth is to simply upgrade your bed linen and duvet. When investing in one of the best comforters, opt for a thicker, heavier fabric designed for winter months.
According to Grieg, "Velvet is well known to be an excellent insulator, so it is a great choice to dress your bed, and keep you warm and cosy whilst you slumber. Plus, it looks super chic and is sumptuously soft, so you're sure to sleep well."
Once you make the most of your comforter, you'll need to know how to wash a comforter the right way.
More from Tom's Guide