As the name implies, the dark web is the part of the internet that doesn't show up in standard search results. It's a network of unindexed sites that can only be accessed through special tools and browsers, like the Tor browser, and is often associated with an unrivaled amount of anonymity and privacy and, therefore, illegal activities.
A great deal of data breaches and piracy that happen on the internet usually end up on the dark web – and it's where cybercriminals go to shop around for stolen data they can use to commit fraud or threaten people. For example, someone could buy your financial credentials and make reckless purchases from your credit card with them.
There's a huge range of personal data stored and sold on the dark web – everything from home addresses and photos to email credentials and login details. This explains why we should make sure our data doesn't end up there in the first place.
Fortunately, there are several measures you can take to ensure the safety of your personal data. The most effective of these is dark web scans, and they're what we'll discuss here.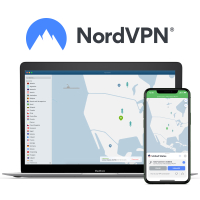 NordVPN – a privacy titan that'll keep an eye on the dark web
There's a reason why NordVPN sits at the #2 spot in our overall VPN rankings – it's packed with features designed to safeguard your browsing. A kill switch, no-logs policy, and dark web scanner go a long way to ensuring your private details remain private. Plus, you can put NordVPN to the test with a 30-day money-back guarantee.
Understanding the dark web
The internet is home to millions of web pages, databases, and servers. Interestingly, the sites that we find on Google, Bing, or Yahoo (i.e., the sites that are indexed) are just the tip of the iceberg. To be precise, they make up just 5% of the total internet, and they're what we call the "surface web" or the "open web" – as in, they're "open" for access to everyone.
The rest of the internet includes private databases, academic journals, and plenty of illicit content that's unindexed. Put simply, these pages are unidentifiable by search engines and go by the term "deep web." Despite being unindexed, we frequently use the deep web in our daily lives, like in the case of password-protected (permission-based) pages – think social media and banking sites. These websites are home to databases and content, which ultimately form the bottom line of the services we use regularly.
It's worth noting that the dark web is essentially a part of the deep web – a subset – just a lot more dangerous and restricted. While the dark web is home to a lot of legitimate activities, such as confidential communication between news organizations and their sources, it's predominantly known as an attractive place for buying/selling illegal weapons, drugs, malware, and data. It's a haven for cybercriminals because of the anonymity and reduced risk of exposure that comes with masked IP addresses.
The sites on the dark web employ rock-solid encryption to stop authorities from intercepting illegal marketplaces. So, to prevent data from entering and being exploited across the dark web, dark web scans should become a regular practice.
What is a dark web scan?
A dark web scan is a service or a tool that helps you find out if your personal information has been illegally published on the internet or, more specifically, the dark web. It proactively searches databases for your personal data, including financial credentials, and passwords, as well as sensitive details like pictures, videos, and more.
When a scan spots a match, it'll send an alert. These alerts can include information about the location of data, allowing you to take the appropriate action to shore up your protection, whether that's tracking it or changing passwords.
One of the more common ways your data can end up on the dark web is through hacks or data breaches – and, if you're involved in one, you might not even know that your data has been exposed. Alternatively, with phishing attacks using fake websites and deceptive emails to extract personal details, there's a chance you might be all too aware of the fact that you've become a victim.
This is where dark web scanners become all the more important in helping you find out if your data is actually as safe as you think it is.
The purpose of dark web scans
The dark web is inaccessible via regular search engines, so it can be pretty tricky to get hold of data that lives on that part of the internet. A dark web scan is the only feasible way to dive into those encrypted databases.
Regularly conducted dark web scans reduce the window of opportunity for the exploitation of stolen information by giving you a timely heads-up about any data in danger. As a result, you'll be able to quickly change your password, cancel your credit card, or change the location of sensitive data in your system before any damage is done, and hopefully prevent instances of identity theft, home title theft, credit card fraud, and data trading.
In addition to boosting safety by detecting stolen data, dark web scans are also used by law enforcement agencies to identify and combat illegal markets on the internet, including terrorist content, unlicensed or illegal selling of weapons and drugs, and other equally grim things.
How dark web scans work?
To conduct a dark web scan, you'll first need to provide some data to the company that'll perform the scan. This can include your full name, email address, passwords, IP address, credit card details, social security number, social media information, etc.
The company will then use specialized software or tools to match your data with catalogs of stolen data, usually known as data dumps. If it's able to pair up any information, the scanner will immediately send you an alert so that you can take the necessary preventative steps.
Now, since you'll be sharing your data with a dark web scanner and the company that owns it, it's important to choose a trusted and reputable provider – such as NordVPN – that employs high-end and foolproof security measures, including Advanced Encryption Standard (AES) with 256-bit keys, to ensure that your data remains confidential.
Plus, when it comes to sensitive information, you need to be confident that the safety alerts you receive are timely and accurate – and that you can trust that all's well if you're not receiving any. Using a tried and trusted brand gives you that peace of mind.
Should you use a dark web scanning tool?
While dark web scans do a great job of securing your personal data, it's impossible for them to trawl through every search engine on the planet or all the corners of the dark web. This is good news for cybercriminals – and there are around 24 billion usernames and passwords stacked for sale on the dark web.
It's not all doom and gloom, however. Dark web scanners make sure to cover dark web marketplaces with the most traffic, especially the ones that lack additional privacy safeguards, like data servers in popular dark web locations, including websites, marketplaces, and forums.
Whether it's an individual, business, or organization, data theft can lead to huge damages of both goodwill and money. The worst part is that you might not even be aware of your data being sold underground – unless, of course, you use a dark web scanning tool.
Another slight downside to dark web scans is that they're detective tools – meaning that it's up to you to take any preventative or corrective measures.
Alternatives to dark web scans
Unfortunately, you don't have the luxury of choosing from a buffet of options when it comes to detecting leaked or stolen information. You can either use dark web scans or dark web monitoring – the latter is basically a continuous form of dark web scanning, and it's able to proactively search for stolen data, giving you a little more time to react.
In addition to these, several other tools like vulnerability scanning and regular penetration testing provide extra security by identifying weaknesses in your system.
These processes are helpful, but practicing good cybersecurity hygiene, and keeping your software updated, is the most effective safety measure. Here are a few other non-negotiable habits you should adopt:
Strong password management: You've probably heard this before, but switch up your passwords regularly and try to use unique passwords for all of your major accounts. A password manager can help you keep track of all your login details and even generate strong passwords for you.
Two-factor authentication: Enabling two-factor authentication (2FA) goes a long way in amping up your digital security. Even if your email and passwords find their way to the dark web, there's little to no chance that anyone will be able to log in to your accounts if they can't crack this additional security layer – which is usually an OTP sent via SMS message or other TOTP authenticators such as Google Authenticator or Authy.
Monitor your finances: You should frequently check your bank and credit card statements to ensure that there aren't any anomalies in the transactions. If you spot a transaction that you don't recognize, reach out to your bank to take the necessary next steps, like freezing your credit cards.
Choosing a dark web scan service
Like with most things, picking the right tool for the job makes a world of difference – and it's the same with dark web scans. You're better off choosing a well-known provider with a well-documented secure infrastructure.
The company should also have a reliable data security and privacy system in place to ensure that the details that you share with it are stored securely and protected against possible intrusions and leaks.
I'd suggest taking a look at the best VPN services like NordVPN and Surfshark, and Google One, if you want a stellar service that offers dark web monitoring and scanning alongside plenty of other privacy-enhancing tools.
Want to do your own shopping? No problem – here's what to look out for when picking out a web scan service:
Comprehensive coverage: While it's impossible to scan the entire dark web in a single scan, the best providers offer maximum coverage of underground marketplaces for reliable results.
Zero or negligible assured false positives: The last thing you want is to go to the trouble of contacting bank authorities and blocking your cards when your data isn't even on the dark web. For this reason, it's important to ensure that the company that you choose doesn't show false positives.
Key metrics for assisting remedial efforts: Lots of companies give you key metrics, like the location of any leaked data, to simplify the salvage process.
Bottom line
The dark web can be a dangerous place – nobody wants their data to end up there. However, if it does, it is possible to rectify the situation before major damage is done.
Whether you need a dark web scanner will depend on your personal circumstances and the risk exposure of your day-to-day activities. Scans might be a downright necessity for people at higher risk of identity theft, whereas if you're not on the internet that much, or steer clear of dangerous sites, you might not need regular scans.
However, given that even everyday individuals are increasingly becoming a target of online frauds and scams, it's better to be safe than sorry. Combined with healthy cybersecurity habits, dark web scans will provide you with much-needed peace of mind.