If the annual Mobile World Congress sets the tone for mobile devices for the coming year, then we're in for exciting times based on the best of MWC 2023. From solid smartphones that include sustainable budget models to higher-end phones ready to challenge the top flagships, we saw plenty of impressive handsets at MWC 2023 — and that's before we get into the concept devices that hint at what phone makers could be doing in the near future.
It's not just phones that caught our eye. We also spotted some pretty exciting tablets, laptops and add-ons that we're hoping get released soon rather than later. There's even an app that deserves a mention in our round-up of the best of MWC 2023.
Here's a closer look at the top products we came across this week at MWC and why they have us excited about the year ahead for smartphones, tablets and other mobile devices.
Best phone: Honor Magic5 Pro
The Honor Magic5 Pro is, by far, the best phone to come out of MWC 2023, with specs and looks that seem keen to take on the best Android phones.The full list of specs are mighty impressive, with a screen, camera and hardware that, on paper at least, could give the Samsung Galaxy S23 Ultra a run for its money.
Honor's latest flagship is all wrapped up inside a gorgeous design, with the sort of premium features you'd expect from a phone that costs far more than the Magic5Pro's €1,199 asking price. This is one phone we can't wait to get our hands on. — Tom Pritchard
Best tablet: OnePlus Pad
Of everything we tried at MWC, the OnePlus Pad felt the most ready for users to buy. Not surprising given it's meant to be going on sale in just over a month but still it's great to see a device in such good shape.
OnePlus has got its unique selling points in the form of a squarish aspect ratio, effective fast charging and a big battery nailed down, so now all it needs is a tempting price to prompt potential customers to ask why they'd buy an iPad instead. — Richard Priday
Best innovation: Honor silicon-carbon battery
Batteries aren't the most glamorous part of a gadget, but they are undoubtedly important. And that's why Honor's new battery tech has captured our attention.
The greater energy density of silicon-carbon compared to lithium graphite means bigger capacities in smaller cells, which is exactly the right combination for mobile devices. Honor's already got a product on the market in the form of the Magic5 Pro handset released in China, so we hope it won't be too long before its global devices start including this new feature, too. — RP
Best concept device: Motorola Rollable Phone
The Motorola Rollable shown off by parent company Lenovo takes the concept of a rollable to a whole new level. Not only can you extend the screen from 5 inches to 6 at the push of a button, the phone is also contextually aware enough to automatically expand the screen when you do certain actions, whether it's drafting emails or watching videos.
But the clincher is that contracting Motorola's phone doesn't lose you any screen space — the excess display just slides round to the front. That way it can act as a cover display, with all the same features as the best foldable phones. It's just a shame we won't be able to buy a phone like this any time soon. — TP
Best sustainable device: Nokia G22
The Nokia G22 takes self-repair to a whole new level, as HMD Global specifically designed its Nokia handset to aid you in your DIY phone repairs. That makes such repair work quick, easy and at no risk of voiding your warranty.
The longer you keep your phone in working order, the less likely you are to want to replace it, so the Nokia G22 strikes a blow for sustainability by preventing e-waste and whatever environmental impact stems from ordering a brand new handset. No amount of recycled materials can do that. — TP
Best phone accessory: Motorola Defy Satellite Link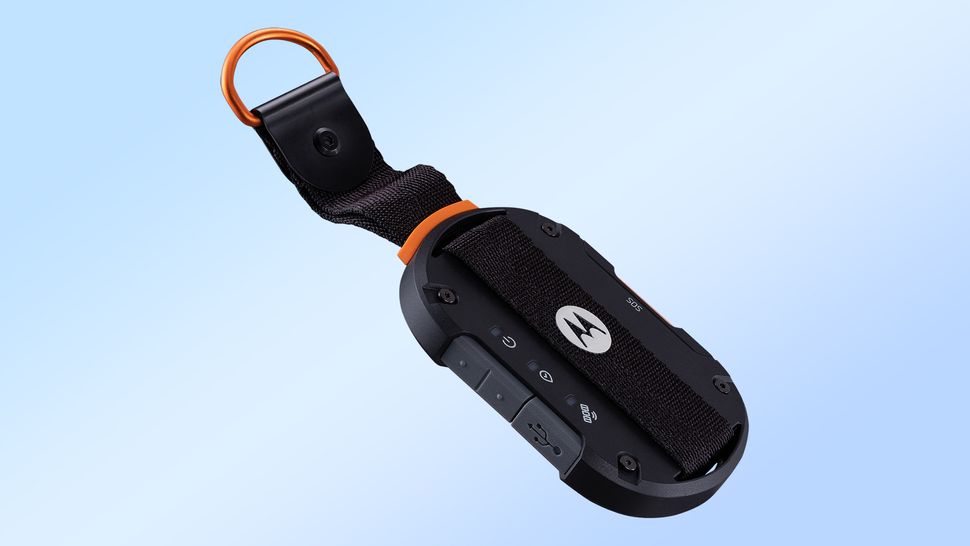 Instead of buying a brand new phone to gain the satellite connectivity that keeps you connected in emergencies, the Motorola Defy Satellite Link lets you bring those features to your existing phone. Not only is it an emergency SOS beacon, with links to emergency services, it also offers two-way messaging using a mix of satellite and cell networks.
So long as you have a satellite and the recipient has internet, you'll be able to stay in touch. And that's all for just $99 and a $5-plus monthly subscription. — TP
Best design: OnePlus 11 Concept
Concept phones are free to go crazy with their designs, but the OnePlus 11 Concept uses the body of the existing OnePlus 11, just modified with some luxurious and ingenious detail.
The back panel's been made partially transparent, and it's flecked with metal. OnePlus also inserted a vivid blue cooling system underneath in plain view, and the camera block uses luxury watch-style engraving for decoration.
The look of the OnePlus 11 Concept is stunning yet still rooted in the real world, making it easier to imagine the phone (or something like it) actually in your pocket someday. — RP
Best app: Anura by NuraLogix
It can be hard looking after yourself when life's busy, so having a convenient method of diagnosing potential health issues sounds exceptionally useful. And that's what the Anura app provides.
Built by NuraLogix, the Anura app can give you key health indicators after you spend just 30 seconds looking into your phone's selfie camera —something everyone has time for given how much we use our phones. It's simple but potentially invaluable, especially if you're trying to keep tabs on your mental health or risk to certain diseases. And even better, there's a free version you can try on the App Store or Play Store right now. — RP
Best VR/Headset: HTC Vive XR Elite
Mixed reality headsets are all the rage, and the HTC Vive XR Elite is an impressive specimen. Not only does it offer dedicated virtual and augmented reality modes, it's also dual purpose, with standalone and PC-enabled passthrough VR capabilities.
The Vive XR Elite provides this while also offering a light, comfortable fit that didn't make me want to throw up after a few short minutes of exploring a virtual world. Plus, HTC's device has all the things a good modern VR headset needs, including 90Hz refresh rate, 4K displays, and a 110-degree field of view. — TP
Wildest product: OnePlus/Oppo 45W Liquid Cooler
A device for cooling down your phone is not something we ever thought we would ever need, but OnePlus and Oppo brought one to MWC anyway in the form of the OnePlus 45W Liquid Cooler. Apparently these weird-looking blocks can use technological wizardry to reduce your phone's temperature by up to 68 degrees Fahrenheit, which does sound pretty darn impressive.
The Oppo variant of the Liquid Cooler also happens to be magnetic, with a 10W wireless charger built in. That's perfect for all the times you need top performance in the middle of the desert, but don't want to run out of power in the process. — TP
A product worth watching: Nubia Pad 3D
There's a lot that the Nubia Pad 3D has gotten right on its first time. The 3D part of this tablet works perfectly well, whether it's displaying 3D images or allowing users to create photos and videos with a built-in 3D effect. It's just a shame that the Nubia Pad is running older hardware, costs as much as a normal premium tablet and has a pre-made rival bearing the name of Leia, the company behind the 3D technology.
Still, we really like how well this tablet's unique selling point works, and that it can still work as a regular tablet when you exit the 3D apps. That's why we're hoping after a couple of revisions, this tablet will be far easier to recommend to average users. — RP