If someone asked me for the number one thing I need to survive a long flight, the answer is easy: I'd tell them it's a great pair of noise-cancelling headphones. After all, how else am I going to disassociate in my cramped cabin seat for hours?
But with plenty of the best headphones to choose from, and a 13-hour flight ahead of me, I picked the tried-and-true pair that has already traveled thousands of miles on my head: The Sony WH-1000XM5.
Before I continue on about my experience, I think it's timely to call out that the Sony WH-1000XM5 are on sale for $328 at Amazon right now. The premium headset normally costs $399, so you can save a decent sum thanks to ongoing Black Friday deals.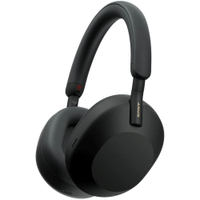 Sony WH-1000XM5: was $399 now $328 @ Amazon
Could I have survived a 13-hour flight without the Sony WH-1000XM5? Probably, but it wouldn't have been fun.
There are a few reasons I went with the Sony WH-1000XM5 instead of the Bose QuietComfort Ultra Headphones and the AirPods Max for this given flight. While Bose's latest flagship offers excellent ANC performance and a portable design, it's still fairly new. I hadn't put it through the paces on a trip of considerable length yet, and I worried whether the cans would be comfortable for so many hours at a time. Essentially, I wanted to eliminate any added anxiety that I already feel from being contained in a pressurized aircraft.
Compared to the AirPods Max, the Sony WH-1000XM5 has 10 hours more battery life for 30 hours of playback total. This meant that if I didn't have time (or forgot) to charge the headphones before the equally-lengthy return flight, I should be in the clear. What's more, the AirPods Max don't have a headphone jack. With the Sony WH-1000XM5, I was able to enjoy the inflight entertainment system using the 3.5mm audio cable that came with my headset and stows in the carrying case.
I found myself settled into my seat, Sony WH-1000XM5 over my ears, and proceeded to have as pleasant a journey as possible. I primarily alternated between listening to 1989 (Taylor's Version) and watching the John Wick movies in order. Only now that I've written that, I realize that's kind of an odd combo. To each their own, right?
Anyway, with the impressive stereo and masterful clarity, I could temporarily feel like I was at The Eras Tour instead of 35,000 above the Pacific Ocean. The seat-back entertainment console screen kind of sucked, but at least the audio offered immersion, so I ended up enjoying many parts of the movies while my eyes rested.
All the while, the Sony WH-1000XM5 noise cancellation eliminated the sounds of the engine and the pair of people sitting behind me chatting away. Then, when the flight attendants came around for drink and food service, all I had to do was talk to them for my audio to pause and to switch the headphones into ambient mode. This feature, called Speak-to-Chat, is convenient for precisely this situation.
I do think it's worth putting other headphones through testing on long flights. That said, right now, when I know I need the most reliable noise-cancelling headphones, I'm reaching for the Sony WH-1000XM5. If lots of travel is on your docket for the holidays, or even next year, I might suggest you do the same.