Cooling mattresses are expensive but Cocoon by Sealy is bucking that trend by offering 35% off the Chill Memory Foam Mattress, reducing the cost of a queen to just $699 (was $1,079) in time for all those summer heatwaves. Cocoon is also giving away free cooling bedding worth up to $199 with each Chill mattress.
Overheating is a sleep killer for many people, so if you're kicking off the sheets most nights, consider buying a cooler bed. The Chill doesn't have the same level of cooling tech as beds from Casper and Tempur-Pedic, but it's the best mattress for anyone wanting a comfier, more breathable all-foam bed for less.
Ahead of the Memorial Day mattress sales you can save up to $689 when buying the Cocoon by Sealy Chill Memory Foam Mattress – that's up to $490 off the mattress, plus free bedding worth up to $199.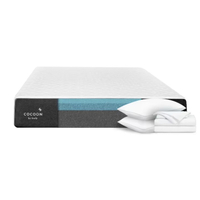 Cocoon by Sealy Chill Mattress: from $619 $399 at Cocoon
This is one of the best cooling mattresses for small budgets and we highly rate it in terms of comfort too. The 10" Chill has an active cooling cover that draws away heat so that it doesn't pool beneath you. Dress it in the cooling sheets it comes with for free and you'll have a better shot at cooler sleep this summer.
In our Cocoon by Sealy Chill mattress review we explain that while it offers impressive temperature regulation compared to more expensive cooling beds, it does lack decent edge support. That makes it a little harder to get in and out of, and the support dips a little when you're sleeping right up to the edge. That said, edge support is a small niggle when you can buy a queen size Chill for just $699 – and get free bedding to match.
Cocoon by Sealy offers a 100-night trial and a 10-year warranty, so you'll have plenty of time to try it out at home. If you have a bigger budget and you're experiencing night sweats, consider upgrading to the Extra Chill Technology version, priced $898 (was $1,389) for a queen.
For a full-on cooling experience and hang the price, read our Casper Wave Hybrid Snow Mattress review.