Sony's PS5 is great but it's not got a vast amount of storage for keeping some of the best PS5 games on the console. That's why you'll want an SSD upgrade.
Luckily the Black Friday deals have you covered, as you can currently find the Samsung 980 Pro SSD w/ heatsink on sale for $189 at Amazon. With that, you can add a healthy 2TB of storage to your PS5 while saving $210 from the original price of $399; that's makes $189 the lowest price ever for this Samsung SSD.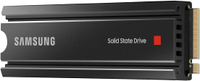 Samsung 980 Pro 2TB SSD w/ heatsink: was $399 now $189 @ Amazon
The Samsung 980 Pro SSD is fully compatible with Sony's PS5. It takes just minutes to add to the console's storage expansion slot and will significantly boost your hard drive allowing you to store dozens of games at once. This 2TB model also comes with a heatsink preinstalled so is ready for use with your PS5 console straight out of the box.
While the Samsung 980 Pro SSD is not technically an officially-licensed PS5 accessory, it meets all of Sony's requirements for a PS5 SSD. And it's been confirmed as compatible with the next-gen console by its manufacturer, so you can rest assured that this hard drive will slot into your PS5 without any hassle.
This model also comes with a preinstalled heatsink. This is a very good thing as Sony advises that any drive added to the PS5's storage expansion slot should come with some form of cooling. Of course, you could buy the Samsung 980 Pro separately and attach a third-party heatsink yourself but this preconfigured model is much more convenient.
Even better, when you add an additional SSD to your PS5, it doesn't replace that console's stock hard drive. That means you're adding an additional 2TB of storage on top of the 667GB that comes as standard. This is great news if you were looking to install Call of Duty Modern Warfare 2 and the recently-released Warzone 2.0 which have a combined file size of almost 200GB.
This Black Friday deal represents not only the lowest price ever on a Samsung 980 Pro SSD, but it's also one of the cheapest prices we've ever spotted on a 2TB PS5 SSD in general. Alternatively, if you'd rather opt for the WB_Black SN850 SSD it's also on sale at Amazon. However, even with a 13% discount, it's still retailing for $259 which is a fairly eyewatering price tag (and $20 more than its lowest ever price).
Looking for even more all-time low prices on top tech? Make sure to check out our massive Black Friday deals hub which is stuffed with dozens of discounts and savings that you can shop right now.