Amazon's October Prime Day event kicks off tomorrow and while you may be considering picking up a new TV or even a laptop, upgrading to one of the best mesh Wi-Fi systems is the kind of investment your whole family can take advantage of on all of their devices.
Unlike with one of the best Wi-Fi routers, mesh Wi-Fi systems or mesh routers include a main unit that connects to your cable modem along with several satellites you spread throughout your home. This way, you have a strong internet connection wherever you go — from your garage all the way out to your backyard.
If you've noticed that there are Wi-Fi dead zones in parts of your home or your internet speeds drop off quickly the farther you move away from your existing router, then a mesh router is exactly what you need. While you may have considered picking up one of the best Wi-Fi extenders to push your internet connection farther, these devices require you to switch networks as you move throughout your home. With a mesh router though, you have a single, seamless connection and don't need to switch networks at all.
Although mesh routers used to be quite expensive, they've come down in price as their popularity has grown. In fact, we've also rounded up the best cheap mesh Wi-Fi systems that can all be had for less than $100. Some of our picks from that list are on sale for Prime Big Day Deals but you'll also be able to snag some premium mesh routers for a heavily discounted price.
With so many early deals to choose from, I've picked out 7 we've either reviewed at Tom's Guide or that I have personally tested myself. Regardless of which mesh Wi-Fi system you decide to go with, you're going to notice a huge difference over your current Wi-Fi router, and this is especially true if you're still renting one from your Internet provider.
While these are the early sales that caught my eye so far, there will be even more discounts when Amazon's next Prime Day sale event kicks off tomorrow on Oct. 10. So if you're after a deal on a particular model, be sure to check back later.
Prime Day mesh Wi-Fi router deals — Quick links
Early Amazon Prime Day mesh Wi-Fi router deals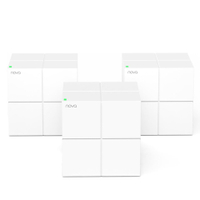 Tenda Nova MW6: was $95 now $69 @ Amazon
The Tenda Nova MW6 may be a budget mesh router but it still sports a really unique, cube-shaped design. This budget mesh system uses the older Wi-Fi 5 standard but a three-pack can cover up to 6,000 square feet with support for more than 90-plus connected devices. In our Tenda Nova MW6 review, we praised its quick and easy setup process via the Tenda app and the fact that you can wall mount the satellites. This mesh Wi-Fi system also packs in parental controls if you want to schedule internet access for your kids.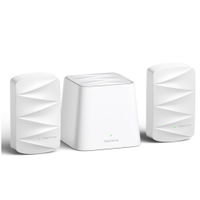 MeshForce M3: was $110 now $80 @ Amazon
The MeshForce M3 is another budget mesh Wi-Fi system worth considering because of its attractive design. Instead of the towers you get with other mesh routers, this one uses plug-in extenders that are much easier to hide. In our MeshForce M3 review, we really liked the system's excellent mid-range performance and range. It's worth noting that this mesh router also ships with Wi-Fi 5, so don't expect tremendously fast speeds. However, with a range of 105 feet, you'll be able to push a strong Wi-Fi signal quite far.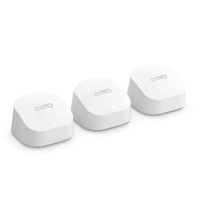 eero 6+: was $299 now $195 @ Amazon
The eero 6+ is a mesh Wi-Fi system with Wi-Fi 6 support that's actually made by Amazon. The devices themselves are absolutely tiny compared to other mesh routers which means they're easy to place throughout your home. Besides the reliability and simple setup that comes with eero's mesh routers, there's also a number of interesting extra features. For instance, you can use an Echo dot as a mesh extender for free but if you sign up for an eero Plus subscription, eero Internet Backup lets you use your phone's hotspot to get your home network back online. If you want something more powerful, the eero Pro 6E is also on sale, but it is somewhat larger than the eero 6+.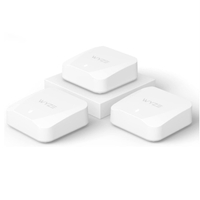 Wyze Mesh Router: was $280 now $269 @ Amazon
The Wyze Mesh Router is another mesh Wi-Fi system with Wi-Fi 6 support which sports a compact design. You can connect more than 50 devices to each unit and there are two gigabit Ethernet ports at the back for your hardwired devices. Each Wyze Mesh Router covers up to 1,500 square feet but if you want a bit more range with Wi-Fi 6E support, you might want opt for the Wyze Mesh Router Pro instead. Either way, you're getting a reliable mesh router and if you have other smart home devices from Wyze, you can control them all from the same app.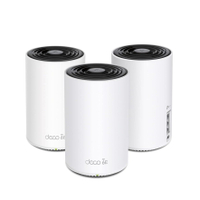 TP-Link Deco XE75: was $449 now $320 @ Amazon
The TP-Link Deco XE75 was one of the first affordable mesh Wi-Fi systems with Wi-Fi 6E support. It's ideal for those with lots of devices at home as you can connect up to 200 connected devices to each unit with 2,400 square feet of Wi-Fi coverage. In our TP-Link Deco XE75 review, we said it's one of the easiest mesh routers to set up and we were also impressed by the included security software. Just like with eero devices, a great thing about TP-Link's mesh router line is that all of its Decos work together. This way, if you upgrade to a new system, you can still make use of your old devices.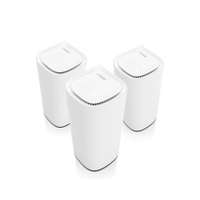 Linksys Velop Pro: was $399 now $379 @ Amazon
The Linksys Velop Pro is another mesh router with Wi-Fi 6E but each unit can cover up to 3,000 square feet while supporting over 200 connected devices. The Linksys Atlas Max 6E has long been one of our favorite mesh routers and the Velop Pro brings many of its best features with a lot less bulk. One other thing that sets Linksys' mesh routers apart from the competition is the company's customer support. For instance, with the Velop Pro, you get a 3.5 year warranty and 24/7 technical support worldwide.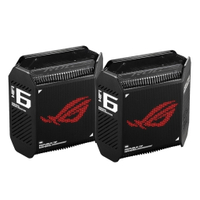 ASUS ROG Rapture GT6: was $480 now $450 @ Amazon
The ASUS ROG Rapture GT6 may only come with Wi-Fi 6 support but it pushes this wireless standard to the limit with super fast speeds. It's also the first mesh router designed with gamers in mind for those interested in one of the best gaming routers. In our ASUS ROG Rapture GT6 review, we loved all of the gaming features Asus packs in, such as its Game Radar world map and the fact this mesh router comes with customizable RGB lighting. It's also available in black or white to match the aesthetic of your gaming PC.