I recently took the plunge, bidding farewell to my trusty Airpods, and decided to see what all the buzz around Jabra was about. The Jabra Elite 7 Active seemed like an obvious choice for me. As a fitness writer and a keen runner, I spend a lot of time hitting the pavements or in the gym, making a dependable pair of earbuds to pump out my favorite tunes an absolute necessity.
I can safely say this Jabra pair has not disappointed me yet and right now you can get the Jabra Elite 7 Active's for just $99.99 at Amazon, which is 44% off a high-performing workout model. If you didn't manage to catch them when they were going for 50% less in the Prime Day Big Deals Days, this is still a fantastic deal that won't stick around for long.
Quick note before you check out the deal below, right now, the deal only applies to the navy model.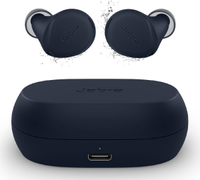 Jabra Elite 7 Active workout earphones: was $179.99 now $99 @Amazon
These wireless earbuds are noise cancelling with the option to switch to Jabra's hear through mode if you want to stay safe outdoors. They charge fast, offer better battery life than Airpods and sit snugly in your ear during workouts — for less than $100 this deal is a no brainer.
Before the left ear of my Airpods broke, I was always picking my pods off the floor when I accidentally knocked one during a workout, or while taking a layer of clothing over my head.
So what really stood out when using the Jabra Elite 7 Active's was their exceptional stability — forming a firm fit in my ear, and ensuring the buds remained steadfast during my runs and workouts. Plus, their IP57 rating ensures they're up to the task of repelling dust and water, making them a durable choice for outdoor runners like me.
I was really impressed by how my new Jabra Elite 7 Active's intelligently adapts to your unique hearing via the free Jabra app. Safety is a big deal for me while I run and something I am especially more cautious of when the darker Winter months arrive. Jabra's HearThrough transparency mode is a game-changer, keeping me aware of my surroundings while listening to my run playlists.
If you are looking to make the switch from Apple to Jabra like I did, you needn't worry about struggling to navigate your new buds. Switching a song or accepting a call requires similar taps of the buds and I found the Jabra app to be very user friendly.
The Jabra's also have 'Alexa' wake-word support and compatibility with Google Assistant, Siri, and Bixby, all accessible through a simple double press on the left bud. You can find out more about what this model has to offer in our audio editor's Jabra Elite 7 Active review
In my transition from Airpods to the Jabra Elite 7 Active earbuds, I found a refreshing change. They sit comfortably, provide excellent noise cancellation, ensure safety with the HearThrough function during runs, boast quick charging, and offer impressive battery life. The only regret? Buying a pair before the early Black Friday deals!
Be sure to check out our early Black Friday deals page for more deals, and if you are also on the market for a pair of new running sneaks, we've rounded up the best Asics running shoe Black Friday deals on sale before the official event.