If you've been waiting for the Black Friday deals to drop to invest in one of the best walking treadmills, I've got good news — this WalkingPad treadmill has dropped to $399 on Amazon right now, making it $100 off its regular price.
WalkingPad treadmills have become hugely popular for at-home walking workouts (cozy cardio anyone?), because of their easy storage — they are one of the only brands on the market that physically fold in half, making it easy to stow under a couch or bed when you're not using it. Read on to grab a bargain.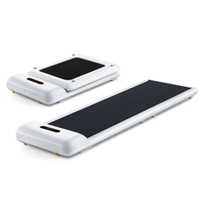 WalkingPad C2 Treadmill: was $499 now $399 @ Amazon
The WalkingPad C2 treadmill currently has $100 off in the Amazon Black Friday sale. During testing, we found the WalkingPad C2 had a decent-sized walking belt, and we appreciated being able to fold the treadmill up when we weren't using it. For $399, this is a good price for a treadmill from a well-known brand.
As a fitness editor, it's my job to test some of the best fitness tech on the market, to help you decide which deals are worth buying, and which ones to skip. After testing most of the best walking treadmills, I'd say that WalkingPad have one huge advantage over the others, and that's in the ability to fold them away for easy storage. Unless you're shopping for your company's office, or you're blessed with loads of space, you're probably going to want to store your walking treadmill out of the way when you're not working — especially if you have kids or pets in the house, and WalkingPad make this easy.
The WalkingPad C2 is slightly smaller and slightly lighter than the cheaper WalkingPad A1 Pro. Unlike the WalkingPad P1, it has a screen to show you all of your metrics on the move, which is handy if you want to keep track of your progress as you work.
The treadmill itself has two different modes — manual and automatic. On the manual mode, you increase and decrease the speed of the treadmill as you're working out, either via the remote (which we noticed you have to really point at the screen of the treadmill), or the phone app. By contrast, in automatic mode, the treadmill speeds up or slows down based on your position on the treadmill — if you're at the front, it'll speed up, if you're in the middle, you'll stay at a constant speed, and if you're towards the back of the treadmill, it'll slow down.
The max speed of the treadmill is 6km/h, or 3.72 m/h, which is a pacey walk, but not really a run (check out the best treadmills for runners here), although without handlebars, we'd argue you wouldn't want to run on this treadmill anyway. The belt felt comfortable underfoot, and during testing we didn't notice the joint in the middle of the treadmill where it folds.
Overall, this is a great treadmill to add to your home office, and for $399 it's a decent price. Check out our WalkingPad C2 review here, and keep an eye on Tom's Guide for more of the best Black Friday deals this week.