The end of the year is almost here, but you don't have to wait till 2023 to start taking better care of yourself. Retailers are offering a wide range of last minute Christmas gifts and some of the best sales are designed to help you get a better night's sleep.
From comfy pajamas to our favorite duvet, below you'll find the best gifts for a good night's sleep. We've even found the perfect sleep gift for your four-legged friends. Just make sure to get your purchases in early as Christmas shipping deadlines are fast approaching. Need a little more inspiration? Make sure to check out our guide to the best Christmas deals available this week.
Sherpa Fleece Weighted Blanket
In addition to helping relieve stress and anxiety, the right weighted blanket can also be a great sleep aid if you have trouble falling asleep at night. The Luna Adult Weighted Blanket is the best weighted blanket we've tested and this version adds extra softness thanks to its two-sided sherpa design. Plus, it's can be machine washed on a gentle cycle. Use exclusive coupon code "TOMSGUIDE40" during checkout to drop its price to just $72 (was $119).
The Nectar Hit the Hay Duvet holds a spot in our list of the best duvets. It's super-soft and made of breathable cotton for warmth in winter and cool sleeping in the summer. We've been using it for over a year love how it seals in warm air during the winter, yet it's fully breathable during the hot summer months. The twin is on sale for $100 (was $149), whereas the queen is on sale for $120 (was $179).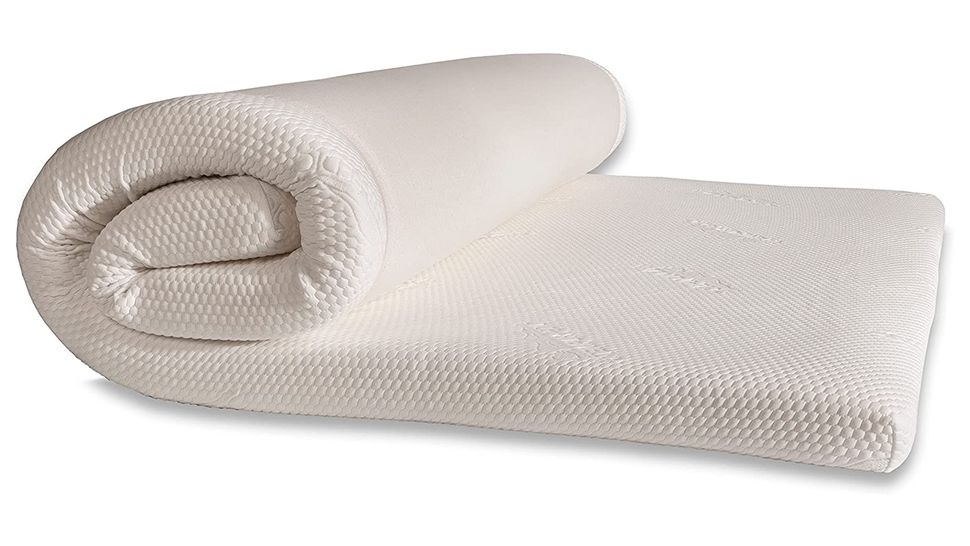 Get a solid night of snooze with the Editor's Choice Tempur-Topper Supreme. Not only is it among the best mattress toppers you can buy, but we found it's the best way to breathe new life into your aging bed. It works by adding 3 inches of Tempur's proprietary foam to your mattress, so it supports your body in all the right pressure points. It's now on sale for just $191 in twin size (was $319) or $251 in queen size (was $419).
---
The right pillow can make the difference between gently falling asleep or tossing and turning all night. Our personal pick is the Tempur-Cloud Pillow. The pillow uses the company's proprietary blend of materials to offer pressure relief and plush comfort. We own a set of these pillows and find them to be the perfect mix of soft and firm. They're easily foldable, but firm enough so your head/neck feel like they're fully supported.
Purple Sleepy Jones Pajamas
Sleep warm and comfy this winter with Purple's soft Sleepy Jones Pajamas. They offer the perfect mix of stretch and breathability to ensure the most comfortable sleep possible. Just like Purple's bed sheets, the moisture-wicking cloth in these pjs helps regulate your body temperature, so you'll sleep comfy year-round. They're available for men or women in Stormy Grey or Morning Mist. Even better, they're now 30% off in all sizes.
Tuft & Needle White Noise Machine
The Tuft & Needle White Noise Machine uses natural, real-fan noise to create a relaxing soundscape while muting interruptions. It features an adjustable tone and volume with decibel calibration that's safe for babies and pets. The accompanying app can also be used to set up timers or add a gentle fade in and out to wake up naturally.
---
Winter is right around the corner and if you're looking for something to keep you warm and comfy in bed, the Buffy Cloud Comforter is one of the best comforters we've used. The cover is made from breathable eucalyptus fabric, while the inside is stuffed with recycled "floof" crafted from the ultra-fluffy rPET fiberfill. This eco-friendly material stops 50 plastic bottles from going into landfill, so not only can you enjoy a comfier night's sleep, but you'll be doing your bit for the planet too.
Cocoon by Sealy Pillows and Sheets
Pamper yourself or someone you love with this pillow and sheet set bundle from Cocoon by Sealy. It includes two DreamFit pillows and a DreamFit sheet set. The 100% cotton sheets offer a 260 thread count and are both breathable and smooth to the touch. They also have a 1-inch binding and corner straps, which means you'll never have to deal with sheets that creep up or shift and wrinkle while you sleep. Meanwhile, the pillows offer firm foam clusters on one side and plush, polyester fiber on the other side, giving you the best of both worlds.
Treat your furry friend to the best sleep possible with the Casper dog pillow. It's available in a range of colors in small, medium, or large. It features pressure-relieving memory foam and durable support, which is why we rated it the best dog bed you can buy. We also like that it features a removable cover for ease of washing. Plus, it comes with a 30-night trial.