Celebs @ The Consumer Electronics Show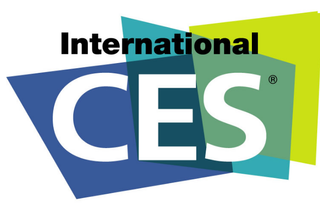 Star Power
The biggest show in tech has a habit of drawing some of the biggest names in entertainment. Sometimes it makes perfect sense: you'd expect an actor-turned-director to be interested in 3D standards and HD resolution. You wouldn't be surprised if a musician wanted the latest details about headphone monitors, wireless microphones, and speaker systems. But sometimes, the connection is less clear. What will Jeff Probst and Larry King be doing on the show floor?
Usually, big name companies bring celebrities with them to the show--either the entertainers are under contract and must oblige their sponsors, or they've been paid a handsome one-time fee. Once in a while, a big name star just wants to geek out at CES with the rest of us. Unfortunately, we have no way of the circumstances under which each celebrity arrived in Las Vegas for the Consumer Electronics Show. Read on to find out what we do know.
50 Cent
Fiddy is launching a pair of in-ear wireless headphones--much like Dr. Dre and Lady Gaga have done before him--with a company called Sleek. He'll be in the Las Vegas convention center for a press conference on Thursday, and hanging out in Sleek's booth on the show floor on Friday, signing autographs.
Seth Wescott
Remember this guy? He won the gold medal at the Olympics--the snowboard cross event--in 2006 and 2010. He'll speak at the Sports and Fitness Tech Summit on Friday about the role of technology in his Olympic career. He'll also be hanging out at the booth of DeLorme--a GPS technology company--signing autographs.
Earth, Wind & Fire
This legendary R&B/funk band has been performing for forty years. In fact, 2011 is the band's 40th anniversary, and the band has decided to ring in that milestone with a greatest hits performance accompanied by an orchestra at the annual Monster Retailer Awards that take place every year during CES. Friday's concert at the Paris Hotel is sure to draw a crowd.
Adrian Grenier
You probably know him best as Vincent Chase, from HBO's Entourage. Adrian Grenier will be talking about his career--which includes stints as a musician, a host of an environmental series, as a director and a documentary filmmaker--at RIM's BlackBerry booth on Thursday and Friday.
Olivia Wilde
Olivia Wilde's most recent role was as Quorra--the woman in the futuristic black suit with short black hair--in Tron: Legacy. It isn't hard to make a connection between that film and technology. Wilde will discuss the other aspects of her career at the BlackBerry booth on Thursday and Friday.
Piers Morgan
Piers Morgan was a judge on America's Got Talent, and the winner of The Celebrity Apprentice. Starting this year, he'll host a news show on CNN in the time slot previously held by Larry King. We wonder if King will stop by the BlackBerry booth on Thursday or Friday, where Morgan will be talking about his career.
Common
Grammy award-winning hip hop artist Common, who is also an actor, will also be speaking at the BlackBerry booth on Thursday and Friday. In 2008, common appeared in a commercial for the Microsoft Zune, so he isn't a complete stranger to the hype surrounding newly launched gadgets.
Bill Walton
NBA champion and commentator Bill Walton will appear in Haier's booth, signing autographs on Thursday afternoon. It should be noted that Haier is the official HDTV brand of the NBA.
Rick Fox
Former Los Angeles Laker and television actor Rick Fox will appear in Haier's booth on Friday afternoon.
DJ Envy
DJ Envy, a popular creator of freestyle rap and hip hop mix tapes (he's propelled the latest stylings from Jay-Z and 50 Cent), will perform at Nox Audio--a maker of headphones. He'll be at that company's booth on Friday afternoon
Jeff Probst
According to the Consumer Electronics Association--the trade group that runs CES--longtime Survivor host Jeff Probst will be walking the show floor at the convention.
Larry King
Having recently left his post at CNN, Larry King has time on his hands and has chosen to spend some of it walking the show floor at CES this week, according to the Consumer Electronics Association.
Bare Naked Ladies
Simultaneous to the Consumer Electronics Show, AT&T hosts its wireless developer conference in Las Vegas. The reception takes place on Wednesday night. Alternative rock band Bare Naked Ladies will perform for the crowd of developers.
OK Go
Lenovo hired a band with a tech connection to play at its party at the Venetian hotel. OK Go got famous for extremely fun to watch YouTube videos that went viral.
John Walsh
Canon hosts a celebrity golf tournament to support the National Center for Missing and Exploited children, during CES. John Walsh, host of America's Most Wanted, hopes to bring out crowds in support of the NCMEC cause.
Chris Pirillo
Fans of tech blogger Chris Pirillo (of LockerGnome fame) will flock to an event at the Las Vegas Convention Center hosted by candy company Reese's. Pirillo will open a giant orange box and unveil a technology deemed to be "like peanut butter and chocolate." We think this has something to do with Verizon LTE service, because the company Tweeted something about "peanut butter and chocolate" recently.
Danica Patrick
Race car driver Danica Patrick will attend Lenovo's bash at the AquaKnox in the Venetian hotel. Patrick has a tech connection: she has appeared in several commercials for Web host GoDaddy.com, and has driven a GoDaddy.com sponsored race car.