The best Bose headphones show why this manufacturer is so respected — and why expectations are always so high when it announces new models. And while there have been some so-so outings like the Bose Sport Open Earbuds, Bose can also claim to have produced some of the best noise-cancelling headphones and best wireless earbuds in the business.
But what are the finest examples? The headphones we've gathered together on this list, from plush over-ear cans to true wireless earbuds, are a showcase for Bose's craftsmanship, attention to detail and dedication to high-tech, high-performance audio. Of all the headphones we've tested, then, these are the best Bose headphones available.
What are the best Bose headphones?
The Bose 700 currently stands as our top Bose option, offering best-in-class (and adjustable) noise cancellation and superior sound.
Following close behind is the Bose QuietComfort 35 II, which prior to the Bose 700 set the standard for ANC performance. A much more discrete alternative comes in at number 3: the Bose QuietComfort Earbuds, a pair of true wireless earbuds that are also top of their class for noise-cancelling effectiveness.
We've also ranked more affordable sets like the Bose SoundSport Wireless earbuds, so read on to discover more of the best Bose headphones.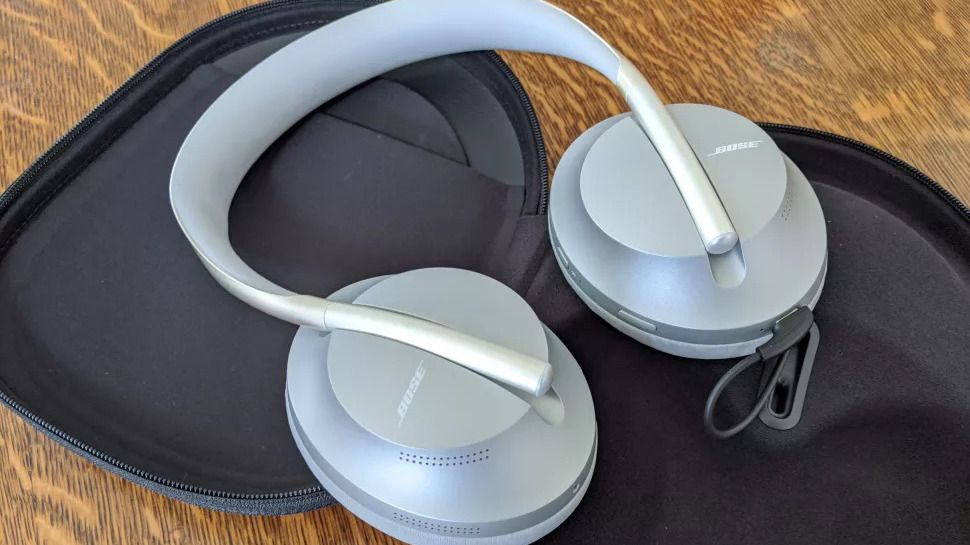 Meet the king of the noise-cancelling headphones. The Bose 700 headphones effectively take the crown from its predecessor, offering adjustable ANC that is equally effective whether you're listening to music or making or receiving phone calls. They even play nice with your digital assistants. Plus, you get a stylish new design and balanced, precise audio performance.
Read our full Bose 700 review.
The Bose QuietComfort 35 II might not be the king of the castle anymore, but this is still are a pair of top-notch headphones. Bose programmed these over-ears with two ANC modes – Low and High – each capable of adjusting noise-cancelling levels to optimize audio in different settings. The dynamic drivers underneath the hood produce great audio reproduction, spoiling listeners with booming lows and clear mids. A comfortable design, digital assistant support and impressive battery life (both in ANC and passive mode) make the QC35 II an ideal travel companion.
Read our full Bose QuietComfort 35 II review.
It's even more expensive than the AirPods Pro, but the QuietComfort Earbuds make up for it with the best ANC implementation of any true wireless in-ear buds. It's almost as good as the noise-cancelling on the Bose 700, which considering the form factor difference (and that fact that the QuietComfort Earbuds has half the microphones) is seriously impressive. Call quality is excellent as well, though battery life could be longer — be sure to keep the charging case to hand for longer listening sessions.
Read our full Bose QuietComfort Earbuds review.
Another set of great Bose in-ears, the Bose Sport Earbuds is a more fitness-focused (and much cheaper) alternative to the QuietComfort Earbuds. The design is much more compact and even more comfortable, and while there's no active noise cancellation, the sound quality is very close to the pricier buds as well. This sweatproof set of buds also comes with removable tips, so you can find the perfect fit for your ears and prevent the buds from falling out on the treadmill.
Read our full Bose Sport Earbuds review.
If you want signature Bose sound in a durable, sporty design, and don't mind having the buds connected by a band, consider the SoundSport Wireless instead of the "true" wireless buds listed above.
Its soft silicone rubber hooks latch onto ears to optimize fit when engaged in sports activities, while IPX4 certification ensures it survive a sweat bath or splashes near the pool area. Bose even integrated cool mobile features like Tile tracking to locate misplaced buds, and NFC, which instantly pairs the buds to compatible Android phones. Battery life isn't anything to rave about, but it's suitable for weekly workouts.
Read our full Bose SoundSport Wireless review.
A classic from the Bose collection, the wired QC20i is for mobile listeners who are prefer to stick with a headphone jack and want to silence the world around them. It does a phenomenal job of blocking out environmental sounds by forming a tight seal to isolate noise. Another major selling point is its ability to play audio without battery power, retaining the same detail and volume as in ANC mode. Music won't sound as great as on other Bose headphones, but it's still crisp. The battery module and in-line mic might also be considered obtrusive for modern standards.
Read our full Bose QuietComfort 20I review.
Another higher-end option for in-ear noise cancellation, the QC30 filters out high-frequency rumblings while producing clean, full sound. Users can adjust the ANC levels through the free Bose Connect app to completely silence or listen to their surroundings. The soundstage offers lots of depth, so you'll pick up on the slightest details in your favorite recordings. Bluetooth range is lower than advertised with music lasting past the 20-foot mark. The price , however, is pretty steep.
For fitness or leisure, the SoundSport In-Ear is a bargain that music lovers shouldn't pass on. Bose's Stay Hear tips provide a stable, relaxed fit for joggers and speedy commuters. Its weather-resistant design protects from perspiration and water. We're fans of the midrange and treble delivery, but it's worth noting that the poor seal these buds create can affect sound quality. The lack of modern features, such as digital assistant support, also restricts its capabilities.
Read our full Bose SoundSport In-Ear review.
Bose's first truly wireless earbuds offer the premium design and sound one would expect from the audio giant. Powerful bass combined with detailed mids creates an energetic soundscape to fuel intense workouts. Portable power is always a huge bonus, and the bundled charging case offers just enough to get through a week's worth of gym sessions: 10 hours. Quick charging is also available to give the buds 45 minutes of listening time on a 15-minute charge. However, its bulky design is not suited for leisurely listening, making the buds painful to wear after an hour of use. Unreliable connectivity means you'll experience some dropout on the left earbud from time to time as well.