When it comes to decluttering our homes and keeping it tidy, it can often feel overwhelming. This is especially the case if you've let mess build-up over time due to hectic schedules, and don't know where to begin. Similar to knowing how to clean every room of your home, learning how to declutter your home will not only create a clean, minimalist environment, but is vital for the mind and overall well-being.
Since the global success of the Konmari Method from professional organizer, Marie Kondo, we have seen plenty of home organization methods online promising to 'revolutionize' your life. But, there is a new tidying technique in town that has got everybody talking — the Ski Slope Method!
What is the Ski Slope Method for organization?
While the name might make you think of skiing around your room, it's actually not that far off! This organization method was created by Anita Yokota, a psychologist-turned-interior-designer, who wanted to show how improving our homes can improve our well-being.
In her book Home Therapy, she explains the concept of "imagining your messy room like a ski slope." If you go straight down, it seems steep, scary and overwhelming, but if you traverse the slope, skiing from one side to the other, this makes it much easier to tackle.

In other words, when tidying or decluttering any space, we should start from the corners first, before moving to the opposite side of the room. Once that side is clean, you'll then continue 'traversing' across the room (or slope) until the task is complete. The idea is to cut your time in half by breaking down a room into sections, rather than seeing 'tunnel vision,' and tackling everything in the room from front to back.
What's more, this will help you stay on track without getting distracted, and not miss any spots in the room — something I'm guilty of doing! With that in mind, I decided to try the 'ski slope' organization method around my home to find out exactly what all the fuss is about.
Just be sure to avoid these 5 decluttering mistakes too.
I tried the 'ski slope' organization method in my home — here's what happened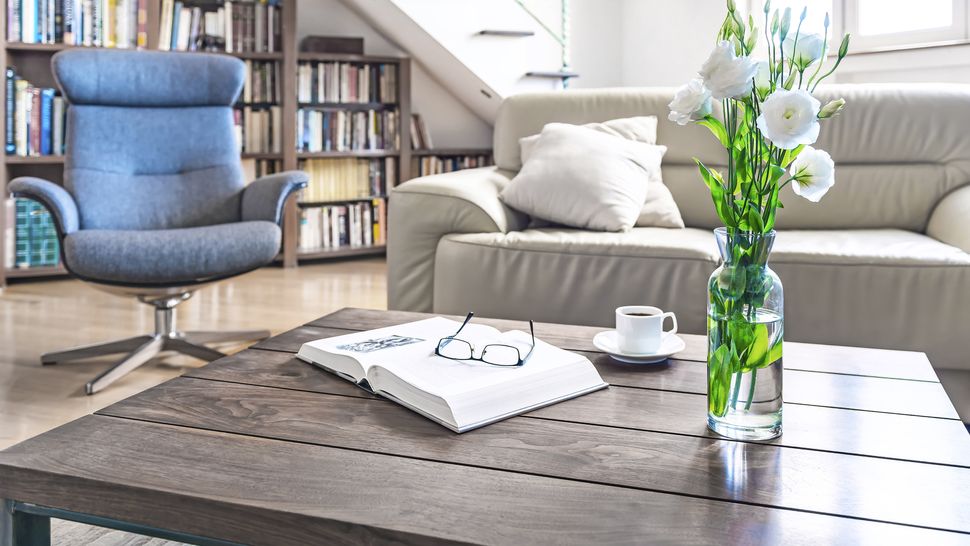 The living room is the main hub of our home, usually spent relaxing, watching movies, hosting kids playdates and socializing with friends. So I always try to keep on top of tidying this space, keeping it neat and organized.
However, our bookshelf has somehow become the dumping ground for everyday clutter. Mail, pens, keys, grocery receipts and other random items – this is the space that often gets ignored when tidying the room.
Applying the 'ski slope' organization method, I was able to focus on the overwhelming bookshelf in the corner. I started by throwing out old receipts, moving items back in their rightful place, and storing away things that shouldn't be left there.
Once the bookshelf was tidy and clutter-free, I then 'traversed' to the opposite side of the room to the TV/entertainment corner. Here the TV unit was cluttered with remote controls, my son's consoles, game controllers, and tons of games. Again, I was able to focus on this area, using rattan storage baskets to group together and place loose items in, and generally minimize the mess. The rest of the room then became a breeze to tidy, as I had essentially tackled the 'trouble zones.'
Next up was the bedroom, which also tends to get cluttered. Be it piles of laundry waiting to be folded and put away, or shoes and handbag collections taking over my wardrobe, it can be overwhelming.
I started off with the laundry pile stashed away in the corner of the room, focussing on sorting, folding neatly and storing away. Rather than doing bits at a time, I found this task more productive, and quick to do.
I then moved over to the other corner of the room to tackle the wardrobe and footwear crisis. While I would ordinarily stash everything inside (never to be seen again), I took the time to sort through clothes to donate, sell and keep. I then grouped my 'keep' items into categories to make it easier to find things at a glance. The same applied to the footwear collection that was taking up precious floor space, and in need of organizing.
If you want more handy tips, here are 7 ways to organize your wardrobe, according to experts.
Verdict
Overall, I was impressed with the 'ski slope' organization method. Usually, I'd procrastinate when tidying a room, and never seem to get everything done in the process. However, it was much easier to move across the room tackling smaller sections properly, without having to rush or feel stressed.
Also, I wasn't distracted by the other things lying around in the room that would often make me lose track of the task. Best of all, this method actually felt quicker, more methodical and certainly cut down valuable cleaning time.
So, if you want a clutter-free home in less time, try the 'ski slope' organization method to avoid going down the slippery slope of mess!
More from Tom's Guide