Several models come to mind when discussing the best wireless earbuds for Android users. The near-perfect Sony WF-1000XM5 have class-leading sound to be ranked as one of our audio editor's top 5 wireless earbuds recommendations for audiophile sound, along with superb active noise cancellation and one of the best user experiences in a beautiful design.
Bose's all-new QuietComfort Ultra Earbuds are considered the best noise-cancelling earbuds and have a feature that makes their 3D audio format a game-changer. Other standouts include the recently launched Jabra Elite 10 and Elite 8 Active, both of which deliver impressive ANC, battery life, and spatial sound.
But what about entries from the Samsung Galaxy Buds series? They're part of the conversation too, specifically the Galaxy Buds 2 Pro, which are Samsung's best buds to date. Popular and well received, they've been overshadowed by newcomers, including Bose and Sony's latest flagships.
But the Galaxy Buds 2 Pro are a worthy consideration. What's even better is that they can regularly be found at online retailers with hefty discounts.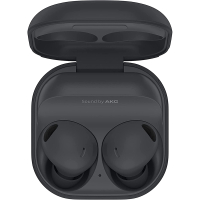 Samsung Galaxy Buds 2 Pro: was $229 now $149 @ Walmart
Right now, the Samsung Pro earbuds are being discounted at Walmart. Even at the full price they hold their own against the best ANC buds with high quality audio and compelling 3D sound with precise head tracking, so they're a bargain at this heavily discounted price. Comfort levels are high and battery life runs to 5 hours before needing a recharge, and the case holds around 29 hours.
Price check: $169 @ Amazon
For my money, Samsung's Galaxy Buds 2 Pro are actually the best Android wireless earbuds based on overall performance. Here's why.
Terrific hi-fi sound across all devices
It's no secret that the Galaxy Buds 2 Pro's best audio qualities are reserved for current Galaxy phones. The Samsung Scalable Codec (SSC) dynamically adjusts bitrate from 88kbps to 512kbps, unveiling more details in recordings with minimal latency. These buds support 24-bit/48kHz audio at a data rate of 584kbps for full bit depth. A recent update introduced LE Audio with LC3 for richer sound at half the data bandwidth as SBC, plus 360 Audio Recording to capture sound on video precisely and improved connectivity with Samsung TVs.
Non-Samsung users aren't cheated out of a stellar sonic experience either, thanks to the Galaxy Buds 2 Pro's exceptional sound profile and powerful specs. A custom coaxial 2-way speaker (dedicated tweeter and woofer drivers) tuned by AKG expands frequency range to gain full lows, mids, and highs. It also brings more depth and punch to tracks. Multiple pre-engineered presets and a bass boost setting in the EQ via Galaxy Wearable app make personalizing sound fun.
I've used these buds with my Galaxy S23 Ultra and OnePlus 11 smartphones and found standard audio listening to be equally satisfying. Bass was tight and well defined on contemporary tracks, while vocals blended nicely over boomy productions and sounded crisp. Even using the Galaxy Buds 2 Pro with my iPhone 14 was a treat. There was a noticeable drop in bass, but it was still more impactful than what the AirPods Pro 2 produce. You'll want to stream music on hi-fi platforms like Tidal to get master-quality results on all devices.
Effective 3D sound from other spatial audio formats
Don't be misled by the heading. The Galaxy Buds 2 Pro aren't compatible with Apple's Spatial Audio, Sony's 360 Reality Audio, or Jabra's new Dolby Atmos-powered Spatial Sound feature. Samsung has their own technology called 360 Audio, and it's compelling. Audience engagement and instruments are immersive during live performances, while melee combat and gunfire sound more realistic during action sequences.
360 Audio is only available on the latest Galaxy Buds models and requires a Galaxy smartphone. However, the Galaxy Buds 2 Pro work with Google's new spatial audio feature on the latest Pixel smartphones. In fact, all headphones and earbuds do. The same goes for OnePlus' spatial audio feature on their newest smartphones, which I strongly prefer. So, why use Samsung's buds for either 3D audio alternative rather than Sony or Jabra's buds? Based on testing, the Galaxy Buds 2 Pro handle clarity, separation, and vocal output slightly better.
First-party buds that operate smoothly within a third-party ecosystem
It's all about the user experience and that starts with the ecosystem. Apple proved this with the AirPods series; each model seamlessly communicates with iPhones, iPads, Macs, and Apple TV. Android isn't as polished as iOS, but it gives developers more freedom to create custom interfaces and features on the open-source platform.
Samsung's One UI software is overlayed on all Galaxy smartphones running Android and operates well. Connecting to Galaxy devices is instantaneous with one-tap Easy Pairing. Auto Switch also makes it a breeze to transition from a Galaxy phone to a Galaxy tablet, and vice versa.
Well, it turns out that the Galaxy Buds 2 Pro pair to non-Samsung phones just as quickly. On top of that, their companion app shares the same UI and most features across all Android devices.
An excellent mix of features
Galaxy smartphone owners get to take advantage of upscale functions like 360 Audio, Bixby voice wake-up, SSC, and control access on the Galaxy Watch 4 (and higher). Android users still get a nice set of features to play with in the Galaxy Wearable app such as control customization, Earbud fit test, Equalizer, Gaming Mode, and Noise Controls (ANC/Ambient).
Samsung even offers intuitive settings like Neck Stretch that calibrate the buds to remind listeners when they're practicing poor listening posture, as well as smart controls like Voice Detect that drop volume down to 15% when speaking.
Because you probably own a Galaxy phone already
Current sales data shared by BankMyCell shows there are "approximately 1.033 billion Samsung users in the global smartphone market," which equates to "14.09% of the total smartphone end users worldwide in 2023." Therefore, the odds of Android users owning Samsung phones is incredibly high.
Top billers like 360 Audio and SSC are enticing reasons to own the Galaxy Buds 2 Pro and pair them with a current Galaxy phone. Other cool features like PowerShare to recharge your charging case when placed on the back of a Samsung phone make this package deal sweeter.
Nonetheless, the Galaxy Buds 2 Pro standalone will grant you superior true wireless performance on any Android device.
More from Tom's Guide