Among Apple's likely fall releases, the iPhone 15 Pro Max finds itself the subject of the most chatter — understandable since it's the iPhone 15 model likely to see the most significant changes. And a lot of that attention is landing on the phone's camera setup.
That's understandable, too. Cameras have become a major factor in helping people decide which smartphone to buy, since it's one of the key areas where phone makers can really differentiate their devices from the competition. Apple has excelled at this, with its annual iPhone releases usually staking a claim as the best camera phones available.
"Usually" does not mean "always," though. And this year, it's the Galaxy S23 Ultra — not any of Apple's iPhone 14 models — that currently takes the top spot in our camera phone rankings. The Samsung Galaxy S23 Ultra vs. iPhone 14 Pro Max face-off proved to be a close battle, but in the end, the Galaxy's flexible 200MP main sensor and powerful telephoto features helped it finish on top.
Naturally, there's a lot of interest in seeing how Apple responds with the iPhone 15 Pro Max. And I think part of that desire to see Apple match Samsung feature for feature is causing some people to lose sight of where iPhone camera improvements really need to focus.
Galaxy S23 Ultra — how Samsung won
Recent Galaxy S releases have seen Samsung supersize the megapixels on its main camera. With the Galaxy S20 Ultra, that meant the introduction of a 108MP main camera. Subsequent updates increased the size of that sensor, allowing it to capture more light. For the Galaxy S23 Ultra, Samsung boosted the number of megapixels again, opting for a 200MP sensor.
That 200MP main camera offers a lot of flexibility to Galaxy S23 Ultra owners. You can capture photos at full resolution, of course, which is especially handy for reframing and cropping in on photos to highlight specific areas. But you can also combine 16 pixels into one for those times when you want brighter, more detailed shots. Another option lets you combine four pixels for a 50MP photo. Like I said, that's a lot of flexibility.
Our 200MP camera testing with the Galaxy S23 Ultra produced some eye-opening results, whether it's cropping images or producing stellar low-light photos. The results we got from Samsung's top camera phone beat most everything else out there — including the best iPhones that Apple currently has to offer.
What that means for the iPhone 15 Pro Max
Naturally, Samsung's ever-expanding main camera sensor has some people hoping that Apple will fight fire with fire. To a certain extent, Apple took some steps in that direction with the iPhone 14 Pro models, boosting the main sensor to 48MP. (iPhones have traditionally made do with 12MP sensors for the main camera — indeed, that's what the iPhone 14 and iPhone 14 Plus still use.) The 48MP shooter let iPhone 14 Pro users bin together four pixels for 12MP shots that optimized light capture or emphasize detail in full 48MP resolution.
There had been some hope the trend would continue with the iPhone 15 Pro Max, specifically in the form of a larger sensor. A rumor claimed that Apple would go with a 1/1.4-inch Sony IMX903 sensor for the main camera on the iPhone 15 Pro Max, which would mark an 11% increase in size over the sensor used by the iPhone 14 Pro models. Bigger sensors capture more light, so that would, in theory, mean brighter photos for the iPhone 15 Pro Max.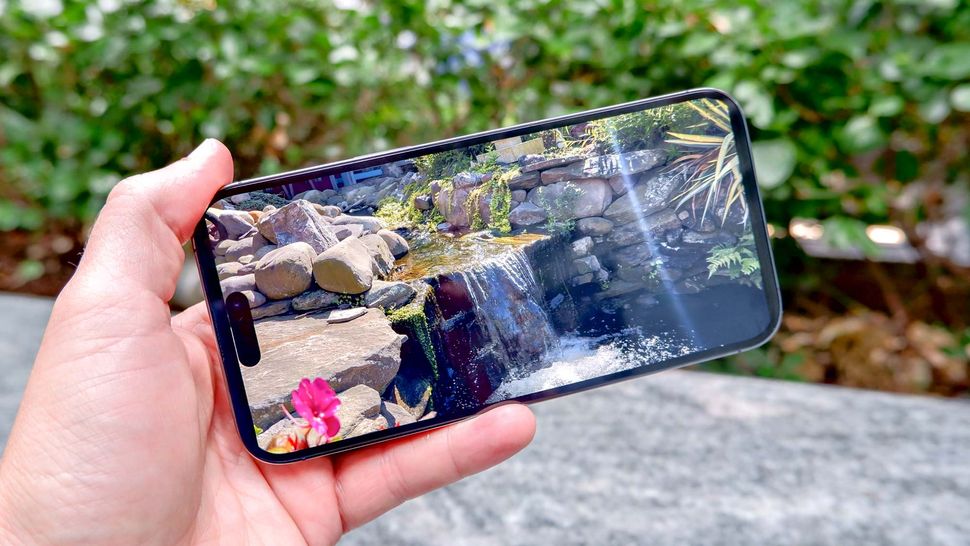 Alas, that doesn't sound like it's going to happen after all, as subsequent rumors have insisted that the main camera sensor on the iPhone 15 Pro Max will be the same one used in current iPhone Pro models. You can understand the disappointment some people feel toward that rumor.
If the iPhone 15 Pro Max is going to feature the same main camera as its predecessor, how is it going to gain ground on the Galaxy S23 Ultra — and the Galaxy S24 Ultra that Samsung's all but certain to launch in early 2024?
The answer to that question lies elsewhere in the iPhone 15 Pro Max's camera setup. Because it's not the main lens of Apple's top phone that's crying out for improvement.
Turn to the telephoto lens
Instead, it's the telephoto capabilities of Apple's Pro iPhones that fall short of what other camera phones can do. On paper, the telephoto lens specs for the iPhone Pro models look all right — the iPhone 14 Pro Max features a 12MP telephoto lens capable of delivering a 3x optical zoom.
Compare that capability to other phones, though, and you'll see why the iPhone's telephoto features are left wanting. The Galaxy S23 Ultra actually has a pair of telephoto lenses — one that supports a 3x optical zoom and another with 10x capabilities. Not only is that a better optical zoom than what the iPhone offers, it also allows the S23 Ultra to have a more robust digital zoom. While the iPhone 14 Pro Max can digitally zoom up to 15x, the Galaxy S23 Ultra can go all the way to 100x (though we'd recommend a tripod if you want to get that up close and personal with your subject).
The good news is that relief may be on the way, at least for the iPhone 15 Pro Max. Rumors tip that device to get a periscope-style telephoto lens. The periscope design stacks the different parts of a telephoto lens vertically, which allows for more space to boost magnification than you get with horizontally stacked lenses. As a result, you can expect a higher optical zoom from a periscope-style telephoto lens. Rumors claim the iPhone 15 Pro Max will be able to support a 6x optical zoom.
Yes, it would be nice if that feature were available to other iPhone 15 models, the iPhone 15 Pro in particular. But Apple's strategy of late seems to lean toward reserving premium features for its pricier models. Given the sales success it's enjoyed by more clearly differentiating the iPhone 14 Pro models from the standard iPhone, you'd have a hard time convincing Apple it's on the wrong track.
iPhone 15 Pro Max camera outlook
So don't get hung up on other changes Apple may or may not make to the iPhone 15 Pro Max's camera setup this year. There's one change that Apple needs to make to help its high-end phone better compete with Samsung's Ultra model — a better telephoto lens. And from everything we've heard, that change is going to happen. Anything else would just be a bonus.
More from Tom's Guide