The Steam Deck is by far the best gaming handheld I've ever owned. While the Asus ROG Ally offers a better display and (slightly) better performance, the Steam Deck delivers a better overall experience due to how well games run on the system — not to mention its streamlined user interface. The Steam Deck is an excellent way to play the best PC games.
I purchased the 256GB Steam Deck ($529) instead of the 512GB model ($649) to save money. I also knew I could get more storage by purchasing a microSD card… which I inevitably did. The SD card is a great option for expanding the Steam Deck's storage, though I've had to be careful not to accidentally damage the card when traveling. It sticks out of the device just enough that it could potentially get struck by something. Thankfully, there's also the option to add internal storage if you want to avoid the microSD route.
Corsair sent me its new 1TB MP600 Mini M.2 SSD to test on Steam Deck. This is the very same SSD I used for our piece on how to install an SSD into a Steam Deck. The Corsair MP600 Mini M.2 SSD uses PCIe Gen4 technology that can deliver up to 4,800MB/s of sequential read/write speeds. Currently, it's compatible with the Steam Deck and Microsoft Surface devices. It's one of the smallest M.2 drives I've ever seen and it's a fantastic means to upgrade the Steam Deck's storage.
If you want to expand your Steam Deck's internal storage, the $109 Corsair MP600 Mini M.2 SSD is worth your money. Here's why.
Easy installation
The prospect of opening your Steam Deck to install extra storage might sound intimidating. After all, if you're not careful, you could potentially cause irreparable damage to your precious handheld. While that might be true, I promise that upgrading the Steam Deck's internal storage isn't difficult for those with patience and steady(ish) hands.
Though Valve recommends that folks not open their Steam Deck (as stated in the video above), the system is clearly designed to allow easy access to its internal components. You can read the how-to guide linked above for more details, but regardless, you don't need an engineering degree to upgrade your Steam Deck's internal storage.
No more running out of space
Let's be honest, even 512GB of storage isn't enough for games these days — not with titles like Call of Duty and Grand Theft Auto V gobbling up well over 100GB each. Unless you like constantly deleting games to make room for others on your Steam Deck, you'll need more storage.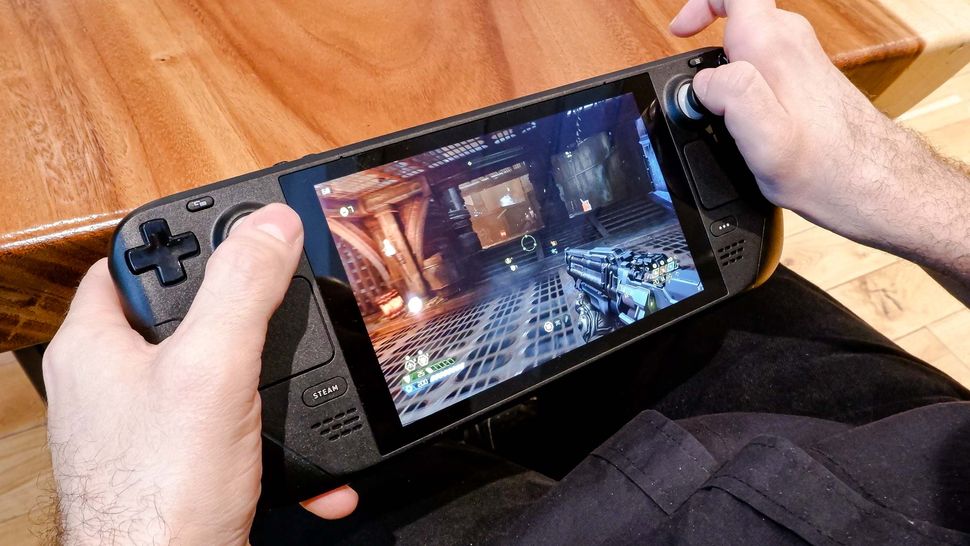 1TB obviously isn't an unlimited amount of storage. But with that much headroom, you can keep more games on Steam Deck for longer before worrying about running out of space. I've had the MP600 Mini installed in my handheld for well over a month and I've yet to delete a single game. The time will come when I do, but it might not be until perhaps later this year when more titles are released… or when the next Steam sale hits.
Faster loading
While the Corsair MP600 Mini M.2 SSD provides added storage, it doesn't make games run much faster on Steam Deck. That's because Valve's handheld utilizes PCIe Gen3 technology and not Gen4 like the MP600 Mini. While Corsair's SSD has read/write speeds of up to 4,800MB/s, the Steam Deck's older technology can't deliver more than 3,500MB/s.
With that said, I noticed that games ran and loaded slightly faster after I installed the Corsair SSD. I don't have hard numbers to verify this, but if I were to hazard a guess, the MP600 Mini is probably just a faster SSD than the 256GB SSD my Steam Deck came with. The loading times aren't much quicker than before, but I still appreciate the small bump in speed.
An awesome Steam Deck upgrade
Not to belabor the point, but the Corsair MP600 Mini has made my Steam Deck experience even better. My handheld now feels complete, much like my PS5 after I upgraded its internal storage last year. Even if this mini SSD hasn't made my handheld significantly faster, it fulfills its primary function of allowing me to store more games. I'll no doubt run out of space, but I don't see that happening for a good while.
If you feel constrained by the Steam Deck's internal storage space, then the Corsair MP600 Mini M.2 SSD is well worth your consideration.
More from Tom's Guide