In addition to testing the best headphones and best Bluetooth speakers for music listening for Tom's Guide, I also review TV soundbars built to boost TV sound and bring an immersive experience to home viewing. I'm continually swapping soundbars in and out of my TV audio setup for reviewing purposes to find the best soundbar for you, and the Majority Sierra Plus soundbar has been taking care of audio signals from my Samsung 55-inch TV for a month now.
If you've not heard of Majority Audio before, then you're not alone. I confess, it's a fairly new brand to me, but the company is making waves in the budget audio category. It has a range of attractively priced and built speaker systems aimed at movie and music fans alike, and I was keen to see how the newcomer stacked up against more costly soundbars I reviewed recently.
The Sierra Plus is a 2.1.2-channel Dolby Atmos soundbar with a wireless subwoofer. To you and I, that's left and right stereo channels with a single subwoofer channel and two Dolby Atmos channels. Originally priced at $329 / £295, the Sierra Plus is currently on sale for $264 / £229 (around AU$470) at Amazon, which feels like great value for a soundbar and wireless subwoofer package.
In fact, it's the most affordable model I've ever encountered and even more affordable than the entry-level Sonos Ray soundbar ($279 / £279 / AU$399), albeit without the slick multiroom capabilities.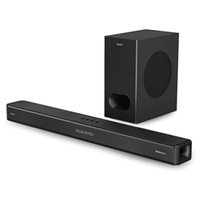 Majority Sierra Plus 2.1.2 soundbar: was $329 now $264 @ Amazon
This entry-level soundbar has all the right elements to step up the sound quality from your TV. It supports Dolby Atmos content and comes with a large wireless subwoofer. Connectivity runs to 3x HDMI ports, digital optical, 3.5mm analog input, and Bluetooth support.
Although I haven't yet given a full Tom's Guide review to the Majority Sierra Plus 2.1.2 soundbar package, it has been a rewarding listen and could easily join the ranks of our best cheap soundbars as a great low-cost TV sound boosting option.
It can be purchased without the wireless sub for $189 from Amazon, but you're going to struggle to get much low frequency power for convincing action effects, and dialog really does sound thin and weedy without it.
Looks-wise, the Majority is a bit on the bland side. It's plainly finished in black with a wire mesh speaker grille running along the front. Measuring 37.8 x 4.25 x 3.19 inches, it's the ideal size to fit beneath my 55-inch TV screen, and didn't foul the bottom of the display. It weighs around 17.5 pounds, which is around the same weight as the more compact Sennheiser's Ambeo Soundbar Plus that the Sierra Plus replaced in my TV sound setup.
The speaker arrangements run to four full-range drivers along the front face, plus there are two upward firing drivers on the top. An always-on scroll display shows volume level, EQ settings, and audio formats. The top face has control buttons for power, source select, and volume controls. A remote control is also provided; there's no control app available.
Bluetooth connectivity is on board should you be looking to stream music from your phone. There's also 2x HDMI inputs, 1x HDMI output (with ARC), as well as digital optical, a 3.5mm analog aux jack, and a USB port.
Power boost
Any soundbar supplied with a subwoofer is always going to score extra points for value and sound quality capabilities, especially at the package price. But the fact that Majority throws in a Bluetooth wireless model, makes it one of the most attractive Dolby Atmos soundbar packages I've seen at the price.
The total power output of the combined speakers claims to be rated at 400W, which is pretty respectable given the low price point and I've no reason to doubt the figure. Despite the power claims, though, I did need to set the sub to its max level to get it to integrate properly with the soundbar's output. Anything less left a gaping whole between where the soundbar's low frequencies dropped off and where the subwoofer kicked in.
There's no way to adjust the hand over frequency of bass frequencies from one to the other that I could find, but maxing out the sub's level seemed to bridge the gap in my TV viewing space. Boosting in the bass level by a few notches also helped to give the sound more weight and gravitas.
One of the things I like most about the Majority Sierra Plus is that essentially this is a stereo soundbar, with up firing speakers to take care of Dolby Atmos formats. I've said before when it comes to TV sound that I favor stereo speaker setups over immersive soundbars that attempt to create an artificial soundscape through multiple speakers pointing in all directions. The Majority keeps audio simple, and that's one of the main reasons the Sierra Plus sounds so good at the price.
Of course, there are compromises. Not all the EQ settings are tuned as well as they might be, but I found that Movie mode gave the best balance across a wide range of material. Also, while the dialog sounded more convincing with bass ramped up and the subwoofer set to its near maximum level, I found that some voices sat right at the frequency handover point between the soundbar and the sub. This had the effect of making certain dialog in Breaking Bad (I know, I'm a latecomer to the Netflix show) sound rich and full, while hushed conversations sounded noticeably thin and difficult to hear.
Perhaps my biggest grumble, though, was the soundbar's ability to randomly power itself on despite the TV screen being turned off. Although, I'm quite prepared to believe that this is something to do with one of the settings on my Samsung TV (it's been through a lot), this isn't something I've encountered before with the TV hooked up to other makes of soundbar. Despite some foibles, though, this is a great soundbar at a great price.
More from Tom's Guide