The best wireless headphones are what I use for the majority of my music listening. But when I'm cleaning up the yard, picnicking in the park, hanging out at the beach or relaxing by a pool, I always take along one of the best Bluetooth speakers to create the perfect soundtrack that can be enjoyed by others.
Most models are durable enough to survive a sudden rain shower, hot tub splashes or even the occasional dunk in the pool. Many have decent enough battery life to allow you to listen for most of the day, too.
With this in mind, here are my favorite portable Bluetooth speakers for all kinds of activities. Whether you're partying by the pool, or just having a cookout or BBQ in the backyard with family and friends, these portable speakers for all budgets are perfectly suited to keeping everyone entertained.
Best value Bluetooth speaker overall
1. Anker Soundcore 3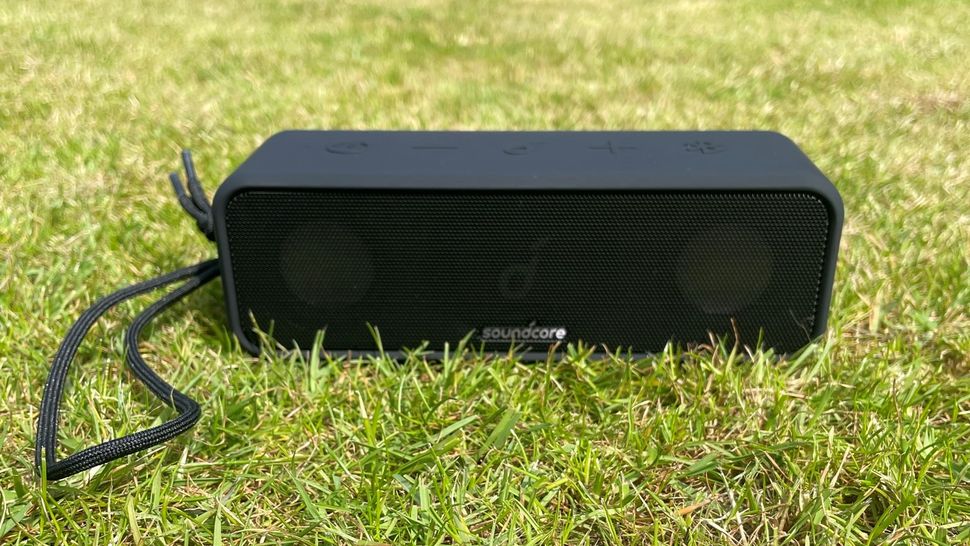 The Anker Soundcore 3 is an amazing little Bluetooth speaker for outdoor sounds. At $51 (£56 / AU$89), it's one of the best-sounding portable speakers I've heard at the price. It's available in blue, red and silver colors for a little extra cost in addition to the standard slick black I tested.
This tiny powerhouse delivers loud, well-balanced audio within an IPX7-rated design that can survive water, dust, while the robust rubberised outer case takes care of protection from everyday knocks. It can last up to a whopping 24 hours, thanks to Anker's best-in-class battery technology, and the Soundcore 3's dual tweeter drivers and central mid/bass woofer allied to a passive bass driver and Anker's BassUp technology, ensure you get big powerful sound in any setting.
The compact, 6.75 x 2.25 x 2.25-inch design makes it perfect for tossing into a bag for a quick road trip, and SharePlay allows multiple Soundcore speakers to be synced for an even bigger sound.
Also consider
The Ultimate Ears WonderBoom 3 ranks as one of the best waterproof speakers. It's a bit more expensive at $99 MSRP (£90 / AU$149), and although I've not tried this model myself, we were impressed by its performance when we reviewed it and remarked on the impressively bass-rich sound delivery despite the small, go-anywhere enclosure.
Best under $100
2. Anker Soundcore Motion Boom
The Anker Motion Boom may not be much of a looker, but it has all the right credentials to deliver big stereo sound anywhere. It costs $99/ £90 / AU$160. Its practical size belies its ability to fill whatever space you are in with bassy sound, and has the power to project sound outwards into an open space with impressive clarity.
Although I've not yet reviewed this particular portable Bluetooth speaker, I have used it extensively at home and can vouch for its credentials. In a yard party setting it sounded nearly as good as bigger 'boombox' models I've heard costing twice as much. In fact, several party-goers remarked on its performance, and were blown away by the stereo sound it delivered at the budget price.
If you're looking for a compact speaker that's durable enough to withstand water splashes, the Motion Boom has a lot going for it. It's IPX7-rated, making it fully waterproof, and it even floats! Like the Anker Soundcore 3 (above), it can play all day without needing a recharge, has BassUp technology for more powerful bass, and can be controlled by the Soundcore app to switch between EQ modes for personalized sound.
Best by the pool
3. JBL Flip 6
If you're looking for some design personality in a Bluetooth speaker that's just right for pool-side sounds, the JBL Flip 6 comes in eight color options including black, white, green, blue, red, gray, teal, and squad. Although color choices can vary between territories, the waterproof rating remains the same no matter what option you go for. The IP67 rating means it's protected from water splashes, and can even be submerged in up to 3 feet of water.
Price-wise the Flip 6 retails for $129 / £129 / AU$169, and this next-gen version introduces a new cosmetic design with a large JBL motif embedded in the woven cloth grille that wraps around the cylindrical speaker, meaning there's no doubt about who made this speaker. Also, the carry strap is now a seamless loop rather than a bootlace with a fancy knot fastening the two ends together.
The easy-to-carry design delivers a sound that belies its size, and with better-than-average bass. There's an app to tinker with EQ controls, and the PartyBoost tab enables it to be paired with another JBL speaker to either mirror the sound, or assign speakers as a left/right stereo pair. Better yet, you can pair it with up to 100 JBL speakers.
Also consider
The JBL Charge 5 is another model perfect for pool parties and the beach. It's IP67 rating provides high-grade waterproofing combined with strong protection against dust and grit, making it ideal for beach trips and pool parties. It sounds great, too.
Best under $200
4. Ultimate Ears Megaboom 3
Although the $199 / £199 / AU$329 Ultimate Ears Megaboom 3 has been around for a while, it continues to outshine rivals and rank as one of the best Bluetooth speakers around. Large for a Bluetooth speaker, the cylindrical shape provides 360 degree stereo sound, and pumps out booming sound from its attractive, portable frame.
It also carries an IPX7 waterproof rating, meaning it can sit by the pool, on the beach or even get dunked underwater and will keep on playing. It also stands out thanks to its 20-hour battery, which although not quite as lengthy as some I've seen, should keep the sounds playing all day long.
In a similar way to JBL's speakers that use PartyBoost, you can pair the Megaboom 3 with up to 150 Ultimate Ears speakers using Party Up speaker pairing tech for the ultimate sound experience. If you're looking for the best outdoor speaker that you can take on the go — and in the pool — the UE Megaboom 3 is highly recommended.
Best for bass
5. JBL Boombox 3
Another JBL model, the JBL Boombox 3 is easily the largest portable Bluetooth speaker model I've used, as well as the most costly at $499 / £449 / AU$699.
I've been using this speaker for occasional outdoor sounds, and it's been a big hit with family and friends. Its deep bass and vocal clarity fills large open spaces with a big sound that's perfect for larger outdoor parties, and is an IP67-rated beast that means it's perfect for outdoors events and pool parties.
As the name suggests, this isn't the first Boombox in the series, and JBL has built on its predecessors with a new three-way speaker system made up of two tweeters, two mid-range drivers and a racetrack-shaped subwoofer.
Its size and shape feels like a bit of a throw-back to those nineties boombox days. But unlike the bulky models of the era, the JBL measures 19.0 x 10.1 x 7.9-inches and weighs an entirely portable 14.7 pounds. Battery life is entirely practical too, and runs to 24 hours for all-day sounds from a 6.5 hour charge. It comes in two color options: black or a more conspicuous squad colors design (pictured above).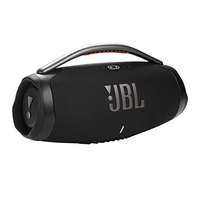 JBL Boombox 3 was $449 now $359 @ Amazon
An IP67-rated beast, JBL's Boombox 3 claims 180W power output and delivers a day's worth of battery life. It features a built-in power bank for charging devices without a break in the music, and can also be paired with other JBL PartyBoost-compatible speakers for even bigger sound.
JBL Boombox 3 Wi-Fi
As I reported recently, a new Wi-Fi-enabled version will arrive later this month, bringing Wi-Fi connectivity and unlocking hi-res audio and Dolby Atmos format support through Tidal via JBL's One control app.
More from Tom's Guide