Apple managed to turn heads with the iPhone 14 series by bringing some truly innovative features. However, most of the top upgrades were reserved for the premium iPhone 14 Pro and iPhone 14 Pro Max, widening the gap with the base phones by quite a bit this time.
The iPhone maker was clever with its space management on the display of the iPhone 14 Pro models with a new notch system. It introduced a new Dynamic Island that is like a fluid notch where users can check alerts and current activities in progress. The Pros also sport a new A16 Bionic chip that Apple touts as the "fastest chip ever in a smartphone."
The iPhone 14 and iPhone 14 Plus miss out on some of these upgrades with the same A15 Bionic chip as the iPhone 13 series. In addition, the iPhone 14 Pro sits at the top of our best camera phones list and has a 48MP main camera and an additional telephoto lens compared to the iPhone 14 that has a dual camera setup with a 12MP main lens.
There are many other upgrades the Pros get, from a 120Hz refresh rate to an always-on display, yet I recently opted to buy the base iPhone 14.
Apple's 'Pro' pricing
Yes, price and budget had a big role to play with my decision but they were not the only factors as I will go on to explain.
The iPhone 14 Pro is priced at $999, which is $200 more than the iPhone 14 and is listed for $799 for the 128GB storage versions. I couldn't go for the amazing iPhone 14 deals that some carriers offer because I wanted the unlocked version so I had the freedom to connect to any network in future.
I was initially inclined to get my hands on the iPhone 14 Pro. When I added the Pro to my cart to compare final pricing, I found that the price with sales tax had jumped to a hefty $1,088 with free shipping.
Even the iPhone 14 price with tax was easily around $73 more. Most US states have sales tax that gets added to the final bill of purchase. People living in states like Alaska or Oregon are lucky enough to not have the extra tax get added to their shopping. But I live in Georgia where it is unavoidable and so, I questioned my near $1,100 purchase for a phone.
I was ready to trade-in my iPhone XR, which luckily wasn't affected by the sudden reduction in trade-in values of some iPhones recently. Apple lists the iPhone XR for $150 trade-in if it is in a "good" condition. Mine is in an okay condition after four years of use and the jury is still out on whether Apple will offer me the whole $150 or reduce its price. Even if that trade-in comes through, the iPhone 14 Pro would still make me shell out $937, which is still a lot compared to the cheaper iPhone 14.
In fact, by "saving" $200 and going with the iPhone 14, I could even add-on AppleCare Plus that is priced at $150 along with a MagSafe case.
Heck, I realized $999 is how much I would like to spend on a nice TV, like the LG C2 42-inch OLED TV that was down to $999 just earlier this month.
Moving from an iPhone XR
I was finally moving from an iPhone XR, which is now nearly four and a half years old and has lately been steadily deteriorating on some basic functions. I realized that everything that I wanted from a new phone, I was getting with the base model of the iPhone 14.
More storage, for one — I was happy to be finally going from a 64GB iPhone XR to 128GB. Every aspect would be a huge upgrade from the XR — better cameras, I could tap into all the new iOS 16 features and longer battery life. Most importantly, the A15 Bionic chip was going to be a considerable upgrade from the XR's A12 Bionic chip.
Usually, between one generation of Apple's chips, the difference is barely noticeable in everyday performance, but skipping ahead three generations would be a big jump that would be hard to miss. Conversely, this is the same reason that deterred me from the A16 Bionic chip on the iPhone 14 Pro since the difference between the A15 and A16 would probably barely be noticeable.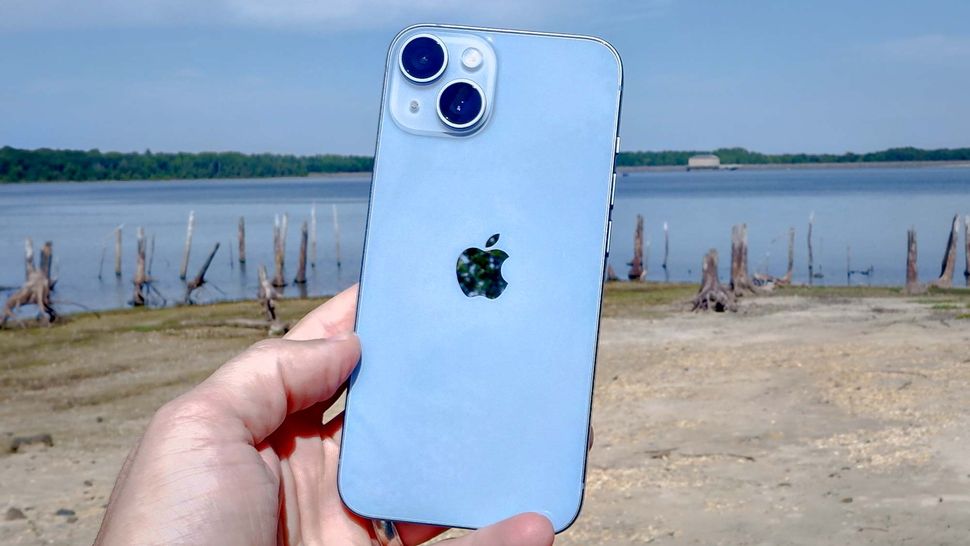 The iPhone 14, on its own, does make a case for itself. Apple has included the new Photonic Engine, for example, which uses AI to improve low-light photography across both cameras. The front camera also gets a boost with an enhanced hybrid focus system.
Video now has an Action Mode which eliminates the need for a gimbal to provide smooth footage when you're in motion. There are also the new safety features like Emergency SOS via satellite and Crash Detection that Apple introduced across the iPhone 14 series.
Considering all this, I found that the iPhone Pro didn't offer me incremental value for $200 more and moving from an iPhone XR, I would be happy with the upgrades the iPhone 14 model offers. If someone was moving from an iPhone 13, then it might be a different case.
The iPhone 14 comes in a lovely shade of baby blue, which I picked when I ordered the 128GB variant. I am excited to have a snappier phone with much better cameras. Yes, theiPhone 15 is tipped to move to a USB-C port this year and offer the iPhone 14 Pro's Dynamic Island, but as long as the Lightning port is supported for the next four years, it looks like I'll be fine.