Close to two years ago, I finally cut the cord and cancelled cable. I made the decision after my monthly cable bill skyrocketed to absurd levels. I still wanted access to cable channels, though, so I decided to choose one of the best cable TV alternatives.
After weighing all of the options, I chose Sling. It had all of my must-have channels, and with an AirTV Anywhere, I could pull in broadcast networks through a cheap antenna.
The top reason why I went with Sling TV was its affordable price — then just $50 per month for the Sling Orange & Blue package. Since then, the live TV service first raised that price to $55. And recently, for subscribers in certain markets (including my own), it increased again to $60 to include ABC.
A 20% price hike in two years is pretty significant. When I calculated the cost differences between Sling, YouTube TV and Fubo, Sling easily came out as the least expensive. And after all, isn't that what cutting the cord is all about? Cutting costs?
With the recent price hike, I sat down to reconsider whether Sling is still the right service for my live TV needs. Here are the pros and cons I listed, and my ultimate decision.
What I like about Sling TV
Affordable price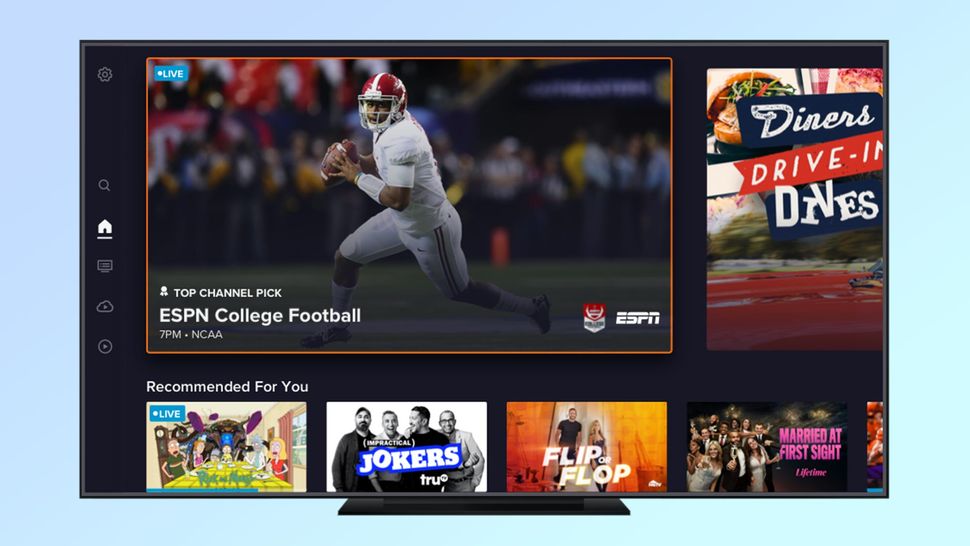 Price remains the No. 1 consideration when it comes to any streaming service. Ultimately, the answer to the question "is this worth it?" has to be a resounding "yes."
Sling's combination package may now cost $60, but that's less than nearly all of its main rivals, including Hulu With Live TV ($70), YouTube TV ($73) and Fubo ($75). All three of those services offer more channels and DVR space, but Sling has all the ones I really want and adequate room for recordings.
Swipe to scroll horizontally
Cord-cutter service pricing in 2023

| Service | Price |
| --- | --- |
| Sling TV | $40 to $60 (based on package/location) |
| Hulu + Live TV | $70 |
| YouTube TV | $73 |
| Fubo TV | $75 (before Regional Sports Fees) |
| DirecTV Stream | $75 |
I wish I could've opted out of the ABC addition price hike, since I already received it (and other broadcast networks) through the AirTV/antenna solution.
By sticking with Sling, I can save $156 a year over my next-favorite live TV service, YouTube TV. That's quite a few pretty pennies.
Channel customization
The downside of Sling's affordability is that it has fewer channels, 48 in the Orange+Blue package (your mileage may vary based on local affiliates). Compare that to Hulu With Live TV's 85, the 100-plus offered by YouTube TV and the whopping 161 that comes with Fubo's entry-level tier.
But Sling allows for customization, so you add on missing channels — for the long-term or just a month at a time. For example, if you want to watch Yellowstone season 5, you can pay for the Comedy Extra add-on ($6 per month) to get Paramount Network, plus MTV, CMT and TV Land.
If you want those channels all the time, you can. Or you can just sign up for the add-on while Yellowstone is airing, then cancel until the next season.
Meanwhile, the other cable alternatives have the price of all those channels baked in. Even if you don't watch some of them, you have no choice but to pay for them.
What I don't like about Sling TV
Clunky, slow interface
Sling redesigned its interface about a year ago, and many subscribers (including myself) weren't impressed. A lot of the "upgrades" were more cosmetic than functional. The home screen is dominated by a carousel with large thumbnails of "trending" live programs, which rarely appeal to me. Below that is a "Recommended For You" row. Chat GPT, it is not.
The guide is functional, though I wish you could still scroll through it while watching a program. The DVR is also fine, but I really wish it had a way to manage all the shows that are set to record (not just the ones with current and scheduled recordings).
YouTube TV has a much slicker interface that's easy to navigate. It's easier on the eyes, too. Sling's feels rather clunky and old-school. It can also be noticeably slow, taking an extra second or two to load a show details page, list of recordings and even sometimes the guide.
Semi-frequent glitches
Reliability is so important in a streaming service. Nobody wants to be shelling out for something that doesn't work. Unfortunately, I've experienced numerous glitches on Sling, usually with the DVR feature. My colleague Henry T. Casey was temporarily plagued by an annoying buffering issue.
Either a program won't record, the recording won't play due to some error, it cuts off the beginning or end, or it is broken up and unwatchable.
These glitches occur with some frequency, at least once three weeks. If it started happening every week, I might have to wash my hands of Sling for good.
Subpar DVR
In addition to fewer channels, one of the reasons Sling is cheaper than rivals is less DVR space. YouTube TV and Hulu With Live TV both offer unlimited DVR, Fubo gives you 1,000 hours (essentially unlimited). Sling, meanwhile, comes with a paltry 50 hours. You can buy 200 more hours for $5.
Now, this isn't a massive complaint for me. I've rarely even approached filling up half that space, as I'm diligent about watching my recordings. Still, it just seems a bit stingy. Consider that Hulu With Live TV is just $10 more a month but has unlimited DVR. If you add on Sling's DVR Plus, that drops down to just $5 more per month.
Plus, Sling's DVR doesn't have as many bells and whistles as other services. YouTube TV, for instance, lets you extend a recording beyond the designated end time. This is perfect for live sports, like March Madness, since games can have delays or overtime.
Outlook: I'm sticking with Sling TV — for now
While Sling's cons outweigh pros, one of the pros is heftier than any other consideration: the cost. I cut the cord because cable cost too much. Now, the alternatives are starting to approach cable-like prices.
Almost all of the major live TV services have enacted price hikes in the last year, so Sling isn't alone there. But it remains the cheapest among the ones that offer a wide variety of cable channels and most of the broadcast channels.
To be honest, I can put up with an inferior interface, small DVR and even glitches to save money. So, for now, Sling remains my cord-cutting choice.
More from Tom's Guide