For someone who regularly captures photos and videos with a mirrorless camera for a living, I understand the importance of saving time. Press events and professional shoots are a couple of examples of this, where timing makes all the difference with being the first to publish an article with original content.
The last thing I needed with doing my job were roadblocks that prevented me from doing this in a timely manner. That's until I discovered this $9 phone accessory. It changed my workflow in such a tremendous way that I use it religiously not only for transferring photos and videos, but also other files.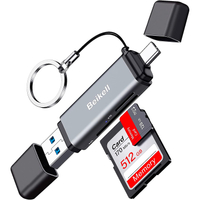 Beikell Dual Connector SD Card Reader: was $16.99 now $8.99
The Beikell Dual Connector SD Card Reader offers both a full-size USB 3.0 port and USB C port to make it easy to transfer photos and videos from your phone to your PC. It has both microSD and SD card slots and supports transfer speeds up to 5 Gbps.
Goodbye unreliable Wi-Fi file transfers
Up until a year ago, I was relying on the Wi-Fi file transferring connection of my mirrorless camera to offload footage to my smartphone for me to tweet about. Now, you may be wondering why not just use one of the best camera phones to do this? Well, they still don't perform as well under low-light conditions at press events — so I often resorted to sticking with my mirrorless camera.
If you've ever tried to transfer files via Wi-Fi at major press events, like Apple's WWDC 2023 or perhaps Samsung's upcoming Unpacked event, you know very well how it's nearly impossible to do. You're fighting against all the other people doing the same thing, which ends up clogging network bandwidth to reliably transfer stuff.
Don't get me wrong, there are situations when this process run flawlessly, but usually it's when I'm just by myself capturing content.
A convenient USB card reader for your phone
That's why I can't stop raving about the Beikell USB memory card reader adapter I picked up earlier this year, which is currently 47% off its normal price on Amazon right now. It has saved me countless times at press events and professional video shoots.
For starters, it offers the convenience of allowing me to grab the content captured off my camera's memory card with ease. All I really need to do is to take out the memory card in my mirrorless camera and slide it into the appropriate slot (SD or microSD) on the reader. From there, I just connect it to the USB-C port in my Android smartphone and copy over the stuff I need.
The phone recognizes it much like an external hard drive, so it even allowed me to transfer files on my phone to the card — which brings me to my next reason as to why it's such an invaluable tool.
Even more utility for all your other favorite gadgets
Since it features both USB-C and USB-A connections, I'm also able to transfer files between all of my favorite gadgets. Considering how few of the best laptops nowadays have built-in memory card readers, I love how the Beikell USB memory card reader adapter is about the size of a flash drive — allowing me to stow it away easily in my backpack. It saves me from having to bring along other accessories, like my bulkier USB-C hub.
I've also found the Beikell handy as a backup solution to my smartphones because of its fast 512 Mbps transfer rate with USB-C. When I'm copying 4K videos that are two or three gigabytes in size, it's helpful that it does it very quickly — I'm talking about minutes — versus the hours it would take me if I were to use Android's Link to Windows feature to do it wirelessly to my computer.
If that's not enough, the Beikell could technically also function as a flash drive when you're in a pinch trying to copy files from one computer to another. Thanks to how it features both full-sized SD and microSD card slots, you'll be able to simultaneously copy files over to save you even more time.
I can go on and on about this simple phone accessory, but it's become a regular part of my everyday toolkit for work.
More from Tom's Guide