Games these days are getting bigger and bigger in size and our poor hard drives can't take it anymore. Star Wars Jedi: Survivor is launching on April 28, but you might not be able to play it without clearing a Death Star-sized amount of space.
Tipster PlayStation Game Size revealed that in order to continue Cal Kestis' story, PS5 players will need to have 147.5GB free to install. That's more than ten times the size of Skyrim, one of the biggest games ever made, and around the same size as the mammoth Red Dead Redemption 2.
🚨 STAR WARS Jedi: Survivor™🟫 Download Size : 147.577 GB (Version: 1.000.001) 🟦 Pre-Load : April 26⬜ Launch : April 28 🟥 #StarWarsJediSurvivor #PS5 pic.twitter.com/u7eOZ0FON5April 19, 2023
While impractical this does at least have us even more excited about what to expect from the title. Hopefully, the chunkiness of the install indicates that there is a galaxy's worth of content in the follow-up to one of the best PS4 games. Luckily it seems those looking to play at launch can pre-load two days before. Make sure to use rest mode if you want to speed the download up on PS5.
Asking gamers to download such large amounts of data is a slippery slope. Those without a superfast internet connection can feel like games of this size are beyond them, if you have a data limit then that could be your whole allowance for a month or more. That's not even thinking about the usual day-one patches and regular updates, plus any possible DLC added later.
The PS5 comes with an 875GB capacity as standard which may sound like a lot but fills up quickly. Many gamers supplement this by installing an SSD onto their console to double or even triple the amount of space available. Conveniently, one of our favorites has just crashed to $66.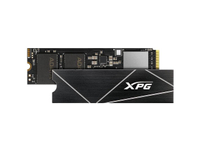 XPG 1TB Gammix S70 Blade SSD: was $109 now $66 @ Best Buy
This 1TB PS5 SSD from XPG has dropped to just $66 at Best Buy. This is the lowest price we've ever spotted for a console-compatible drive of this configuration. There are a few caveats with this model (including a longer formatting process) but it's still one of the best PS5 internal SSDs you can buy. This is the ideal purchase if you want to boost your storage capacity ahead of the release of blockbuster titles like Star Wars Jedi Survivor and Diablo 4.
On other platforms, Jedi Survivor looks to be similarly sized with a rumored 155 GB on PC and around 139GB on Xbox Series X but interestingly on the budget-friendly Xbox Series S, the game is reportedly only 44GB.
This suggests to us that the majority of that 100GB difference is high-resolution textures and performance-related features. The fact the team at Respawn had to produce two vastly different variations just for Xbox could be used as further evidence that the Xbox Series S is holding back true next-gen gaming.
More from Tom's Guide